NPCA believes that the voices of military veterans are a necessary component in the work to protect and enhance America's National Park System, which is why we created the NPCA Veterans Council.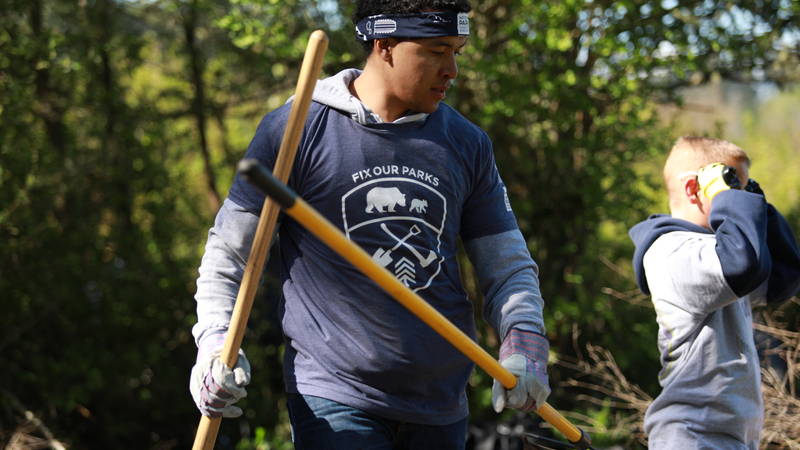 Press Release
"With the launch of the Veterans Council, we will further elevate our veterans as essential partners in our work to safeguard some of our country's most treasured places." -…
See more ›
The Veterans Council bring together veteran leaders with diverse backgrounds from across the country to provide advice and perspective on NPCA's veteran engagement strategy.
Veterans are respected by the American people for their service. Veterans are seen as credible messengers on issues pertaining to patriotism, active citizenship, and American ideals, and this is particularly true of national parks. Perhaps so many veterans have special relationships with our national parks because there are few other physical manifestations of patriotism, freedom, or democracy. National parks stand out as a tangible symbol of veterans' service — places where they see, smell, hear, and touch the American ideas and treasures they fought to protect.
Read more about NPCA's work with veterans to protect national parks.
Veteran Council Members
Erick Andino
Erick Andino is a former combat medic in the United States Navy. He was honoraby discharged after seven years of service and two overseas deployments. Erick served at Naval Medical Center Portsmouth and as a line corpsman with the Marines Corps at Camp Pendleton.
Stacy Bare
Stacy Bare is a husband, father, skier, biker, and general outdoorsman. He is currently the Executive Director of Friends of Grand Rapids Parks. He served with the US Army in Bosnia and Iraq.
Lt. Col. Erica Carroll
Lt Col Erica Carroll has been a member of the uniformed military service since 1999, leaving her home state of Wisconsin for the University of Colorado-Boulder to be a cadet in the Air Force ROTC program and Commissioning in 2003.
Richard Diaz
Richard Diaz is a veteran of the United States Army. He served overseas in Iraq with the 101st Airborne Division and continues to serve his community through multiple nonprofits including National Parks Conservation Association. ll biography forthcoming
Phillip Howard
Phillip Howard served in the United States Marine Corps as a radio operator with 2nd Battalion 7th Marines Regiment 1st Marine Division stationed in Twentynine Palms, California.
Allison Jaslow
Allison Jaslow is an Iraq War Veteran, a dedicated public servant, and an advocate for the views and experiences of combat veterans and their families. Nationally, Jaslow is recognized as a leading voice on the impact of the military-civilian divide on our political system and as an authority on the unique challenges faced by women in the military.
SSgt. Patrick Ketchum
Patrick Ketchum is a former Army infantry soldier and medically-retired non-commissioned officer with more than thirteen years of active service. He served in over 40 months of combat, deploying twice to Iraq and once to Afghanistan.
Dom Mullins
Demond "Dom" Mullins is a U.S. Army veteran and academic who is well known in the outdoor adventure community. He is a member of the Full Circle Everest Expedition, a group attempting to be the first all-black expedition to summit Mount Everest in 2022.
Yaritza Perez
Yaritza Perez is the field organizer in Orlando, Florida for Moms Clean Air Force. She is a proud mom and a proud veteran.
Nicole Rawlinson
Nicole Rawlinson is the spouse of an active duty United States Navy submariner and mother to two children who make up one amazing military family.
Blayne Smith
Blayne Smith is a West Point graduate and former Army special forces officer who has transitioned into a highly effective business and social impact leader.
Tom Voss
Tom Voss served on active duty in the United States Army for three years in a scout-sniper platoon with the 25th Infantry Division. He was deployed to Mosul, Iraq.
Aaron Wolf
Aaron Wolf served with 10th Marines including a tour of duty to Iraq in 2007. Prior to his service, Aaron spent his time exploring local preserves in suburban Chicago, biking and hiking through forest and prairie landscapes, and practicing critical survival skills like tree climbing and frog catching.