Experience a plethora of desert wonders on this unforgettable adventure through Joshua Tree and Death Valley National Parks. This expert-led journey will take you through lush oases, waterfalls, vast sand dunes, towering granite monoliths, salt flats, badlands, alpine peaks and more! Keep a sharp eye out for desert wildlife with opportunities to see desert bighorn sheep, desert cottontail rabbits, roadrunners, desert reptiles, coyotes and snakes. No need to fear, each night we'll retire to comfortable accommodations that keep us close to the action.
Download Detailed Trip Brochure (7 MB pdf) ›
Departure Date:
November 15-21, 2021 - SOLD OUT
7 days/6 nights
Minimum/Maximum: 8 guests/9 guests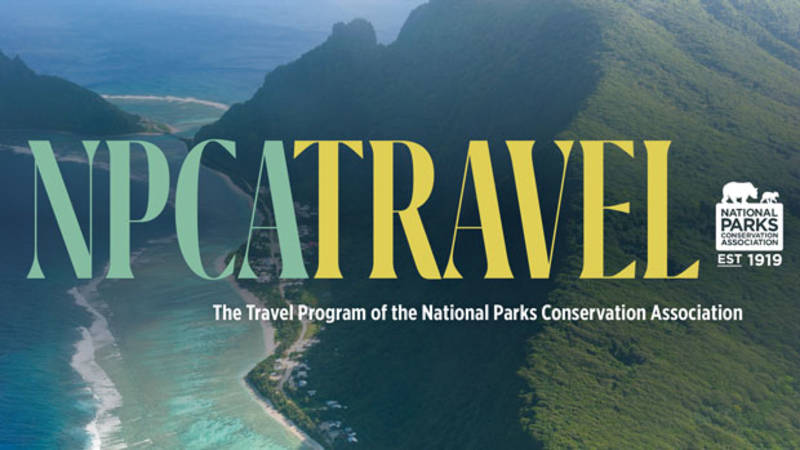 Resource
Our goal is to offer premium educational travel itineraries in the places we know best: America's national parks.
See more ›
Schedule Highlights
Journey through the famed Maze at the Wonderland of Rocks at Joshua Tree National Park
Hike through a labyrinth of golden colored hills and winding narrow canyons at Death Valley National Park
Explore some of the most botanically diverse mountains in the United States at Sand to Snow National Monument
Tour Manzanar Nat'l Historic Site, a World War II Japanese incarceration camp, with National Park Service staff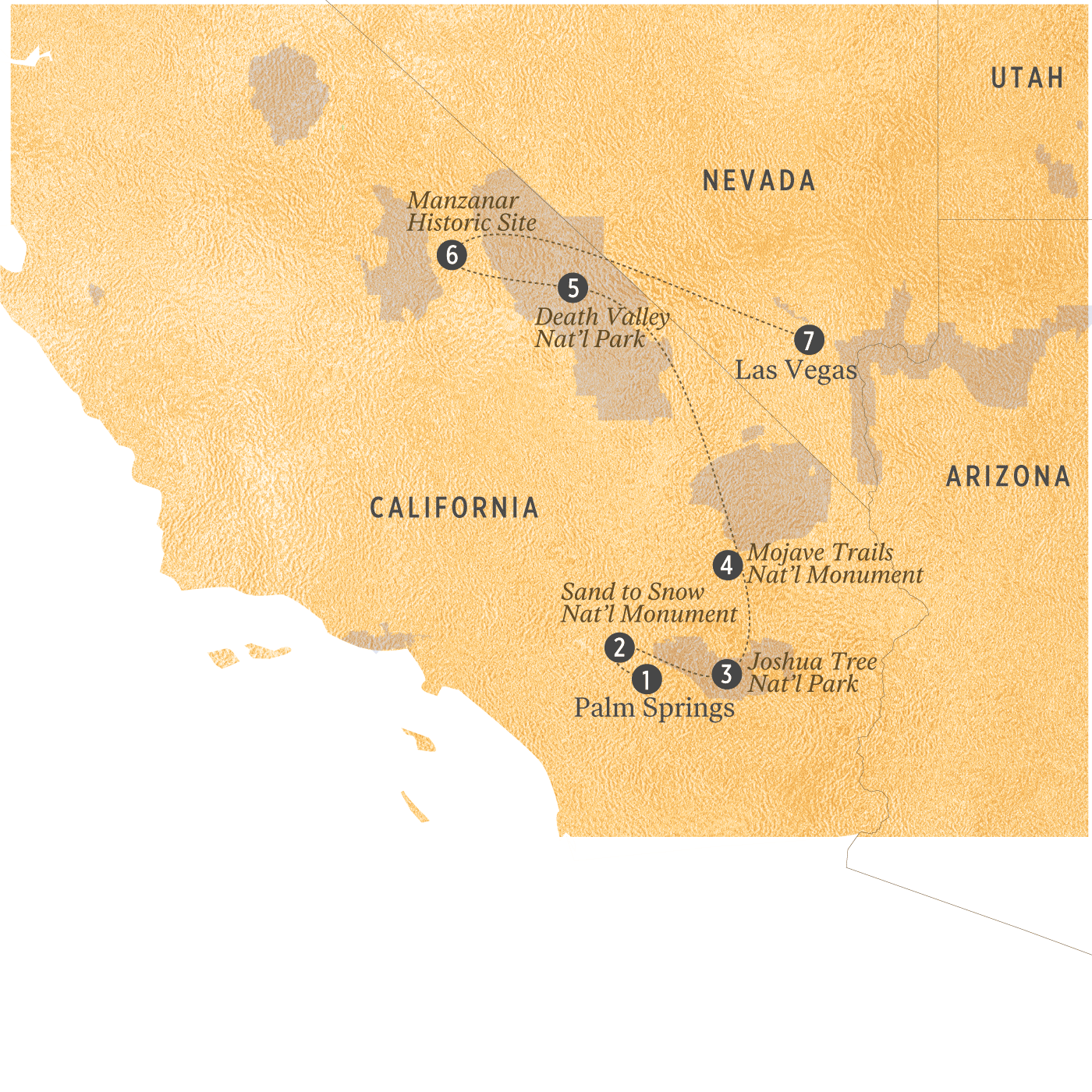 Schedule
Day 1: Palm Springs Welcome Reception: Arrive in Palm Springs, California, where you will meet your fellow travelers, your guides and NPCA host at the hotel for a welcome reception, orientation and dinner. Learn about some of the key NPCA initiatives related to the itinerary and prepare for a week of hiking, learning and adventure! Guests are responsible for local transportation to the hotel. Courtyard Marriott Palm Springs (D)
Day 2: Sand to Snow National Monument: Today, we head to Sand to Snow National Monument, which NPCA helped to establish in 2016. This national monument gets its name from the area's extreme elevation change — from the sand of the Sonoran Desert to the peak of San Gorgonio Mountain, a difference of about 10,000 feet. We'll enjoy a short hike in the monument and then continue on to Joshua Tree National Park for check-in and dinner. 29 Palms Hotel (B, L, D)
Day 3: Joshua Tree National Park: Today, we explore the wonders of Joshua Tree National Park, hiking through Barker Dam, an area rich with petroglyphs and lush with plant life thanks to the precious reservoir created by the dam. We'll then explore the Maze at the Wonderland of Rocks. This trail will weave us through a jungle of spires, granite monoliths and impressive rock formations, opening up to tantalize us with breathtaking views of the National Park. Learn about how the views continue to be compromised due to regional haze in the park. 29 Palms Hotel (B, L, D)
Day 4: Mojave Trails National Monument: Today, we'll continue on to Mojave Trails National Monument, which connects Joshua Tree National Park to Mojave National Preserve. We will stop for a hike at Bonanza Springs and discover firsthand the important role NPCA played in preventing the development of a water pipeline project in the park. Meet with NPCA's local partners to learn about wildlife conservation efforts before continuing on to Death Valley National Park for check-in and dinner. Death Valley Oasis Inn or The Ranch at Death Valley (B, L, D)
Day 5: Death Valley National Park: Today, the group will hike Golden Canyon and Gower Gulch: a classic Death Valley hiking loop that takes us deep into the Badlands of the Amargosa Mountains. After a hilltop lunch with panoramic views, we'll hike down into the water-carved Gower Gulch. This evening, we will head to Badwater Basin for expansive night-sky viewing at one of the best stargazing spots in America. Death Valley Oasis Inn or The Ranch at Death Valley (B, L, D)
Day 6: Death Valley and Manzanar Historic Site: Enjoy sunrise at the Mesquite Sand Dunes before hiking to Darwin Falls, a mesmerizing Death Valley oasis. Then, head to Manzanar National Historic Site for an expert-led cultural tour of this fascinating World War II Japanese incarceration camp. Learn how the park was protected and imagine what life was like behind the barbed wire fences of this dark place in America's history.
Death Valley Oasis Inn or The Ranch at Death Valley (B, L, D)
Day 7: Sunrise in Death Valley and Afternoon Departures: Enjoy a dazzling sunrise at Zabriskie Point before heading to Las Vegas, Nevada, for departures at McCarran International Airport (LAS). (B, L)
Itinerary is subject to change based on weather and potential unforeseen park closures due to COVID-19.
---
NPCA TRAVEL ELIGIBILITY: NPCA is the only independent, nonpartisan organization dedicated to advocacy on behalf of the National Park System. We are 100% privately funded and we rely on donations from individuals like you. One traveler per group must be an active NPCA member to participate in an NPCA trip. An annual membership starts at $15 per person. Please make dues payable to NPCA by check or credit card at npca.org.
TRAVEL SAFE WITH NPCA Your safety is our top priority. NPCA has worked diligently with each of our travel partners to develop important safety measures for all our trips. As guidelines and protocols evolve, we are committed to creating flexible options for those interested in rescheduling or booking new travel. For more information, check out our COVID-19 Travel Update.
MORE INFORMATION For full details on this trip, including inclusions, exclusions, accommodations, terms and safety protocols, please download the detailed trip brochure.
Download Detailed Trip Brochure (7 MB pdf) ›
MAKING RESERVATIONS To secure your space on this NPCA trip, please contact Jared Dial, NPCA's Travel Program Manager, at 1-800-628-7275 or email travel@npca.org.
TRAVEL PROTECTION We strongly recommend purchasing important optional travel insurance that will cover you for a variety of travel-related contingencies, such as trip cancellation, interruption, and/or delay; baggage loss, theft, damage or delay; accident and/or sickness medical expenses; accidental death; as well as evacuation/repatriation coverage. Please note that a Pre-Existing Condition waiver is available if you purchase the policy within 21 days of making your initial trip payment. Also consider the optional "Cancel for any Reason" protection. All questions regarding the plan's coverage should be directed to Travel Insurance Select through USI Affinity at 1-800-937-1387 or by visiting their website.
Check out NPCA's full tour lineup at www.npca.org/trips
Cost:

From $3,990 per person, single supplement applies
Learn More