Yellowstone Bourbon Recognized as Recipient of 2023 National Park Defender Award
NPCA has established the National Park Defender Award to recognize our corporate partners for their considerable contributions to and in support of our national park conservation work. This annual award, given out during National Park Week, highlights and thanks a partner who goes above and beyond to create lasting impact in park protection, through authentic partnership with NPCA and by educating and empowering their consumers to take action.
Corporate partnerships play a critical role in NPCA's work to protect national parks' resources, including their air, water, wildlife, as well as the important stories they tell. Together, NPCA works with its partners to inspire, engage and empower park champions who will speak up for these incredible places for years to come.
Click here to learn more about NPCA's corporate partners.
2023 Recipient: Yellowstone Bourbon
Yellowstone Bourbon has partnered with NPCA since 2018 to engage and inspire their customers to take action to protect national parks for future generations. Founded in the same year that the park it shares a name with was designated, Yellowstone Kentucky Straight Bourbon Whiskey is brewed in small batches by Stephen Beam, a seventh-generation distiller and national park advocate. Yellowstone Bourbon continues to honor the park's sprawling wonder and spirit through its commitment to the preservation of public lands, raising awareness about the issues that affect our parks and empowering their customers to make an impact. In 2023, Yellowstone Bourbon will donate $250,000 to NPCA, making it NPCA's largest annual corporate donor.*
NPCA & Yellowstone Bourbon: Talking Parks Video Series
In 2022, Yellowstone Bourbon & NPCA released a video series featuring Stephen Beam, master distiller and founder of Limestone Branch Distillery. The series tells the stories of the role national parks play in park advocates' lives and inspires people to take action. Learn more about the series here.
Yellowstone Bourbon has partnered with NPCA on numerous campaigns to educate and inspire customers to take action on behalf of parks, in addition to their efforts to directly support public lands in immediate need. In 2022, Yellowstone Bourbon responded within days of floods that devastated Yellowstone National Park and the surrounding area resulting in nearly $100,000 raised for the Southwest Montana Relief Fund and the Red Lodge Area Community Foundation in conjunction with a fundraising event hosted by NPCA.
During National Park Week 2023, Yellowstone Bourbon released a special edition NPCA collector's label on bottles of Yellowstone Select Kentucky Straight Bourbon Whiskey. The bottles feature an illustration of the bears from NPCA's logo as well as a ribbon in NPCA's iconic green. Additionally, each bottle includes a QR code that directs to a landing page where customers can learn how Yellowstone Bourbon and NPCA work together to protect public lands.
To learn more about Yellowstone Bourbon's commitment to park protection, click here.
*Based on donations made within NPCA's fiscal year 2023.
2022 Recipient: Nature Valley
Nature Valley has supported a myriad of NPCA's programmatic work from the removal of obstructive fencing near Yellowstone to protect migration patterns of endangered pronghorn, to coral reef restoration in Biscayne National Park and trail preservation along the Appalachian Trail – all while inspiring and empowering consumers to explore public lands and become park advocates. With a mission to make nature's energy accessible to all, Nature Valley exemplifies the spirit of the award, contributing more than $4 million since 2009, serving as NPCA's longest standing corporate partner.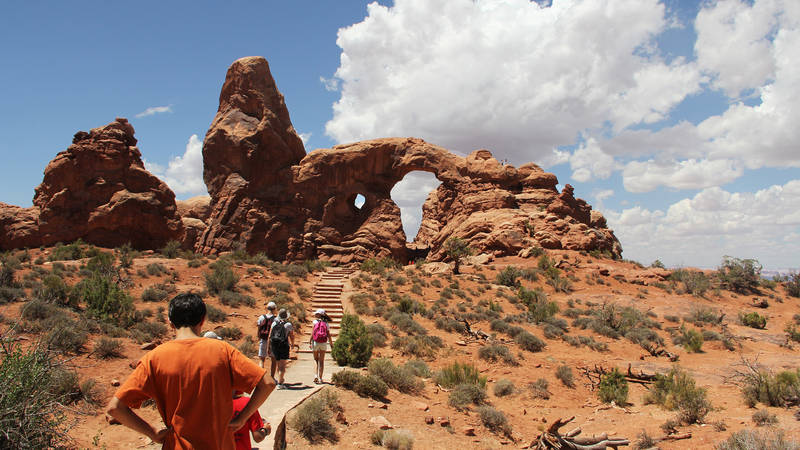 Resource
Nature Valley has donated $50,000 to NPCA to support the advancement of the next generation of park advocates – and the important park protection work ahead! – by funding impact…
See more ›
Most recently, Nature Valley and NPCA collaborated on a campaign to support the advancement of the next generation of park advocates, funding projects and resources designed and led by NPCA's Next Generation Advisory Council, generating greater access to our parks. Through this program, council members created resources including a video guide to Mount Rainier National Park in Spanish, a podcast about lesser-known parks in the National Park System and illustrated guides to parks in Southern California in English, Chinese, Vietnamese and Spanish. Nature Valley's donation also funded programs that brought people to parks, like a clean-up event in Jamaica Bay and a visit to Charles Young Buffalo Soldiers National Monument aimed to inspire more people of color to visit national parks through cultural and historical interpretation.
To learn more about the projects and resources funded by Nature Valley's donation, please visit here.
2021 Inaugural Recipient: Parks Project
Parks Project, a vintage-inspired apparel and accessories brand, creates collections of products that promote and protect public lands through givebacks to more than 40 nonprofits, including NPCA. A percentage of the sale of several products directly provide financial resources to NPCA, to carry out our park protection work, from habitat and wildlife restoration to advocacy training and youth education.
Most notably, NPCA collaborated with Parks Project to launch the Defend Parks apparel collection to share the stories of those who work tirelessly to defend our parks – NPCA's volunteers and staff – while giving back to NPCA on sales of the products to support NPCA's efforts. Not only did this help raise awareness of the importance of park protection among consumers, it provided them with a call to action to protect our national parks, through a variety of opportunities that were provided through the campaign. Throughout the collaborative outreach, more than 12 million people were reached with the call-to-action to defend America's parks. View our PSA below:
Click here to learn more about Parks Project and their mission.