Since 2018, Yellowstone Kentucky Straight Bourbon Whiskey has donated nearly $500,000 to NPCA as part of our partnership to protect national parks and inspire the next generation of park advocates.
What do bourbon and national parks have in common? For Yellowstone Bourbon – a lot. Produced by Limestone Branch Distillery in Lebanon, Kentucky, Yellowstone Kentucky Straight Bourbon Whiskey borrows its moniker from America's very first national park. In 1872, Yellowstone Bourbon was crafted to honor the park's sprawling historic wonder and spirit.
Now, over 150 years later, Yellowstone Bourbon continues to commemorate its heritage and connection to national parks through their partnership with NPCA. Yellowstone Bourbon has supported NPCA's efforts to protect and preserve national parks and raise awareness about the issues that impact our public lands since 2018. Yellowstone Bourbon is one of the largest annual corporate donors to National Parks Conservation Association.*
Lifelong Love of Parks
Yellowstone Bourbon's support of national parks is tied to the experiences of the founder and master distiller of Limestone Branch Distillery, Stephen Beam. Stephen and his family traveled to parks like Great Smoky Mountains National Park, Mammoth Cave National Park, Gettysburg National Military Park and others which helped develop and solidify his lifelong love of nature.
With national parks ingrained in my family history and memories, and playing such an integral role in my upbringing, as soon as I had the opportunity, I knew I wanted to give back to these iconic and special places.
Stephen Beam
Commitment to Park Protection
Together, we've partnered on efforts to protect and preserve national parks while inspiring others to take action on behalf of our public lands – keep reading to learn about the impact we've made together.
2023 National Park Defender Award
During National Park Week in April 2023, NPCA named Yellowstone Bourbon recipient of the National Park Defender award. This award, given out annually, recognizes and honors a partner who shows exceptional dedication to national park protection through authentic, impactful partnership with NPCA and educates their customers about the importance of taking action to protect parks. Click here to learn more about the National Park Defender award.
Special Edition NPCA Collector's Label
In 2023, Yellowstone Bourbon will donate $250,000 to NPCA, making it NPCA's largest annual corporate donor.* In commemoration of their continued commitment to national park protection and partnership with NPCA, Yellowstone Bourbon will release a special edition NPCA collector's label on bottles of Yellowstone Select Kentucky Straight Bourbon Whiskey. Available beginning National Park Week (April 22 – 30), the new bottle will feature the bears depicted on the NPCA logo as well as a ribbon in NPCA's iconic green. You can learn more about the special edition label and NPCA and Yellowstone Bourbon's 2023 partnership here.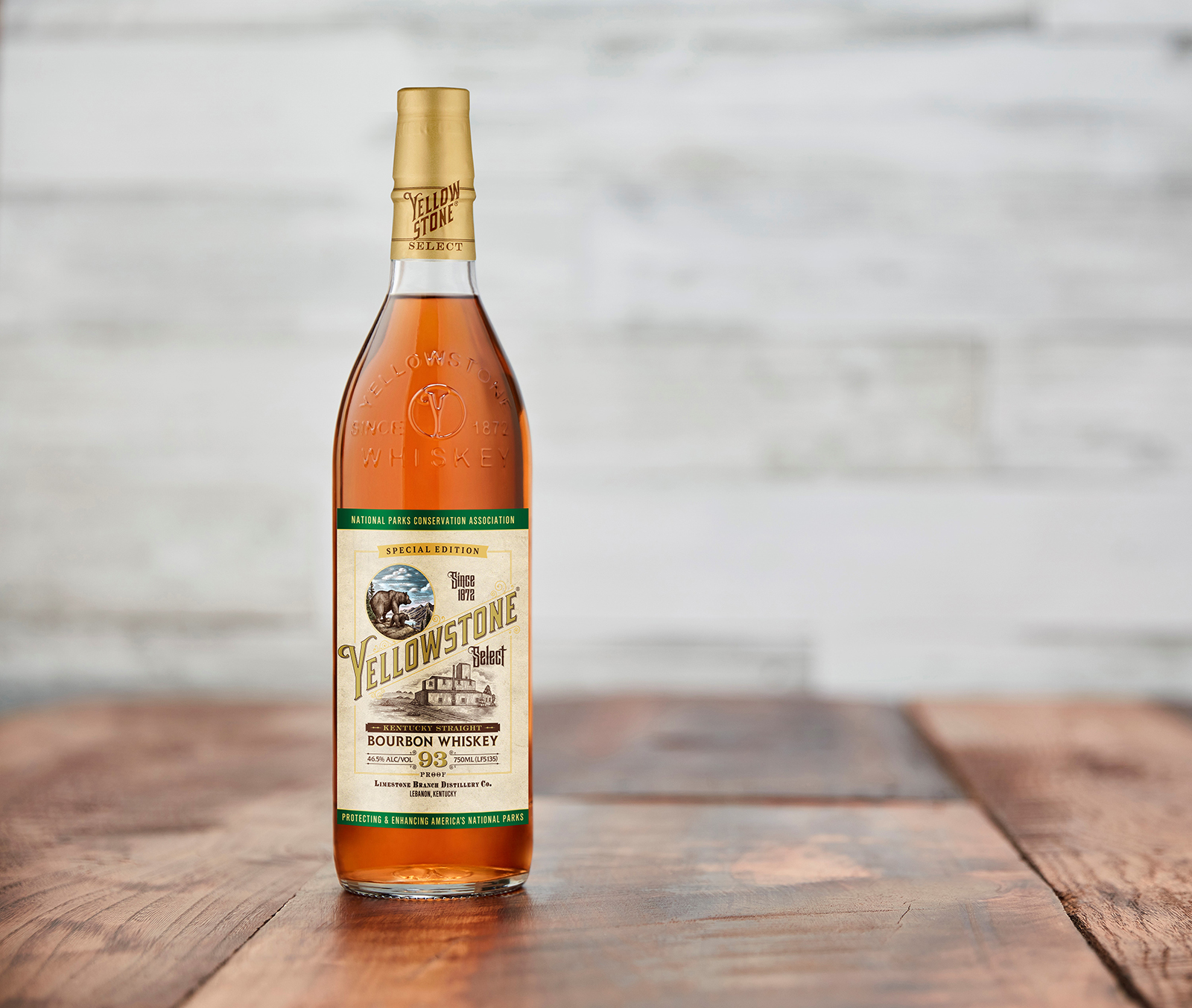 Starting during National Park Week in April, 10,000 cases (60,000 bottles) of Yellowstone Select featuring the NPCA collector's label will be available at retail nationwide. © Yellowstone Bourbon
Yellowstone 150 & Flood Relief
Yellowstone Bourbon helped NPCA commemorate 150 years since the designation of Yellowstone National Park in many ways in 2022. Stephen Beam was featured in a video that inspires individuals to think about the ways they can be park protectors in their daily lives through the perspective of community members who have meaningful, personal connections to Yellowstone National Park. When the film debuted at an event in Bozeman in April 2022, Stephen participated as part of a panel discussing the park and the ongoing need for its protection. Stephen and other participants encouraged members of the local Montana community to think about their own connections to the park and the ways they can do their part to protect it.
In June 2022, Yellowstone Bourbon stepped in to support Yellowstone National Park in the wake of devastating floods that swept through it and the surrounding area. Through a fundraising event hosted by NPCA, Yellowstone Bourbon matched donations up to $50,000 to support the Southwest Montana Relief Fund – a joint effort between the Park County Community Foundation (PCCF) and Greater Gallatin United Way – and the Red Lodge Area Community Foundation. With Yellowstone Bourbon's help, NPCA and the Bozeman community raised nearly $100,000.
Talking Parks Video Series
In 2022, Yellowstone Bourbon and NPCA released the Talking Parks video series. Featuring Stephen as well as two NPCA park advocates, the series tells stories of the role that national parks play in their lives and how they take park protection personally. Together, Yellowstone Bourbon and NPCA designed and disseminated resources to inspire people to take action and help them make a difference on behalf of parks. Participants across the country committed to writing letters, educating friends and family and contacting their representatives to ensure their voices and perspectives on the importance of protecting national parks were heard. You can learn more about the campaign and how you can make an impact here.
Virtual Park Talk
In a Park Talk in 2020, Stephen was joined by two members of NPCA's Next Generation Advisory Council and BACKPACKER Magazine's Randy Propster in a conversation that inspired people to think about how their own national park experiences have made them park advocates – as well as the impact they can make through that love of parks – by showcasing the panelists perspectives, backgrounds and personal passions for our public lands. The talk delved into how their journeys have affected them personally and the different but impactful ways they have protected our parks as a result. You can watch the Park Talk here.


*Based on donations made within NPCA's fiscal year 2023.
---

For more information about Yellowstone Bourbon, visit Yellowstonebourbon.com.