Community leaders and NPCA speak to Congress members about designating the South Side Pullman neighborhood as Chicago's first national park
WASHINGTON, D.C – This week, a delegation of community leaders, led by the National Parks Conservation Association, went to Washington to urge members of Congress to support and co-sponsor Representative Robin Kelly's (IL-2) bill, H.R. 3929, which would designate the historic South Side Pullman neighborhood as Chicago's first national park.
"There's growing support in Congress for the Pullman National Park bill, thanks in part to the efforts of many community leaders and residents," said U.S. Representative Robin Kelly. "Pullman's story is America's story. Nowhere else do the histories of the railroads, industrialization, civil rights, and the labor movement converge more intricately. The Pullman National Historical Park plan is one of those universal concepts that's been embraced by leaders of both parties, including members of Congress, the governor, the Mayor of Chicago, and the alderman."
George M. Pullman was an American industrialist who founded the Pullman Palace Car Company to manufacture luxury passenger railcars on the South Side of Chicago. The historic Pullman district was developed to provide his employees with a place to work and live and enjoy productive and healthy lives. The historic Pullman district is one of America's first planned industrial towns and represents nationally significant and important stories of the labor movement, and is home to one of the country's first African-American unions.
"Establishing a national historic park in Pullman will be a tremendous economic generator for the 9th Ward, and an asset for the City of Chicago," said Chicago Alderman Anthony Beale. "The national park is an opportunity to tell the story of Pullman's historic role in the development of American industry and to bring tourism, economic recovery and investment to this under-served community. It is only by working together that we can make this project happen to bring new jobs and the great Pullman stories to life."
"A recent economic report found that creating a national park at Chicago's Pullman neighborhood would attract more than 300,000 visitors each year, create 350 jobs annually, $15 million in annual wages, and sustain $40 million in economic activity," said Lynn McClure, Midwest senior regional director for the National Parks Conservation Association. "With the centennial of the National Park Service in 2016, there is no better time to create Chicago's first urban national park, which will provide Chicago residents and city dwellers perhaps their first or only national park experience, and better tell an important yet underrepresented part of our shared American story."
Report
NPCA, the City of Chicago, and Chicago Neighborhood Initiatives have released a study analyzing the projected economic impact of naming Pullman a national park.
See more ›
"We are grateful to have such strong support from the Illinois delegation and look forward to working with Senators Durbin and Kirk and Congresswoman Kelly to realize a national park back home in Chicago," said Pullman resident, Arthur Pearson with Pullman Arts.
Companion legislation, S. 1962, was introduced by U.S. Senators Mark Kirk and Richard Durbin earlier this year and is gaining support in the senate. Together the joint legislation will help preserve the historic Pullman district, bringing us one step closer to creating Chicago's first national park at Pullman.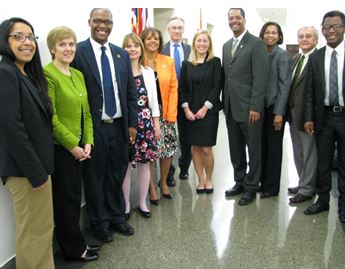 Photo Caption: Community leaders, led by the National Parks Conservation Association (NPCA), headed to Capitol Hill to urge support for legislation that would designate the historic Pullman South Side neighborhood as Chicago's first National Park. Pictured from left to right: Carina Ruiz, Student Conservation Association; Lynn McClure, NPCA; Lee Foley, NPCA; Catherine Shannon, Illinois Historic Preservation Agency; Rep. Robin Kelly (D-IL-2); Arthur Pearson, Pullman Arts; Molly Hannon, Americorps volunteer; Ald. Anthony Beale, 9th Ward, City of Chicago; Sylvia Cyrus, Association for the Study of African-American Life & History; Michael Shymanski, Historic Pullman Foundation; Bre'Shaun Spikes, Student Conservation Association volunteer.
###
About National Parks Conservation Association
Since 1919, the nonpartisan National Parks Conservation Association (NPCA) has been the leading voice in safeguarding our national parks. NPCA and its more than one million members and supporters work together to protect and preserve our nation's natural, historical, and cultural heritage for future generations. For more information, visit www.npca.org.