We asked members of NPCA's Veterans Council and veteran staff members to share their thoughts on this special day and the role national parks play in telling the story of veteran history. 
Americans observe Veterans Day each Nov. 11 to honor U.S. veterans and victims of all wars. For many people, it's a chance to pay respect for those who have sacrificed their lives to protect our country and democracy.
The U.S. veteran population is diverse. This year, the National Museum of the American Indian will hold a dedication ceremony for the National Native American Veterans Memorial that was created in 2020. The memorial honors American Indian, Alaska Native and Native Hawaiian veterans, which number more than 183,000, and their families.
For veterans who serve on NPCA's Veterans Council or work for NPCA, Veterans Day calls for deep reflection — and is often spent outdoors in our national parks and public lands. Read seven veterans' thoughts about this observance and the improved attention to Native American veterans.
Blayne Smith, Army
Military service: Former Army special forces officer who led combat units in Iraq and Afghanistan.
Today: Co-founder and principal at Applied Leadership Partners, interim director for health and wellbeing at the George W. Bush Institute, co-chair of the Armed Services Arts Partnership.
For Smith, Veterans Day offers a chance to reflect on his service and how he can best continue to serve out of uniform. "Maybe most importantly, I believe that Veterans Day is a chance for us to highlight the value of service and the civic responsibilities that we all have as Americans," he said.
He typically spends the day connecting with friends and expressing his appreciation for their service.
National parks and public lands are "tangible, beautiful representations of what veterans have served to protect. They are America — literally what we fought for," he said.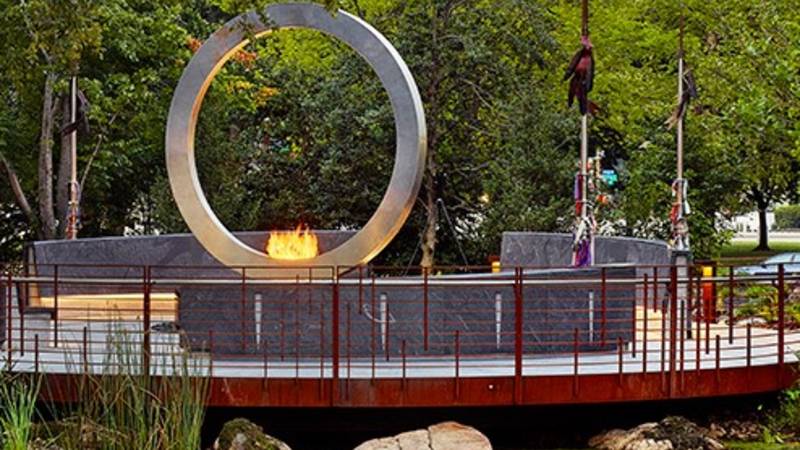 Smithsonian Institution
Join in the formal dedication of this memorial on Veterans Day at the National Museum of the American Indian in Washington, D.C.
See more ›
"Most Americans are largely unaware of the incredible contributions that Native Americans have made to our military and national defense," Smith said. "It is amazing to me that communities that have historically suffered hardship and injustice at the hands of the government are also serving at much higher rates than the average American. … We, at the very least, need to highlight the incredible service and sacrifice of Native Americans."
Lt. Col. Erica Carroll, Air Force
Military service: Combat veteran in Iraq, began uniformed military service in 1999.
Today: Senior intelligence officer in the Alaska Air National Guard, professional ski and yoga instructor.
"My first memories of Veterans Day were with my Grandpa, who served as a Marine and always taught me the importance of the red poppy on Veterans Day," Carroll said. "Red poppies were among the first plants to bloom in the devasted battlefields of northern France and Belgium. I continue sharing that connection with my daughters today."
Carroll typically spends the day remembering veterans who paid the ultimate price, reaching out to family and friends she served with, and keeping the hope of world peace in her heart.
"Veterans Day is a day to remember the bravery, hard work and dedication of millions of people who have served, including their families. … It is a day to thank those with respect, honor and gratitude."
The new National Native American Veterans Memorial is "great and overdue," she said. "I feel so grateful to have lived the last decade of my life in Alaska and served alongside many incredible servicemen and servicewomen who have continued generations of extraordinary Indigenous commitment and legacy serving in the U.S. Armed Forces. … It is our duty as Americans to listen and learn from their stories and experiences."
Erick Andino, Navy
Military service: Former combat medic who served in two overseas deployments, served at Naval Medical Center Portsmouth and Camp Pendleton.
Today: Photographer and charter member of the NPCA Veterans Council.
On Veterans Day, you will likely find Andino at a small veteran gathering or on a hiking trail reflecting on memories of his military service. He said he has found nature — with its lack of crowds and simplistic beauty — to be key in his transition from military to civilian life.
Andino said he observes Veterans Day with gratitude: for completing his service intact and for the sacrifices of others.
"(I) remember to make sure I'm living the best version of my life — not just for myself but for my brothers and sisters in arms who were fathers, mothers, sisters and brothers and are no longer with us and didn't get a chance to see some future goals and dreams come to fulfilment," he said. 
He continued, "The history between national parks and veterans goes back to the beginning, from when some of the first rangers were U.S cavalry and the history of the buffalo soldiers, to how even language from our Native American "code talkers" played a vital role during WWII. I'm very happy we are honoring our Native vets and their families."
Allison Jaslow, Army
Military service: Former Army captain and Iraq War veteran.
Today: Seasoned political and communications strategist; a leading voice on the impact of the military-civilian divide on the U.S. political system and the challenges faced by women in the military.
"Our national park system is home to many national monuments and memorials that help to elucidate the military history that shaped veterans' experience and to honor the lives that many who served with us lost in battle," Jaslow said.
"I think so much about what serving represents is reflected in our parks. We fought for all of our fellow Americans, to protect what generations who came before us built for us, and to defend every inch of land that flies the American flag."
Jaslow said national parks reflect veterans' service, but they could tell even more veteran stories. "I think the story of the woman veteran deserves more attention. Women veterans have done a lot more than serve as nurses, as we're depicted at the Vietnam Memorial, and I hope in time that's captured in how we tell our stories across the park system."
The Native American memorial, she said, is hugely important. "Their service and sacrifice is next level, in my opinion, considering our nation's history with Indigenous Americans. And it's also undeniable that cohorts like the Navajo Code Talkers, for example, played a critical role in American military victories."
Tom Voss, Army
Military service: Three years' service in a scout-sniper platoon with the 25th Infantry Division, deployed to Mosul, Iraq.
Today: Founder of Ojai Earth, a nonprofit focused on regenerating people and the planet through holistic practices; co-author of memoir "Where War Ends: A Combat Veteran's 2,700-Mile Journey to Heal ― Recovering from PTSD and Moral Injury through Meditation."
For Voss, Veterans Day is a time to spend in nature to experience peace and honor his time in service. It is a day "to pause and recognize the men and women who embody courage and commitment to a cause that is greater than themselves," he said.
After serving, Voss said he struggled to reintegrate into civilian life. To help himself heal, he undertook a 2,700-mile trek from Milwaukee, Wisconsin, to Los Angeles — a journey that was captured in the Emmy-nominated documentary film "Almost Sunrise."
As to Native Americans' role in military service, he said, "We must highlight and celebrate our Indigenous brothers and sisters who have served. I think it's great that the American public gets a better idea and understanding of the diversity of our military and how Native communities have been fighting for our country for almost 200 years. The Native communities serve in the armed forces at five times the national average, and I think their commitment to services should be honored."
Jimi Shaughnessy, Marines
Military service: Former Sergeant and Iraq Combat Veteran.
Today: Supporting veterans in civic leadership through local engagement with NPCA.
Shaughnessy typically spends Veterans Day outdoors either hiking or camping. "I tend to avoid the parades and social events, so I can find space and solace to reflect on the past year and prepare myself for the next year," he said.
This Veterans Day, however, he will be in Washington, D.C., attending the dedication ceremony for the National Native American Veterans Memorial. "Native Americans have been neglected and persecuted since before our country was founded. Somehow, each generation of Native Americans continues to volunteer for the Armed Forces in large numbers," he said.
The dedication procession and ceremony is "a small example of the recognition that the Native American veteran community deserves," he said.
National parks sites, he said, often lack the Native American Indian service members' contribution and the U.S. military's role in the removal of Indigenous peoples. "I think we need to continue to ask more from our country in terms of recognition and support to the Indigenous communities, and this memorial should be the starting point."
Royer Lopez, Marines
Military service: Marine Corps Sergeant 0621 Field Radio Operator.
Today: NPCA's senior stewardship coordinator.
"Being a veteran as well as an environmental advocate, I take great pride in the way national parks bridge the gap between service members and national parks," said Lopez, citing Pearl Harbor National Memorial as a great example.
Lopez typically spends the day with fellow veterans, either running a 5K in support of a local veteran foundation or attending a parade. This year, he will be at the New York City Veterans Day Parade.
"The week of Veterans Day leading up to Nov. 11 is a time of reflection for me. I think about all the great men and women who at some point in their life signed up to serve this great country. I look back at old memories of my time in the service and feel great joy from all the lessons my time in the military taught me," he said.
"I could not have been more excited and happier," to learn of the National Native American Veterans Memorial dedication, he said. "Paying homage to honor American Indian, Alaska Native and Native Hawaiian veterans and their families has been long overdue."
Learn more about NPCA's Veterans Council and their work in the national parks.
About the authors
Linda Coutant

Staff Writer

As staff writer on the Communications team, Linda Coutant manages the Park Advocate blog and coordinates the monthly Park Notes e-newsletter distributed to NPCA's members and supporters.

Angela Gonzales

Associate Director, Communications

Angela joined NPCA in October 2017 and is an Associate Director of Communications. She currently manages outreach and communications for the Government Affairs team and Conservation Programs.