A veteran shares his ideals with his daughters through his love of public lands
I grew up as a "Guard brat." My dad held a full-time position in the Illinois Army National Guard; every weekday and one weekend a month, he went to work in his military uniform. I didn't grow up in an active-duty military family with frequent moves, on-base housing and a commissary, but I was raised in a military household.
My family has a long history of military service, beginning with my sixth-great-grandfather, William Marvin, who was a private in the New York Militia in 1776. Like him, my great-grandfather, my grandfathers and my father, I too am an Army combat veteran.
My two daughters were both born after I was medically retired from active duty, which means they never saw me in uniform. I have struggled with how to pass along the legacy of my time in the military and my family's tradition of service.
A few years ago, I found my answer in an unexpected place: national parks.
Patriotism, liberty and democracy are among the ideals I risked my life for in combat. But these are hard concepts to explain to a child. There are few physical manifestations of these ideals, save for, perhaps, an American flag or a voting booth (which my kids aren't old enough to use, yet).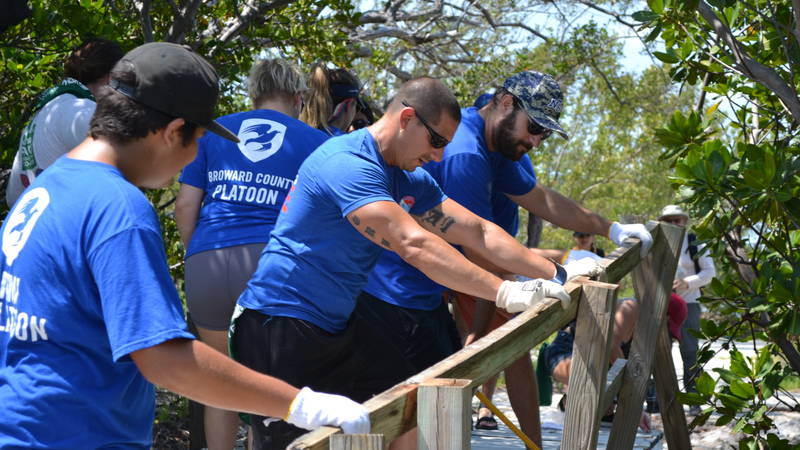 NPCA at Work
NPCA's veterans program meaningfully engages the military community — including veterans, active duty, reservists and military families — to support national parks through service projects and advocacy.
See more ›
For me, national parks are a truly tangible representation of what I fought for overseas. In parks, my children can see, smell, touch and hear the parts of our country I served to protect. And these places only exist because they have been preserved by the federal government — by and for the people. The National Park Service ensures that our beautiful, historic and cultural icons will still be there to be enjoyed by my grandchildren and their grandchildren and their grandchildren.
This July, my family will embark on the second of three month-long national park road trips. Across three summers, this park-to-park tour will cover 24 national parks – 23 of which I will be visiting for the first time. Hopefully, my daughters will walk away with a better understanding of why I served my country in the military and what it means to me now.
Even though Afghanistan is as far from U.S. national parks as one can get, I do believe that my time in combat played a role in protecting our parks. I also believe that, now, as a veteran, I continue to have an obligation to fight for parks. And I have been incredibly lucky to work with NPCA to create strategies for engaging veterans in the preservation and protection of national parks for future generations.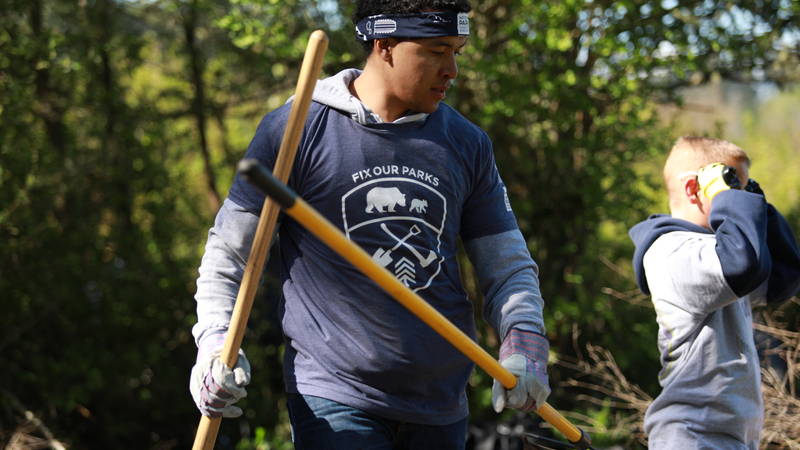 Press Release
"With the launch of the Veterans Council, we will further elevate our veterans as essential partners in our work to safeguard some of our country's most treasured places." -…
See more ›
Last month, NPCA launched a national Veterans Council, which I helped develop. A small, impressive group of veterans with diverse backgrounds from various parts of the country have offered their expertise and voices to support national park advocacy.
By combining the protection of national parks and the voices of veterans, we bring together two of the few remaining issues that still enjoy bipartisan support in this country. The hope is that with veterans leading the conversations, we might be able to truly take action on some of the problems that most negatively affect national parks.
The very top of that list is climate change.
In national parks, the signs of climate change are accelerating. The effects are bringing many parks to a breaking point: wildfires at Sequoia; sea level rise at Dry Tortugas; habitat destruction at Yellowstone; flooding at Zion; and the loss of glaciers at Glacier. Climate change is threatening our American treasures, and protecting them will require broad and creative approaches.
Because so many Americans love them, national parks can be part of the solution. A new national poll by NPCA found that a large majority of Americans (83%) — regardless of political affiliation — would support their representative in Congress backing a bill designed to reduce the impact of climate change on national parks.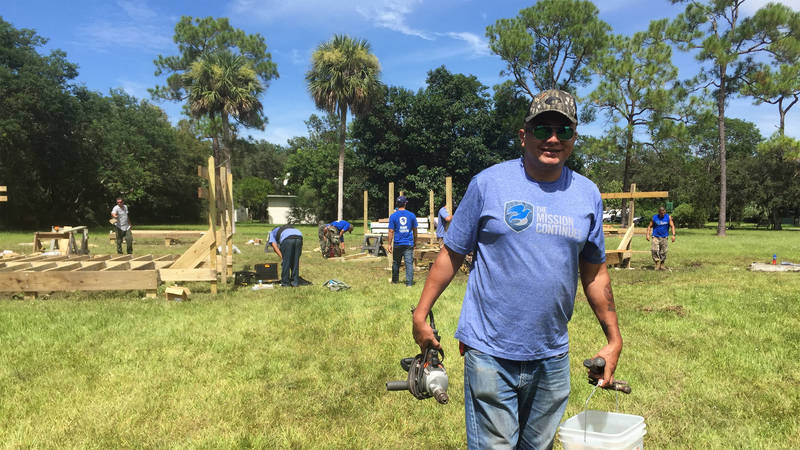 Blog Post
Veterans continue to serve their country — in some cases taking strides to overcome post-traumatic stress disorder, gaining new skills and adjusting to civilian life — through innovative programs in…
See more ›
Action is needed now, inside national parks, on Capitol Hill and in our own communities. And who better than veterans to lead the efforts? In a time when many Americans have lost faith in our institutions, veterans remain a trusted group.
Veterans are also a crucial part of the role national parks play in telling the American story. More than 150 National Park Service sites, from Bunker Hill to Gettysburg to Pearl Harbor, have some tie to our military history. At places like Yosemite, Stonewall and the Golden Gate, parks demonstrate the positive impressions military and veterans have made on our country.
And in our newest national park site, Amache National Historic Site, we tell the shameful story of the unconstitutional detention of Japanese Americans while celebrating the sacrifice of people who were formerly imprisoned there — men who enlisted to defend a country that was actively incarcerating them. In fact, Amache had the highest rates of military enlistment among internees of any of the camps, and when it came time to lobby for national park status, many modern-day veterans stepped up in the effort.
This is all just a sampling of the park advocacy work we can accomplish with veteran voices.
I am proud of my military service and a profound lover of national parks. It's a privilege to combine these two passions through NPCA's Veterans Council and the broader veteran engagement we can achieve as we give veterans all over the country the chance to fight for parks.
Stay On Top of News
Our email newsletter shares the latest on parks.
For me, the work of NPCA and all park protectors is an homage to my own service and the service of my family. The preservation of parks represents the legacy of my ancestors who fought for this country. The opportunity to share these places with my daughters is a gift. And the knowledge that national parks will be protected and enhanced for future generations is heartening and inspiring.
My kids may not be able to say they grew up in a military household, but they will be able to say they grew up with national parks.
About the author
Capt. Chris Marvin

NPCA Veterans Council Lead

Chris Marvin is a former Black Hawk helicopter pilot and medically retired U.S. Army officer with more than seven years of active service. He led a platoon into combat in 2004, where he was wounded in a helicopter crash near the Afghan-Pakistan border.