Veterans continue to serve their country — in some cases taking strides to overcome post-traumatic stress disorder, gaining new skills and adjusting to civilian life — through innovative programs in our national parks.
Almost a decade after he got out of the military, Jose Rodriguez was adrift. Struggling with post-traumatic stress disorder (PTSD) after tours in Iraq and Afghanistan, he had turned to drinking to alleviate the pain. Then came brushes with the law, including arrests for driving under the influence.
He had quit the military in 2006 to be there for his second daughter's first steps — he had missed moments like these in his older daughter's childhood — but Rodriguez's lack of direction took a toll on his family. After his marriage crumbled and his mother told him she did not recognize him anymore, Rodriguez decided it was time for a change. He signed up for a three-month inpatient program and became sober. Then he remembered an application he had filled out halfway but never submitted for a fellowship with the veterans group The Mission Continues. Under that program, veterans work with a nonprofit organization of their choice for six months and receive a stipend.
Rodriguez is from Homestead in South Florida. He lives just miles from Everglades and Biscayne National Parks and grew up going to both. He missed the outdoors, so he chose the National Parks Conservation Association as his nonprofit partner. He finally completed his application and sent it.
The process is competitive, but NPCA's program manager for the Sun Coast region, Jacqueline Crucet, quickly gave her approval. Rodriguez's interview was not even over before the two were discussing projects for him to tackle. He finished his six-month stint just over a week ago and credits the experience with giving him a new sense of purpose.
"It got me back on track," Rodriguez said. "I was going rock bottom."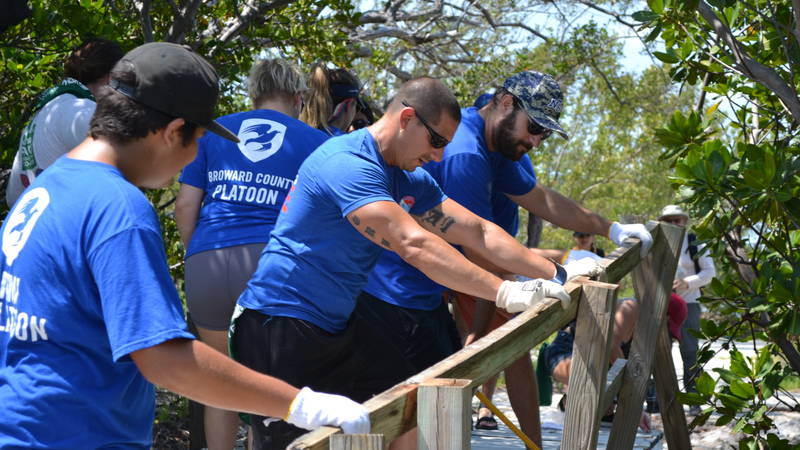 NPCA at Work
NPCA's veterans program meaningfully engages the military community — including veterans, active duty, reservists and military families — to support national parks through service projects and advocacy.
See more ›
Every year, about a quarter-million U.S. soldiers retire from active duty. Many — though not all — struggle with the transition to civilian life. The skills they acquire in the military might not translate to civilian jobs. Some miss the camaraderie, excitement and sense of mission in their former lives. Others suffer physically and emotionally from their deployments to war zones. Many nonprofits not only help veterans adjust to civilian life, but also give them an outlet for their desire to continue serving their communities.
Veterans volunteer an average of 169 hours a year compared with 126 hours for nonveterans, according to a survey by the National Conference on Citizenship and veteran group Got Your 6. The difference amounts to a full workweek's worth of volunteering. Veterans are also more likely to vote, engage their local political leaders and work with neighbors to fix problems in their communities, the survey found.
Veterans also care about their national parks. Three-quarters of post-9/11 veterans in western states approve of the federal government's protection of public lands by designating them as national parks, national monuments or wilderness areas, according to a 2013 survey by the Vet Voice Foundation, a group that encourages veterans to participate in the public process.
It's no surprise, since the military has a long relationship with the parks. Early on, the cavalry was entrusted with guarding national parks such as Yellowstone, Yosemite and Sequoia. Now the National Park System includes many sites that commemorate battles and honor soldiers' sacrifices.
Studies have also suggested that spending time in nature has positive effects on veterans suffering from PTSD.
"National parks bring a sense of serenity, calmness and order in nature," said Doug Pfeffer, who coordinates The Mission Continues' activities in the Pacific Northwest. "There is something about that that makes it very easy for veterans to decompress and to de-stress."
NPCA has partnered with veterans groups to bring veterans to the parks, and some of these organizations also work directly with the National Park Service to complete projects that the short-staffed agency can't tackle on its own. On Sept. 11, a group of veterans removed debris from New York's Fort Tompkins at Gateway National Recreation Area. The group brought two dumpsters to collect the refuse and filled them in just two hours, so they ordered two more. In all, they removed 20 tons of trash. This is the kind of direct impact veterans are looking for, said Vu Nguyen, the local Mission Continues representative who organized the event.
"Their feeling is: I want to leave this place better than when I got here," he said.
Pfeffer said veterans like to take on these kinds of difficult and dirty projects. In Crater Lake in July, a group he supervised used hundred-year-old saws to clear a hiking path of fallen trees and branches. And veterans provide more than unskilled labor. In January, another group working at Ebey's Landing National Historical Reserve in Washington will clear vegetation from a path, carpenters will replace a rotten bench, and artists will redo an interpretive sign, Pfeffer said.
During these projects, which often run over multiple days, veterans get to experience the tight units and camaraderie they miss most from their time in the military, Pfeffer said. By the end of a project, they often exchange phone numbers and connect on social media to stay in touch. Some of them also network with Park Service staff, inquiring about career opportunities and getting help with the application process for job openings.
This is one of the key goals of the exercise: advance veterans' careers by helping them expand their professional networks and acquire practical experience. "One of the issues that veterans have is that the job skills they learned while in the military are not necessarily transferable to civilian work life," NPCA's Crucet said. "So in the projects, we are identifying new skills or providing opportunities to refine skills."
Rodriguez, for example, is pursuing a degree in construction management, so Crucet looked for projects that would complement his studies, including work to reconstruct elevated wooden platforms in the Everglades that school groups use to camp off the wet ground. Rodriguez participated in the demolition of the damaged structures, and his group rebuilt the platforms over two weekends. Crucet said it would have taken the Park Service months to repair the platforms. Rodriguez also met with the Park Service's construction management staff and visited another one of the park's construction projects with engineers and contractors.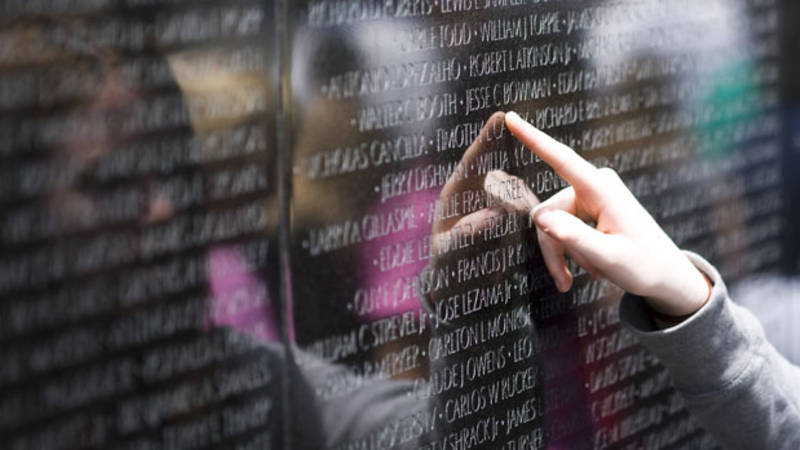 Blog Post
Why not take the next fee-free day throughout the National Park System to learn more about America's military history?
See more ›
According to Crucet, volunteers from The Mission Continues will also be advocating for increased national park funding in Congress to help reduce the $12 billion repair backlog and address maintenance needs across the country — part of NPCA's goal to help veterans become stronger advocates for parks.
Rodriguez even enlisted his brother to volunteer. At first baffled by the idea of doing construction on a weekend for free — that's his line of work — Rodriguez's brother became amazed by the tight fellowship between the former soldiers. "Once you get us together, there is just that energy," Rodriguez said. "It's just something simple and unexplainable."
Rodriguez is now a full-time student at Miami-Dade College with plans to transfer to Florida International University. He's hoping to own his own construction company at some point or perhaps work for the National Park Service. He also volunteers for a veterans group called Swamp Apes to catch invasive Burmese pythons that wreak havoc on Florida's ecosystems — "to find that thrill that we had in the military," he said.
Stay On Top of News
Our email newsletter shares the latest on parks.
Though his fellowship with NPCA ended last month, he said he will continue to get up early on Saturdays to volunteer in the area's national parks. "That's the dedication we've got," he said. "We have a mission, and we accomplish it."
About the author
Nicolas Brulliard

Senior Editor

Nicolas is a journalist and former geologist who joined NPCA in November 2015. He writes and edits online content for NPCA and serves as senior editor of National Parks magazine.