Videos feature yoga instructors who have served in our armed forces, filmed at some of our most beautiful parks.
This month, NPCA is launching a new partnership with Veterans Yoga Project to create a series of yoga and mindfulness videos recorded in different national parks. Our first video features Army Intelligence Analyst and long-time wellness enthusiast Alicia Brill.
For Brill, nature played a major part in her upbringing.
"I grew up on a dairy farm north of Seattle," says Brill. "We fed calves, drove tractors, changed irrigation, befriended all of the barn cats, played in the hay and showed cows in 4-H during the summertime."
Like nature, the armed forces were part of her childhood. Both her father and her grandfather served in the U.S. Navy.
Brill witnessed 9/11 during her senior year of high school. It was this moment, combined with a desire to serve her country, see the world and receive an education, that inspired her to enlist in the U.S. Army that year.
"I decided to enlist as an intelligence analyst," says Brill. "I initially wanted to become a linguist, for my love of languages, but you needed to be 19 years old for that job and, at the time, I didn't want to wait."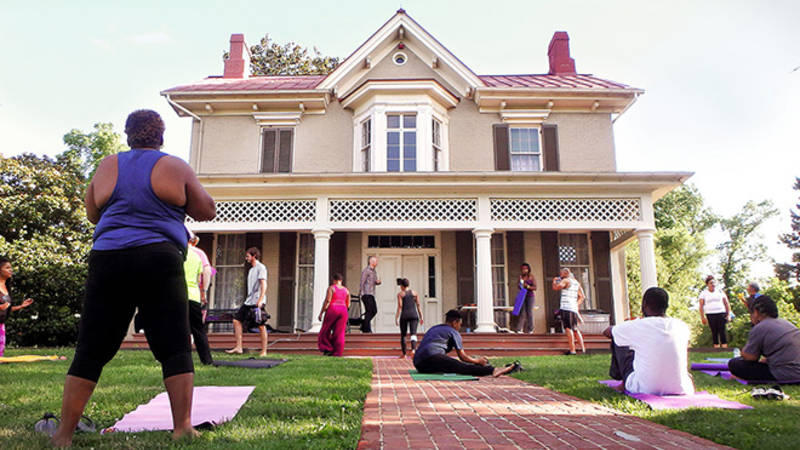 Blog Post
One night of yoga didn't wipe away all of my stress, but it did remind me of the real reason of why I do what I do.
See more ›
A few years later, her older sister took her to her very first yoga class. "The teacher was great, and I fell in love with the practice right from the start," says Brill.
It was this practice that she took with her to her deployment in Cuba. And after a decade of hoping to someday do it, Brill got her yoga teacher training through 8 Limbs Yoga Studios in Seattle, Washington.
"Through my yoga teacher training, I learned how yoga was not just the asana [movement] practice that it's most often associated with in the U.S.," says Brill. "Instead, I think of yoga more as a practice in how we live our lives, the intentions we bring to each day, our choices, and how we respond to what's in front of us now."
Brill had long envisioned herself bringing yoga to other military veterans. During her teacher training, she completed a research paper on the benefits of yoga for PTSD and healing from trauma. This was also around the time that she became aware of Veterans Yoga Project. She enrolled in their 15-hour Mindful Resilience for Trauma Recovery training.
"I immediately felt at home being amongst the Veterans Yoga Project community," she says.
After graduating her teacher training, Brill got to bring her vision to life, teaching veterans at both the Veterans of Foreign Wars in Ballard and the Seattle Veterans Center, which was a bit like a homecoming.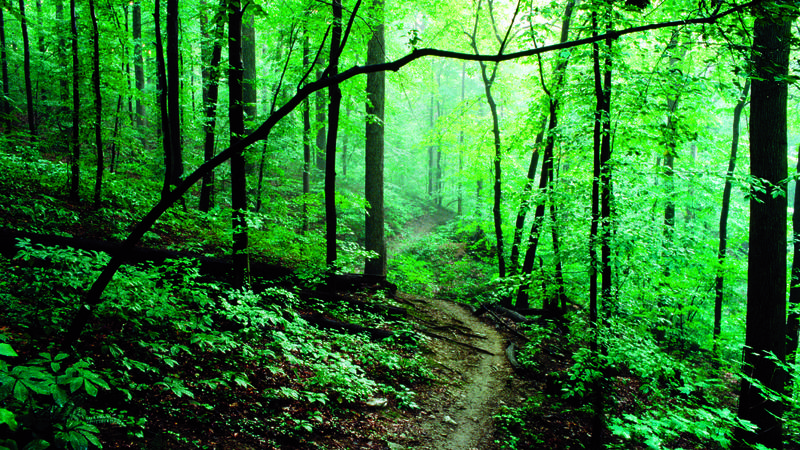 Magazine Article
The woods are lovely, dark and deep — perfect for forest bathers searching for a little peace of mind.
See more ›
"Ironically enough, the Seattle Vet Center was the exact same building I had completed my processing in for the Army, almost 20 years prior!" says Brill.
Brill and her husband – a fellow Army veteran – decided on a career change. Both have a deep love of nature, especially the mountains, and are avid mountaineers.
"We bought an RV, my husband completed a seasonal academy to become a park ranger, and Glacier National Park offered us both seasonal positions in the summer of 2018," says Brill. "We spent a winter season at Hawai'i Volcanoes National Park, but otherwise, we've both been working here at Glacier ever since."
Brill works in the Visitor and Resource Protection division and recently helped create the First Responder Wellness program at the park.
"Our First Responder Wellness program is still in its infancy stages, but essentially, this program is geared towards supporting the overall mental health and wellbeing of our law enforcement officers and park dispatchers," says Brill – adding that all park employees and volunteers could benefit from the program.
The ongoing pandemic has presented challenges and setbacks as people stay home to avoid exposure. However, Brill hasn't been deterred. She is proud to have recorded her yoga practice along the shores of Glacier's Lake McDonald as part of Veterans Yoga Project's partnership with NPCA.
"Lake McDonald brings me an immediate feeling of grounded serenity and overwhelming peace," she says.
Stay On Top of News
Our email newsletter shares the latest on parks.
For many, nature itself provides a grounding, meditative experience, and yoga can provide the same feelings. Combined, the benefits can be powerful and profound.
"Yoga is an intentional practice and commitment towards what we want to cultivate in ourselves and for our lives," says Brill. "It's also helped me to cultivate a relationship with myself that is much kinder and more compassionate."
See the full video series on NPCA's Youtube channel and learn more about the Veterans Yoga Project.
About the author
Abby Rosmarin

Abby Rosmarin is a registered yoga teacher and writer based out of New Hampshire. She is the author of six books, including the Amazon bestselling "The Secret to a Happy Marriage" and "Venom." Her work has been featured on Huffington Post, Bustle, MindBodyGreen and others.