Summer 2017
Soaking It All In
The woods are lovely, dark and deep — perfect for forest bathers searching for a little peace of mind.
We walk off the trail, careful not to crush brand-new saplings and spring blossoms that dot the forest floor of Rock Creek Park. After Melanie Choukas-Bradley finds a suitable clearing, she instructs us to set up our folding stools in a circle ("Just make sure it's stable before you sit on it"). She then reads a particularly fitting quote by naturalist John Muir — "Another glorious day, the air as delicious to the lungs as nectar to the tongue" — given that the rains that soaked the Washington, D.C., region the day before have given way to a bright, chilly April morning. Next, Choukas-Bradley asks us to share why we are here.
There are two Environmental Protection Agency workers coping with a new boss who had been one of the EPA's most vocal nemeses in his previous job as attorney general of Oklahoma. There is one recovering Clinton campaign worker. Many others in the group of 17 say they are suffering from the negative side effects of a fast-paced life in the nation's capital. "I need to find ways to chill out — I'm being told by everyone around me," says Lisa Hyland, an energy and national security analyst at a local think tank.
We have come to the right person: Choukas-Bradley is a certified forest therapy guide.
A naturalist who has been leading walks in and around Washington, D.C., for decades, she's also the author of several books on local green spaces, including one chronicling the seasons in Rock Creek Park, the urban forest that stretches through the city and is managed by the National Park Service. As soon as Choukas-Bradley learned about forest therapy — known also as forest bathing — in 2014, she found a certification program in Santa Rosa, California, and signed up for a weeklong workshop.
"It just resonated with me immediately," she says.
Shinrin-yoku, which translates as taking in the forest atmosphere or forest bathing, was developed by Japan's Forestry Agency in 1982 as a way to promote well-being in an overworked population that has one of the highest suicide rates in the world. The practice, which focuses on soaking up the good vibes of the forest through a slow walk or simply sitting quietly in the woods, has now spread globally. The Association of Nature and Forest Therapy Guides and Programs conducts training in the United States as well as in countries such as France and Australia.
In Japan, the government set up dozens of forest bathing trails that people can follow on their own or under the guidance of a forest therapy ranger. Ranger stations allow people to measure their blood pressure before and after their walks, and it can take as little as 20 minutes of forest bathing for blood pressure to go down, says Florence Williams, the author of "The Nature Fix," a book about nature's health benefits. "By engaging all your senses, you can have kind of a shortcut to relaxation and a restorative state," she says.
Most of the scientific research on forest bathing has come out of Japan, and much of it is good news for those who like to soak up the greenery. In addition to experiencing a drop in blood pressure, forest bathers exhibit lower levels of cortisol, a stress-related hormone. Their heart rates slow, and they see an increase in natural killer cells, which are a critical component of the immune system. Also at play are phytoncides, volatile chemicals that plants produce and people inhale on their forest walks. These substances have been linked to lower heart rates and reduced activity in the prefrontal cortex of the brain, which suggests relaxation.
"All that health research really backs up what it feels like to be out in nature," Choukas-Bradley says. "It feels good. We belong there."
She recently took 25 high school students on a forest bathing walk on Sugarloaf Mountain in Maryland and was amazed to see how comfortable they were. They quickly relaxed, lounging on rocks and sharing their thoughts with each other and with the nature around them. "What really impressed me was how they just seemed to be soaking up the quiet," she says. "They just took to it like fish to water."
Choukas-Bradley structures her walks around a series of "invitations" designed to help participants pay close attention and use all their senses. "The more tuned in you are, the more you see, the more you experience," she says.
Her first invitation to us is to feel the "pleasures of presence." She asks us to close our eyes, "just relax and breathe deeply into your belly and feel the goodness of the air." A woodpecker drums insistently in the distance, and the soft steps of a jogger on packed dirt echo nearby. After a few minutes, she tells us to open our eyes "and imagine that you're seeing the world for the very first time." She then picks up a "talking stick," and asks us to pass it around and take turns saying one thing we are grateful for. Many appreciate the calm and quiet of the forest, and are thankful for the people who protect it. (The walk was organized by the Rock Creek Conservancy.) "I feel grateful for the vivid shades of the green and the blue," says Kimberley Raue, an education consultant. "It's so beautiful."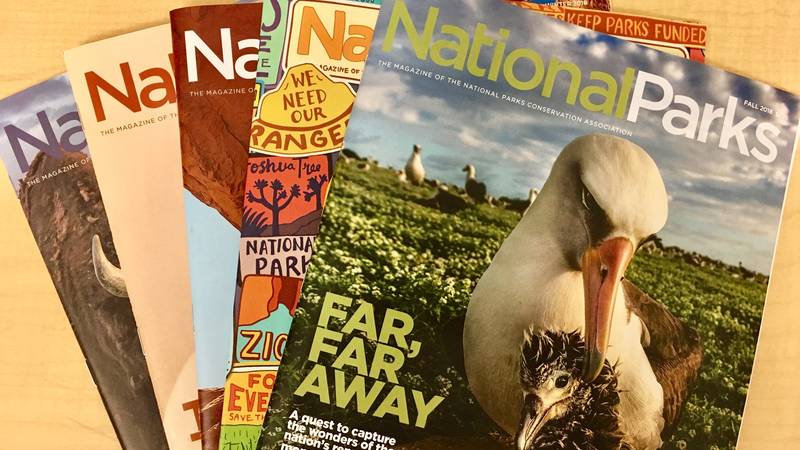 Subscribe to
You can read this and other stories about history, nature, culture, art, conservation, travel, science and more in National Parks magazine. Your tax-deductible membership donation of $25 or more entitles…
See more ›
Other invitations include paying attention to motion (one forest bather notices "tiny flecks of pollen catching the sunlight," while another has to look closely to figure out that a slug on the trail is indeed moving) and spending 10 minutes looking for treasure. Choukas-Bradley brings us to attention each time by ringing her small Himalayan singing bowl. One participant's treasure is "just staying put," and someone else discovers "a perfect spot of warm sun."
After each invitation, we pick up our light stools and walk a couple hundred yards at most. By the end of the three-hour walk, we probably have covered less than a mile. We form our circle one last time and pass around a thermos of warm maple sap and tea cups that Choukas-Bradley has brought with her. We read poems by Mary Oliver ("Wild Geese") and Wendell Berry ("The Peace of Wild Things"), and we each take a final turn with the talking stick to share what we'll take with us from the experience. Calm and stillness is the consensus. One participant promises to notice beauty more. As parting advice, Choukas-Bradley urges us to find a patch of nature close to where we live and return to it often. As we rise and fold our stools, she asks: "Are you ready to go back to the world?"
No one says yes.
About the author
Nicolas Brulliard

Senior Editor

Nicolas is a journalist and former geologist who joined NPCA in November 2015. He writes and edits online content for NPCA and serves as senior editor of National Parks magazine.