From leisurely rides to challenging climbs, national parks offer riding opportunities for cyclists of all abilities. Check out top recommendations and advice from NPCA enthusiasts on where to go and what to see.
The vast majority of national park roads were built for automobiles, and cars are a great way to discover the parks' scenery, especially for those with limited time or mobility. But even at low speeds, drivers can fail to fully appreciate the landscapes they're traversing — not to mention the scent of sun-heated pine needles, the chorus of frogs in a nearby pond or the frantic flight of a lizard on the road's shoulder.
By hopping on a bike, adventurous travelers can experience all this and much more.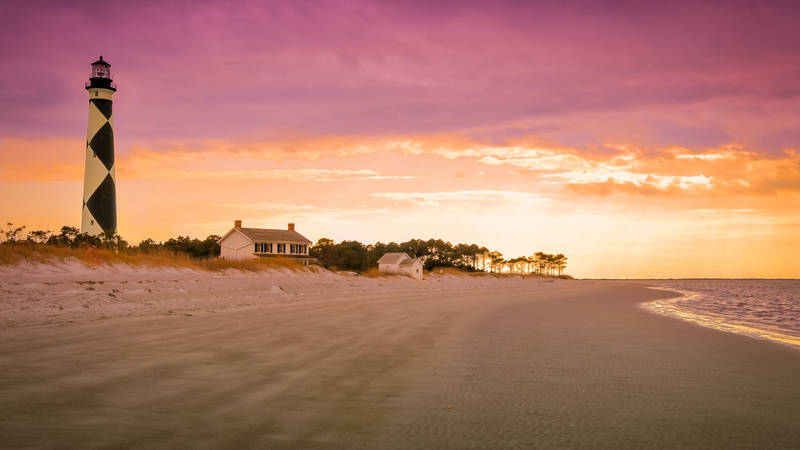 Blog Post
Spend time off the beaten path — literally. These 9 national park sites offer slower, quieter, human-paced alternatives to automobile-powered excursions.
See more ›
Fortunately, the National Park System is full of spectacular biking opportunities, from flat, meandering rides suitable for beginners to climbs that would challenge a Tour de France pro. What's more, the National Park Service occasionally closes some of these roads to car traffic, offering riders a safer and more pleasant experience.
Parks popular with car visitors are not necessarily no-go areas for bikers. You might just have to pick a season or time of day with less traffic. Megan Cantrell, a former social media manager for NPCA who rode her bike in several Southwest parks, said her (very) early morning ride into Arches National Park allowed her to take in the park's stunning sandstone formations before the masses of cars showed up.
When sharing the road, cyclists should observe a number of safety precautions, including riding single file, wearing bright clothing and using bright lights both on the front and back of their bikes. Some roads don't have much of a shoulder, so riders should be prepared to share the road with other vehicles. They should also be alert to wildlife darting across the pavement.
Weather conditions require their own set of safety measures. Mark Wenzler, NPCA's senior vice president of conservation programs, took part last year in a week-long ride through Death Valley National Park organized by Climate Ride, a nonprofit organization that promotes sustainability and supports environmental causes. He recommends bringing an electrolyte mix and more water than you think you'll need to avoid dehydration — and plenty of sunscreen.
Now that we've taken care of the basics, let's get to a few staff favorite parks for biking — although many other amazing rides (Crater Lake's Rim Drive, anyone?) would have amply deserved to make the list.
1. Shark Valley, Everglades National Park, Florida
Ever encountered an alligator while riding your bike? How about coming face to face with one at night? This is the one-of-a-kind experience offered by the Shark Valley Scenic Loop, a 15-mile course in the northern part of Everglades National Park that is especially popular on a full moon. Set out at dusk through the sawgrass of the Shark River Slough, and you might spot anhingas, herons, turtles and, yes, alligators along the way. "My first journey included me scaring an alligator that opened his jaw wide to a gaping pink cavern of a throat that glistened in the moonlight!" said John Adornato, the senior regional director of NPCA's Sun Coast office. "Thankfully I didn't fall off my bike from the shock and reflection!" Contact the Shark Valley Visitor Center for the timing of ranger-led rides.
2. Going-to-the-Sun Road, Glacier National Park, Montana
Getting antsy when you watch the Tour de France pros scale up alpine passes? The park system has just what you need. Glacier National Park's Going-to-the-Sun Road provides breathtaking views of mountain lakes, sharp peaks and — for now at least — glaciers. From the Apgar Visitor Center in the west, the road climbs 32 miles toward Logan Pass, which at 6,646 feet is the road's highest point. In summer, look for wildflowers, mountain goats and bighorn sheep. From there, it's 18 miles down toward the park's east entrance. During the summer, portions of the road are closed to cyclists between 11 a.m. and 4 p.m., but in early spring, the road is open to bikers before cars are allowed on it. Climate Ride also organizes a trip there every year. This ride, like the other Climate Ride events, is meant to be challenging yet doable for cyclists of a wide range of abilities, with different routes available to riders each day.
3. Hermit Road, Grand Canyon National Park, Arizona
A park that welcomes more than 5 million visitors (and their cars) every year may not seem like an obvious biking destination, but Kevin Dahl, NPCA's senior program manager for Arizona, said the Grand Canyon's South Rim "is a great place for bicycling." Dahl singled out the 7-mile Hermit Road, which offers some of the best views of the Grand Canyon, as an ideal choice. On a quiet day, you can even hear the roar of the Colorado River from Pima Point, one of the main overlooks along the route. During the high season, riders only have to share the road with park-operated visitor shuttles and a few authorized vehicles. For the last 3 miles or so of Hermit Road, cyclists have the option to ride on a multi-use trail that is closer to the canyon's edge. Just make sure to give plenty of leeway to hikers and visitors in wheelchairs. Also, the ride hovers around 7,000 feet in elevation, so be aware that exercise will feel more strenuous than at lower altitudes. Don't have a bike with you? You can rent one from mid-March through October at Bright Angel Bicycles near the Grand Canyon Visitor Center.
4. Cades Cove, Great Smoky Mountains National Park, Tennessee
It's not hard to see why this is a favorite ride for several NPCA staffers. This easy-going 11-mile loop in the western part of Great Smoky Mountains National Park seemingly has it all: restored 18th- and 19th-century historic buildings, beautiful Appalachian scenery and abundant wildlife. NPCA's managing editor of online communications Jennifer Errick said she saw wild turkeys and not one but two black bears on her ride there a few years ago. Casual cyclists can rent bikes at the nearby Cades Cove Campground Store, and the park closes the loop to cars before 10 a.m. on Wednesdays and Saturdays. Errick said that riding still feels safe even after the cars trickle in because drivers tend to go slow — they want to enjoy the sights, too!
5. Cactus Forest Loop, Saguaro National Park, Arizona
Cactus Forest Loop is the kind of road that makes car visitors wish they had brought their bikes along. The smooth, moderately hilly 8-mile loop is a favorite among local cyclists, who can purchase an annual pass for themselves and three other adult riders for just $35. Located in the park's Rincon Mountain District unit east of Tucson, it's a one-way winding road, ensuring that cyclists won't have to face oncoming traffic. The nearby Santa Catalina Mountains provide a great backdrop to the park's majestic saguaro cacti, and cyclists on an early morning ride can encounter some of the park's residents, including rattlesnakes, gila monsters and roadrunners. As with all desert parks, Saguaro is best visited outside of daytime summer hours. Note that the park does allow cyclists to ride at night, provided that they are equipped with headlights and rear reflectors.
6. Hurricane Ridge, Olympic National Park, Washington
You can't decide between the ocean and the mountains? Olympic National Park has both, and that means the road from sea level to alpine meadows is both spectacular and strenuous. Caeli Quinn, the co-founder and executive director of Climate Ride, described it as "an epic ride for serious riders." Shane Farnor, NPCA's online advocacy manager, said the 17-mile ascent is "not for the faint of heart" and is suitable for cyclists training for long, competitive rides. Leaving the Olympic National Park Visitor Center in Port Angeles, riders will go on a steady, forested climb with views of the slopes of the Olympic Mountains and the Strait of Juan de Fuca down below. At the Hurricane Ridge Visitor Center (at 5,242 feet), valiant cyclists will find snacks, several hiking trails, a grand view of Mount Olympus and perhaps a few blacktail deer grazing.
7. Zion Canyon Scenic Drive, Zion National Park, Utah
Zion National Park is a victim of its own success. So many people come to gasp at the park's pink and orange sandstone cliffs that park officials close Zion Canyon Scenic Drive to car traffic from March to November, and shuttles ferry visitors along the main thoroughfare. Cyclists are not subject to these restrictions, and so they get to enjoy one of the park system's most spectacular routes with only occasional shuttles passing them by (although riders must hop on a shuttle to go through the Zion-Mt. Carmel Tunnel, which is dark and dangerous for cyclists). The ride is just over 6 miles long each way and leads to the Temple of Sinawava, a natural amphitheater carved in sandstone. The whole experience is "magical," said Britte Kirsch, the regional coordinator of NPCA's Southwest Office.
8. State Route 20, Ebey's Landing National Historical Reserve, Washington
Named after Col. Isaac Neff Ebey, one of the first white settlers to homestead there, this national park site located on Whidbey Island northwest of Seattle preserves the 19th-century rural landscape, with historic farms that are still in use today. NPCA's Farnor visited the park regularly when he lived in Seattle, and he said it's "just a pleasant place to saunter along on a bike." But Ebey's Landing is not only about picturesque barns and pretty hedgerows. "This is a great place to see wildlife," said Farnor, who's spotted bald eagles, seals, sea lions and whales there. One note of caution: Roads are narrow, so beware of oncoming cars around tight curves. Also, many of the farms are still in private hands, so please look but don't trespass!
9. Ohio & Erie Canal Towpath Trail, Cuyahoga Valley National Park, Ohio
Just a few miles south of Cleveland, Cuyahoga is a gem for cyclists of all levels. You can actually ride your bike from Cleveland into the park; once within park boundaries, the path meanders along the Cuyahoga River for an additional 20 miles. Along the way, you'll ride through forests and beaver marshes and come upon many historic sites, including the mid-19th century Boston Store. If a 40-mile round trip sounds intimidating, know that a scenic railroad operates within the park, and you can flag a train at any of nine boarding stations along the towpath, and it will take you (and your bike) back to your starting point for a heavily discounted $3 (pedestrians pay $9). The path itself is hard-packed, so it is suitable for all types of bikes. You do have to share it with hikers, runners and occasional horse riders, though, so be sure to give a clear warning to other users before passing them on the left, and always yield to horses.
10. California Highway 190, Death Valley National Park, California
Wait, isn't Death Valley the national park you want to visit in the comfort of a car with functioning A/C? It is, certainly in the summer, but with some planning, caution and adequate timing, Death Valley is a great place to ride a bike. NPCA's Wenzler rode through it for a week last year on a trip organized by Climate Ride. Spring and fall tend to be the most suitable times of year to ride in the park, but be aware that temperatures can fluctuate wildly. To avoid needing to haul significant amounts of gear and water in the heat, consider camping in one place and going for day rides. Furnace Creek, which boasts a spring-fed swimming pool, is a great choice to set up camp. "That was very welcome after a long day of riding," Wenzler said. While the bottom of the valley is pretty flat, there is "a lot of climbing in and out" on the valley's edges, Wenzler said. He and the other riders climbed about 5,000 feet in one stretch from below sea level to Daylight Pass, and going down, cyclists can "pick up speed very quickly," he said.
11. Tour Road, Antietam National Battlefield, Maryland
Visitors to Antietam National Battlefield need to summon their imagination to reconcile the peaceful farmland in front of them with the tragedy that took place there more than 150 years ago. The Confederates' first major incursion into Union territory turned into the bloodiest single day in American military history, with a combined 23,000 casualties. Picturing that bloodbath today is a difficult task, to be sure, but it's a little easier once you step out of your vehicle and take the time to appreciate the weight of history. The park includes an 8.5-mile self-guided driving tour, but visitors are encouraged to walk or bike the route if they can. The tour features 11 stops, so there are plenty of places to take a break. There is little shade along the route, so consider a morning or late afternoon ride and take plenty of water with you.
About the author
Nicolas Brulliard

Senior Editor

Nicolas is a journalist and former geologist who joined NPCA in November 2015. He writes and edits online content for NPCA and serves as senior editor of National Parks magazine.