Last week, the Trump administration issued an executive order that could alter or even attempt to rescind national monument designations that have been established since January 1, 1996.
This order appears to specifically target lands over 100,000 acres, but the way it is written, it could actually affect any of the 54 national monuments designated during this time frame, regardless of size, if Interior Secretary Ryan Zinke determines the designation or expansion was made without "adequate public outreach and coordination with relevant stakeholders." Presidents of both political parties have established these diverse and nationally significant monuments over the last 21 years, including national park sites that thousands of NPCA supporters have taken action to help create and defend. (Learn more about what a national monument is and how it differs from other kinds of national park sites.)
NPCA is adamantly opposed to any attempts to rescind or alter the size of any of our country's national monuments or to weaken the Antiquities Act, the law established by Congress in 1906 allowing presidents to set these federal lands aside for the American people. Although most of the sites below are not managed by the National Park Service, they protect regions immediately outside of national parks from oil and gas drilling, offer important habitat to national park wildlife, and provide outstanding places to hike, fish, stargaze and otherwise enjoy America's outdoors.
Here are just seven of the dozens of exceptional public lands that could be under threat. Please consider taking action to help defend these monuments, which belong to all Americans.
1. Bears Ears National Monument, Utah
For decades, NPCA and its supporters worked to expand the boundaries at Canyonlands National Park to include more of the region's lands and cultural sites. NPCA proudly supported an intertribal coalition of Native American communities who led the charge to create the Bears Ears National Monument last year for its deep significance as a sacred ancestral landscape. This monument includes some of the important lands adjacent to Canyonlands National Park. It provides strong protections against oil and gas drilling and mining threats near Canyonlands National Park, Natural Bridges National Monument and a portion of Glen Canyon National Recreation Area. It also offers culturally important and spectacularly beautiful lands for public recreation and enjoyment that would otherwise be vulnerable to development and off-road vehicle damage.
2. Rio Grande del Norte National Monument, New Mexico
This rugged monument, which was created with broad and diverse community support, encompasses parts of a volcanic field and rhyolite-basalt plateau carved by an 800-foot-deep gorge of the Rio Grande. These lands are ecologically connected to the Great Sand Dunes National Park and Preserve to the north and feature spectacular cliffs, vast grass and sagebrush mesas, petroglyphs and artifacts, volcanic peaks up to 10,000 feet tall, and remnants of human habitation from the earliest Native Americans in the region to early Spanish and Mexican settlers. These important wild lands have helped the state's tourism economy, drawing rafters to its Class II to Class V rapids and birders to its excellent habitat, while still accommodating traditional activities like livestock grazing, hunting, and herb and piñon nut harvesting.
3. San Gabriel Mountains National Monument, California
This monument, just minutes from Los Angeles, not only encompasses over two-thirds of the namesake mountain range, it also includes a wilderness area, alpine peaks rising to 10,000 feet, and habitat for rare species such as the California condor and Nelson's bighorn sheep. This large park provides a significant amount of open space to a growing and diverse metropolitan region, supplying a third of the area's drinking water and offering a variety of recreational activities to its 4 million annual visitors, including everything from camp sites and picnic areas to a historic observatory with a 100-inch telescope.
4. Mojave Trails National Monument, California
This monument boasts incredible ecological diversity, protects some of the most unspoiled areas in the Mojave Desert, and connects wildlife traveling between Joshua Tree National Park, the Twentynine Palms Air Ground Combat Center and Mojave National Preserve. It also contains irreplaceable archaeological and cultural sites, including sacred Native American trails and trade routes. Together with the Castle Mountains and Sand to Snow National Monuments, which were established at the same time in February 2016, these public lands preserve a 1.8-million-acre swath of land, forming one of the largest desert conservation reserves in the world.
5. World War II-Valor in the Pacific National Monument, Alaska, California and Hawaii
This monument preserves several significant sites commemorating the history of World War II on American soil, from the Pearl Harbor attacks to battles in the remote Aleutian Islands to one of the largest and most notorious incarceration camps where people of Japanese descent were held against their will by the federal government. Visitors to the Pearl Harbor site just outside downtown Honolulu can see the remains of the USS Arizona where more than 1,000 members of the boat's crew lost their lives when it sank during the 1941 attack. A stark white memorial honors the civilians and servicemen and women who were killed on that "date which will live in infamy."
6. Grand Canyon-Parashant National Monument, Arizona
This remote, expansive monument connects an ecologically diverse swath of land between Lake Mead National Recreation Area and Grand Canyon National Park. Unlike its better-known neighbors, Parashant is a vast wilderness with few signs of human development. The park, which sits at the junction between the Mojave Desert and the Colorado Plateau, was also recently named an International Dark Sky Province for its "flawless night skies."
7. Grand Staircase-Escalante National Monument, Utah
This spectacular site covers a wide stretch of land between Capitol Reef and Bryce Canyon National Parks that directly borders Glen Canyon National Recreation Area to the east and south. The park is the largest land-based monument in the country and represents a significant region in the "Grand Staircase," an immense section of the Colorado Plateau with a sequence of sedimentary rock layers that preserves a greater span of geologic history than any other place on Earth. The monument contains the most extensive slot canyons in the state, as well as waterfalls, arches, brightly colored cliffs, scenic gravel roads, abandoned Wild West movie sets, and lots and lots of slickrock. Numerous dinosaur fossils have been discovered at the national monument since its designation, including a new species, Lythronax argestes, the oldest known tyrannosaur.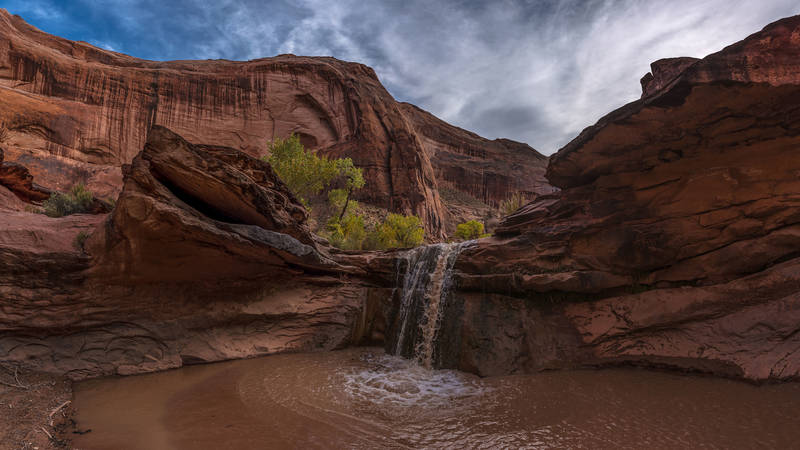 Fact Sheet
A brief explanation of what these important public lands are and how they differ from national parks and other sites managed by the federal government.
See more ›
These are just a few of the monuments that NPCA is deeply concerned could lose protections under the new executive order. Numerous National Park Service sites designated under the Antiquities Act that NPCA supporters were instrumental in helping to create could also be at risk, including the Birmingham Civil Rights National Monument in Alabama, the César E. Chávez National Monument in California, the Katahdin Woods and Waters National Monument in Maine, Pullman National Monument in Illinois and the Stonewall National Monument in New York. Presidents can only use the Antiquities Act to create monuments from land that is already owned by the federal government; once designated, these monuments raise the profile of the natural and historic wonders around our country, bringing vital tourism dollars to rural and urban areas alike.
Stay On Top of News
Our email newsletter shares the latest on parks.
An attack on any of these lands is a betrayal of the American public. Unless we preserve these important places, they could be lost forever. Please join NPCA in asking Interior Secretary Ryan Zinke to guarantee full protection for America's national monuments.
About the author
Jennifer Errick

Managing Editor of Online Communications

Jennifer co-produces NPCA's award-winning podcast, The Secret Lives of Parks, writes and edits a wide variety of online content, and manages NPCA's style guide.