In the 1960s, Birmingham, Alabama, was one of the most segregated places in the United States. Nonviolent protesters suffered brutal mistreatment in the struggle for equality and ultimately changed the course of history. Now, a new national monument will help preserve and interpret this critical chapter in the civil rights movement.
"Injustice anywhere is a threat to justice everywhere. We are caught in an inescapable network of mutuality, tied in a single garment of destiny. Whatever affects one directly affects all indirectly."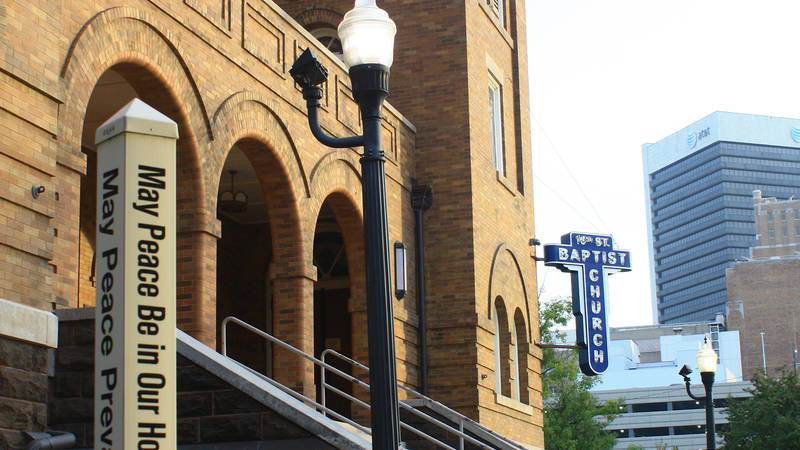 Blog Post
Birmingham was once the nation's most segregated city, home to brutal, racially motivated violence. Today, a new national park site commemorates the critical civil rights history that happened here.
See more ›
So wrote Martin Luther King, Jr., in his famous "Letter from a Birmingham Jail" in April 1963. King wrote these words in the margins of a newspaper while serving solitary confinement after his arrest at one of the many historic nonviolent protests, known as "Project C," that he and local Reverend Fred Shuttlesworth of the Alabama Christian Movement for Human Rights helped to lead.
On January 12, 2017, the country honored the legacy of these historic protests with a new Birmingham Civil Rights National Monument. This national park site will tell the story of the struggle for freedom in this city, and how the actions of determined citizens became the focus of world attention and led to victories in fair employment practices and racial integration at lunch counters, restrooms and drinking fountains.
Day after day, hundreds of marchers took to the streets to take a stand against race-based injustice in the city. Police and firemen violently disrupted these protests and attacked participants with night sticks, dogs, tear gas and water cannons. After police had arrested dozens of adult protesters, hundreds of school-aged youth began participating in nonviolent marches, enduring similar violence and arrests. The protests gained national attention and eventually ended segregation at city restrooms, drinking fountains and lunch counters and removed barriers to African American employment at city stores.
These sites in Birmingham represent a time in the civil rights movement when a group of determined citizens stood firm in the fight for equality and human dignity. The national park site will protect these important places and honor the events that took place here so that they are never forgotten.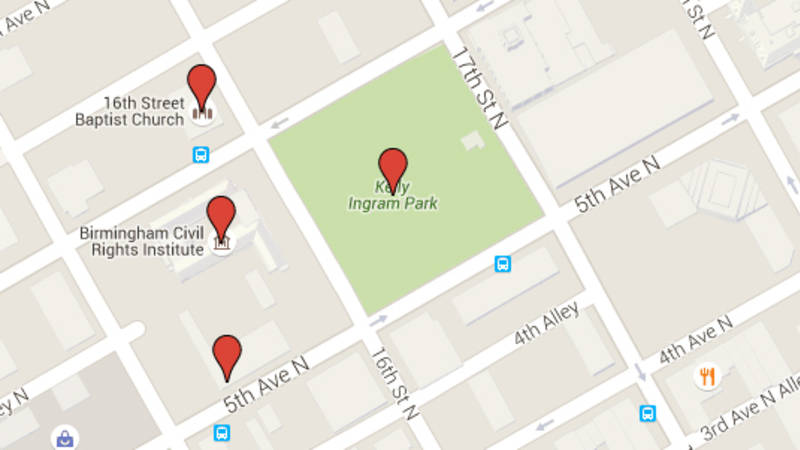 Google Maps
A map of four of the key sites that could be become part of the proposed Birmingham Civil Rights National Historical Park.
See more ›
The national park site includes portions of the Historic Birmingham Civil Rights District, including:
A.G. Gaston Motel. Opened in 1954, this motel was considered a historic monument to black entrepreneurship in a time of racial segregation, and was owned by Arthur George Gaston, a prominent African-American businessman.
Birmingham Civil Rights Institute. Serving more than 140,000 individuals each year, the institute opened its doors in 1992 as a hub for children, students, adults and scholars, encouraging new generations of people to examine our country's civil rights history as well as broader subjects such as equality and race.
16th Street Baptist Church. This church was the target of a bombing in September 1963 that killed four African-American children, Addie Mae Collins, Denise McNair, Caroline Robinson and Cynthia Wesley, who were attending Bible study. This act of domestic terrorism became a galvanizing force for the passage of the Civil Rights Act of 1964.
Kelly Ingram Park. Civil rights protesters gathered in this park for marches. Many of the April and May 1963 protests were violently disrupted by police here.
The monument will also include other contributing sites, such as the Colored Masonic Temple, St. Paul United Methodist Church and elements of the 4th Avenue Business District.
The Birmingham Civil Rights National Monument has strong public support, both in the community and in Congress, and we thank the thousands of NPCA advocates who spoke out in favor of this momentous designation so that the history that happened here will be remembered for years to come.
Sign Up
Get Action Alerts
Want national parks in your inbox? Sign up for NPCA email updates to receive news, features, and opportunities to make a difference! You can unsubscribe at any time.