These success stories highlight the important role our national parks play in restoring the Great Lakes – the largest source of fresh water on the planet.
Building on our nearly two decades of advocacy in the Great Lakes region, including our leadership in the Healing Our Waters coalition, NPCA has helped secure more than $3.8 billion in federal funding through the Great Lakes Restoration Initiative (GLRI). Established 13 years ago with bipartisan support, the GLRI funds important work to clean up and restore the Great Lakes.
The National Park Service is an effective leader in the Great Lakes, utilizing GLRI funding to protect and restore 10 national parks in the region. The projects in Great Lakes national parks clean up toxic waterways, restore wetlands and improve the health of the landscape and waters for people, plants, and wildlife.
Since the GLRI was established, the Park Service has achieved success while receiving just two percent of the more than $3.4 billion that has been allocated for this work. NPCA has partnered with the Park Service on projects to restore native plants and expand wetlands at places like Indiana Dunes National Park. This helps to combat shoreline erosion and build climate resiliency. The Park Service's effective and strategic use of these funds has far-reaching effects for the protection of the landscape and for the millions of visitors in Great Lakes national parks each year.
Great Lakes National Parks impact in the region: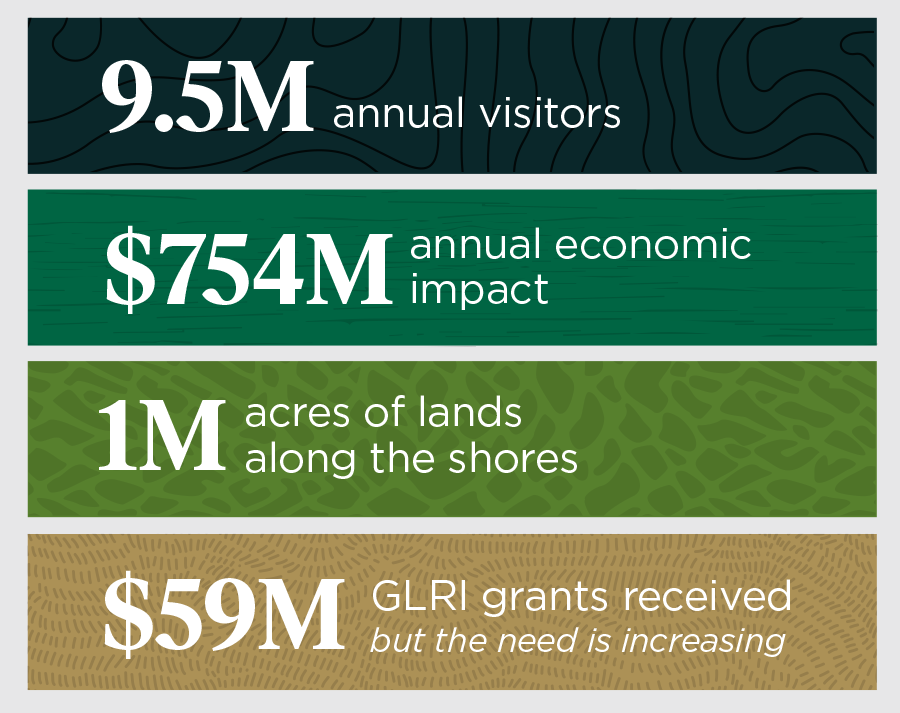 These national parks need more funding to meet the ever-mounting challenges of protecting the Great Lakes, restoring the unique landscapes, and providing safe-haven for wildlife from the impacts of pollution and changing climate.
Given the demonstrated success of restoration work happening in our Great Lakes national parks, the Park Service should get a bigger piece of GLRI funding to strengthen the wide-reaching benefits these park projects offer.
Download the full report (PDF)
GLRI provides support for us to harness the expertise of a diverse set of partners to understand why our shore birds are dying and to figure out how to minimize future die-offs. This work gives me hope for the future health of the Great Lakes and for Sleeping Bear Dunes.
Julie Christian, Natural Resources Division Manager, National Park Service