Maps and illustrations showing Alaska's War on Wolves and Bears.
Alaska Board of Game (BOG)
The seven member Alaska Board of Game is appointed by the Governor. These citizen wildlife managers are responsible for setting all hunting and trapping regulations, including season lengths and bag limits. The Board of Game is responsible for implementing the state of Alaska's Intensive Management law, which often times conflicts with the purposes of Alaska's national park sites.
Artificial Light
Hunter uses artificial light (a big flashlight or hand-held spotlight) to kill black bears, including sows and cubs, as they hibernate in their winter dens. The Alaska Board of Game has proposed this hunting method in both Denali and Gates of the Arctic national preserves.
Bag limit
How many animals you are allowed to harvest during a hunting or trapping season. Over the past 15 years, the bag limit for both wolves and bears has steadily increased.
Baiting
Fill a 55-gallon drum with grease soaked bread and donuts, and then wait for the bears to show up. Hunters then select which bears they want to kill. Not all bears are either legal or desirable to large bear-seeking hunters, so many eat the bait and leave. This habituates bears to eating human food and potentially creates problems for national park visitors recreating in the backcountry.
Harvest
Another term for how many animals can be killed by hunters and trappers. Since the state Intensive Management laws dictate maximizing moose and caribou for human consumption, harvesting those animals is akin to harvesting any crop.
Intensive Management
Alaska's Intensive Management law, passed by the Alaska Legislature in 1994, puts the human consumption of wildlife as the top priority for wildlife management. To meet the perceived need for more moose and caribou for hunters, the Alaska Board of Game has extended season lengths, increased bag limits and provided for certain hunting methods for wolves and bears, all with the goal of increasing the opportunity to harvest moose and caribou.
Simply put, this is predator control – illegal on lands managed by the National Park Service. Intensive management has escalated conflict between the Alaska Board of Game's hunting rules and the way Congress requires our national park lands to be managed. Intensive Management allows the creation of Predator Control Areas, many of which are adjacent to national park units, where state law dictates killing wolves and bears simply to reduce their numbers.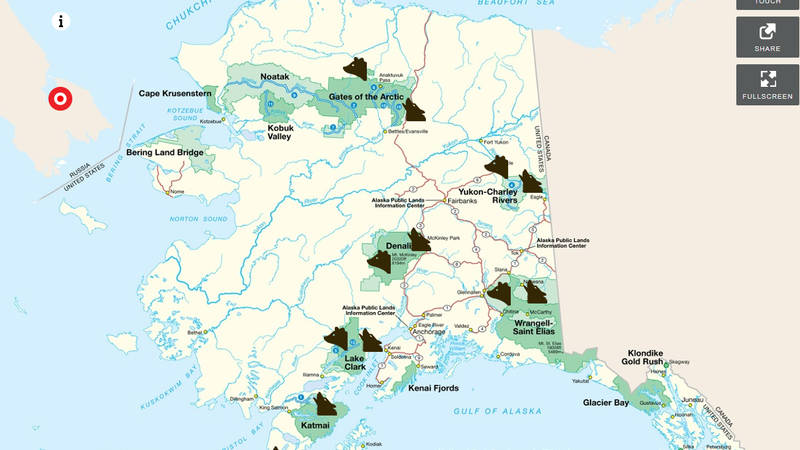 interactive map
View an interactive map showing increases in methods, season length and bag limits for hunting bears and wolves.
See more ›
National Preserve
National Preserves allow for sport hunting, otherwise they are managed by the National Park Service just as though they were national parks.
There are 20 million acres of national preserves in Alaska, or a little more than 1/3 of all the national park acreage in Alaska.
Hunting rules on national preserves are set by the Alaska Board of Game and adopted by the Park Service, unless those rules conflict with the purposes for which the park unit was established or they conflict with park management policies.
Problem area: some hunting methods and season lengths are adopted primarily for predator control, which is NOT allowed on lands managed by the National Park Service.
Predator Control
Killing predators. In Alaska, predator control focuses primarily on wolves and bears that prey on animals that are desired for human consumption, like moose and caribou. Under the state's Intensive Management law, the Alaska Board of Game can establish Predator Control Areas where state law dictates the killing of wolves and bears simply to reduce their numbers. Many of these Predator Control Areas are immediately adjacent to national parks and preserves.
See the expansion of Predator Control areas adjacent to NPS Units over time:
Season length (kill wolf pups)
Time which a hunting or trapping season is open. The longer the season length, the more chances for killing animals. A wolf season that extends beyond April 30 of any given year is considered predator control because the wolf's fur or pelt is molting at that time and there is no practical reason to hunt or trap it. Wolf pups are mostly born after April 30, making the extended season disruptive to packs raising their young.
Snaring
Typically, a bucket is filled with food to attract a bear. As the bear tries to withdraw its paw, a piece of wire, usually attached to a tree, constricts around its paw, capturing the bear until the hunter checks their snare, at which point the bear is shot. This practice, which can catch sows and sows with cubs, has been used "experimentally" in several places in Alaska to reduce bear populations. So far it has not occurred on lands managed by the national park service, but it is nonetheless a hunting method used in Alaska and must be disallowed on park lands.
Read more about Alaska's War on Wolves and Bears at npca.org/unbearable.