Hidden Gems
Cuyahoga Valley National Park
A national park site loved by locals for its forests, wetlands and over 100 waterfalls.
---
This fall, NPCA and Travelodge® by Wyndham are calling attention to hidden gems sites within the National Park System that we think are worth knowing more about. From locations rich with history to those with majestic views, we're taking a closer look at trails, vistas and other lesser-known sites in parks across the country. Protecting public lands is at the heart of what we do and is important to Travelodge as well; we hope by learning more about these lesser-known places, you're inspired to protect our parks, too.
---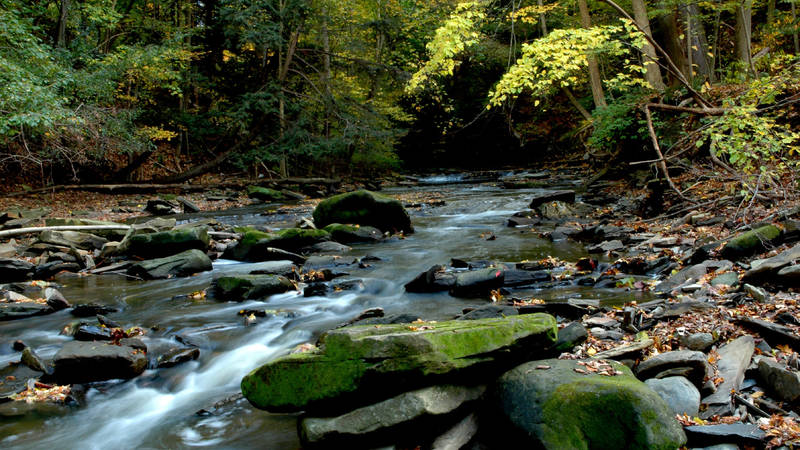 Park
This park preserves 22 miles of the Cuyahoga River and the mosaic of natural and man-made features surrounding it, including lush forests, rolling hills, wetlands, waterfalls, farm fields, historic buildings…
See more ›
When you think of Ohio, you might think of farmlands or the Wright Brothers' first flight, but tucked in the suburbs just outside of Cleveland is a national park site loved by locals for its forests, wetlands and over 100 waterfalls: Cuyahoga Valley National Park. It's one of 10 national park sites in the state, home to wildlife such as deer, coyotes and about 250 species of birds. This Midwestern park is full of hidden gems with rich history and buildings that help us better understand life in the 19th century, as well as a scenic railway, hiking trails and more.
Closest Major City: Cleveland, OH or Akron, OH
Fun Fact: Cuyahoga is a Mohawk word meaning "crooked river."
A Haven for History and Nature Alike
Hikers and history buffs alike will find things to love within the almost 52 square miles of Cuyahoga Valley National Park. The park preserves natural features such as Brandywine Falls, a roaring waterfall that plunges into Brandywine Creek; Beaver Marsh, a wetlands area created by beavers from the Erie Canal; and the Ritchie Ledges, sandstone formations uniquely shaped by retreating glaciers, which served as a popular playground for visitors in the 19th century. Historic attractions include Everett Covered Bridge, built in the 1800s; the Canal Exploration Center, an interpretative center that was once a tavern and blacksmith shop; and Stanford House, an 1830s farmhouse that now serves as lodging for national park visitors.
A Closer Look at Park Hidden Gems
Did You Know?
While Cuyahoga Valley National Park is known for its lush forests and rolling hills today, this wasn't always the case — decades before this Midwestern site officially became a national park, severe pollution in the river outraged and embarrassed the country, helping to spur the creation of the Clean Water Act, the Environmental Protection Agency and Earth Day. Now the health of the Cuyahoga River has improved significantly.
Hemlock Creek Trail
This 3.3 mile out-and-back trail is great for hikers who want to cool off in Hemlock Creek during warm summer months or, during the fall months, take in the changing leaves of the trees along the water. The trail is paved, making it great for runners, cyclists and visitors exploring with their dogs.
Terra Vista Natural Study Area
Home to more than 20 types of butterflies, the Terra Vista Natural Study Area is one of over a thousand research sites around the United States dedicated to tracking butterfly populations. The area is host to the longest running butterfly survey in the state, which began back in 1997! With a loop trail, fishing pond and historic cemetery, this meadow and forest area is a quieter part of the park, perfect for enjoying scenery off the beaten path.
Everett Covered Bridge
Ohio once led the nation in covered bridge construction — Everett Covered Bridge is one of the only remaining bridges in Summit County that commemorates that history. The bridge, built in the 1800s, was one of over 2,000 in the state when it was built. Today, it's the perfect spot for photographers; many enjoy capturing the brick-red bridge in the midst of snow and fall foliage. A trail for hikers features an exhibit on the bridge's construction and the history of covered bridges.
What People Love About Cuyahoga Valley National Park
We asked our followers on social media who have been to the park what they liked best about their visit and what hidden gems people should know about — here's what they said:
"I loved the Tree Farm Trail during the fall. The colors were so beautiful!"

"Blue Hen Falls. It's beautiful spot but it can be a challenge to hike!"

"The Ledges Trail — it's so cool."

"The Old Carriage Road Trail, the Native American earthworks, and beautiful woods!"
How Can You Adventure Responsibly When Visiting?
Please don't litter.

Properly dispose of all waste you aren't able to pack out. Carefully read designated signage on waste and recycling receptacles to determine what is recyclable and compostable in each park.

Stay on designated roads and trails

(and within their boundaries) to avoid damaging flora and fauna that surround them. Pay special attention to avoiding sensitive areas, such as meadows, lakeshores, wetlands and streams. Check trail signs and be mindful of barriers and fences.
These are just two of the many ways you can ensure you're adventuring responsibly when you visit a national park site; learn about all 10 Ways to Adventure Responsibly.
Travelodge® by Wyndham Supports NPCA's Mission
Travelodge® by Wyndham supports NPCA's mission to protect and enhance America's National Park System for present and future generations and believes in the importance of preserving parklands. Since 2016, Travelodge® by Wyndham has provided more than $750,000 in support of NPCA and its work to protect public lands. Travelodge's continued support of NPCA and national parks is complemented by an ongoing commitment to promote eco-friendly travel, aiming to reduce the carbon footprint of over 450 hotels throughout North America with eco-friendly initiatives around breakfast, housekeeping, and bath amenities. Plus, with more than 75 percent of hotels located about an hour's drive from some of the nation's most celebrated national parks, Travelodge is your basecamp for adventure. For more information, visit www.travelodge.com/NPCA.
Make a tax-deductible gift today to provide a brighter future for our national parks and the millions of Americans who enjoy them.
Donate Now