Tony Urban Studios/National Park Foundation
Spring 2015
Cracking the Nut
The American chestnut almost was wiped out in the 20th century. Can scientists and the Park Service bring back this iconic tree?
At the end of the long weekend last April, the volunteers were cold, muddy, and tired from hard work. They had gathered at Flight 93 National Memorial to lug buckets across the rocky and rutted fields, to dig holes using heavy metal "dibble bars," and to plant trees. Southwestern Pennsylvania can be a messy place in the spring, but the students, scientists, local community members, and family members of those who died on September 11 were undeterred. "There's no place these volunteers would rather be," says Donna Glessner, a participant from nearby Shanksville.
For the last three years, Glessner has joined hundreds of volunteers who have come to help re-create natural woodlands on the grounds of Flight 93. In the process, they've become part of an innovative but long-shot effort to restore one of America's lost icons: the American chestnut tree. Flight 93 staff have partnered with scientists and foresters from the American Chestnut Foundation to plant seedlings they hope will be the first in more than a century to withstand an invasive fungus known as the chestnut blight.
For millennia, American chestnuts had been the dominant hardwood in Eastern forests, growing in immense stands from Maine to Florida. They were large, up to 100 feet tall, with spreading crowns that blossomed into springtime displays of fragrant, creamy-white flowers. Their soft and rot-resistant wood was used to make homes, furniture, musical instruments, fence posts, and railroad ties. Chestnuts were considered the single most important food source for wildlife in the Eastern forests and were widely eaten by humans as well. Then came the blight—a fungus stowed away on Asian trees imported in the early 1900s, which killed American chestnuts at the rate of 219,000 trees per day, every day, until the species was almost entirely gone. Four billion trees died in less than 50 years.
GET INVOLVED
The 2015 Memorial Grove plantings at Flight 93 National Memorial are scheduled for April 17-18. Visit flight93friends.org to learn more about this year's planting event or other ways to get involved.
It didn't take long for scientists to sense a calamity facing American chestnuts. An alarming 1908 article in The New York Times about the blight described the efforts of the assistant director of the New York Botanical Garden, William A. Murrill, to stave off what would be a "vast loss" to Eastern forests. Murrill tried pruning away dead and dying limbs, "heavy and repeated sprayings," and inoculation with small amounts of the fungus, all to no effect. The blight had been known to science for only a few years, but Murrill had already given up hope, telling the Times that the fungus would "ultimately destroy" all the remaining chestnuts and recommending they be harvested.
Though Murrill did not know the origin of the "canker" killing American chestnuts, he deduced from the pattern of its spread that it started in New York City.
He was right. The fungus, Cryphonectria parasitica, hitchhiked to New York aboard Asian chestnut trees headed for nurseries. Centuries of evolution between the fungus and the Asian chestnuts had resulted in a sort of truce: the fungus lived on the trees, but it did not kill them. Their American cousins, however, had no defense.
The fungus enters chestnuts through a wound in the bark. Creatures like woodpeckers and squirrels are ideal carriers, though wind-blown spores are just as effective. Once inside, the fungus begins to grow underneath the bark, spreading out and producing acids and other compounds, strangling and eventually killing the tree. Some other trees, including certain oaks and maples, host the fungus but do not die, meaning the fungus remains prevalent in Eastern forests despite the almost complete lack of American chestnuts.
Though Murrill's doomsday predictions for the American chestnut proved true, the tree was never forgotten; efforts to outwit the chestnut blight began immediately and have never stopped. In fact, the trees being planted at Flight 93 National Memorial are the latest batch from the American Chestnut Foundation (ACF), which is using a "backcross" technique to hybridize American chestnuts with blight-resistant Asian species, producing seedlings that are almost identical to the native species but are blight-resistant. "I'm supposed to be a chestnut expert, and I can't tell the difference," says Michael French, a forester with ACF.
French says that ACF became involved with the Flight 93 project when he got word that the park was looking for trees that grow in thin soil. In the years before the September 11, 2001, crash, the site that is now the national memorial had been strip-mined for coal. As a result, only a thin layer of soil existed on the unit's 300 acres. American chestnuts, which formerly thrived on slopes and ridgetops (the reason "Chestnut Ridge" is such a popular name), seemed an ideal fit for the site.
The chestnut seedlings planted at Flight 93 National Memorial are about 94 percent American chestnut, the result of generations of backcrossing and intercrossing with other hybrid offspring. Mixed in with other young hardwoods, 75 chestnuts were planted in 2012; 480 in 2013; and 1,383 in 2014. French says they've seen no blight yet, though there is no way to know if the planted seedlings are naturally resistant. He's expecting about 75 percent to survive, but acknowledges that ACF is still about five years away from producing reliably blight-resistant seedlings. If the experiment fails, however, there may be other options.
In upstate New York, scientists William Powell and Chuck Maynard of the SUNY College of Environmental Science and Forestry are taking a different tack to produce blight-resistant American chestnuts: genetics. By inserting blight-resistant genes into pure American chestnuts, the SUNY team could produce trees that are even more pure than the ACF hybrids. Their current work focuses on a gene found in wheat, of all things, which detoxifies the acid produced by the fungus so that it doesn't kill the tree. SUNY's latest trees are as blight resistant as Chinese chestnuts, they say, though the regulatory approval required for genetically modified American chestnuts means that it will also be about five years before these trees are ready for planting.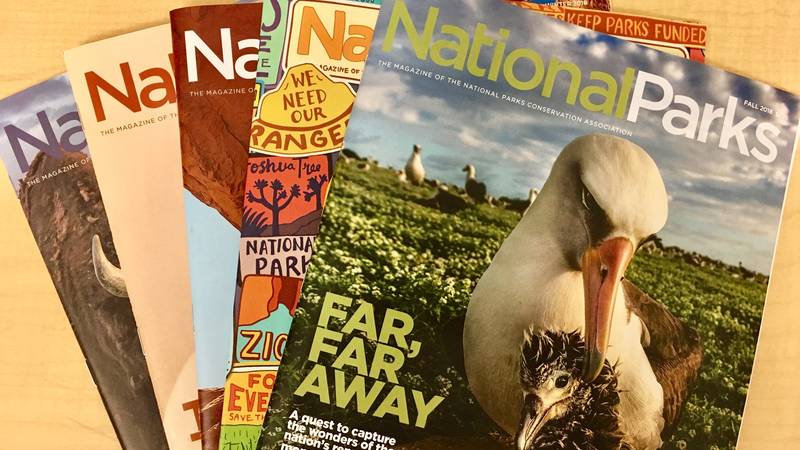 Subscribe to
You can read this and other stories about history, nature, culture, art, conservation, travel, science and more in National Parks magazine. Your tax-deductible membership donation of $25 or more entitles…
See more ›
The arrival of the blight in the early 1900s meant that chestnuts, despite their formerly dominant role in the Eastern woods, never had much of a presence in national parks. A July 1939 article about the opening of Shenandoah National Park's famous Skyline Drive describes the scenery as "groves of pine … interspersed with gray trunks of giant chestnut trees, killed by the chestnut blight." At Shenandoah and what is now Great Smoky Mountains National Park, so many American chestnuts once blossomed in spring that the hills looked like they were covered in snow. Though chestnut restoration efforts are under way in those parks, the system of national parks designed to conserve our natural treasures largely remains without one of America's most important trees.
As she walked around with her bucket that chilly weekend last spring, Donna Glessner thought about the generations that came before her. "My grandparents used to talk about going into the woods and gathering chestnuts to sell in town to pay for their school clothes," she says. "They would talk about how beautiful the wood was and how many buildings it made." Glessner, who now also volunteers with an oral history project at the site, says she is always looking into the fields to monitor the progress of the saplings she and others planted. "Many of the volunteers talked about how exciting it would be to return here with our children and grandchildren and walk through the groves we planted," she says. "I like to think about a better future here." Meanwhile, the chestnut seedlings she helped plant in 2012 continue to inch skyward, their defiant growth a fitting tribute to those memorialized nearby.
About the author
Nicholas Lund

Former Senior Manager, Landscape Conservation Program

Nick is a conservationist and nature writer. He is the author of several forthcoming books, including the American Birding Association Field Guide to the Birds of Maine (2022) and "The Ultimate Biography of Earth" (2022). His writing on birds and nature has appeared in Audubon magazine, Slate.com, The Washington Post, The Maine Sportsman, The Portland Phoenix and Down East magazine, among others.