Summer 2015
The Land of Fog and Sea
A one-time Californian returns to Point Reyes.
I don't exactly come from a camping people. For my grandparents, who all grew up in Eastern Europe or Yiddish-speaking enclaves in New York, camping wasn't much of a priority, to say the least. And that carried into the next generation of urban dwellers: My late father was an enthusiastic world traveler but the sort of person who would rather be on a city bus than in a tent in the woods. My mother still loves to travel but similarly considers a comfy bed a non-negotiable commodity.
So it wasn't until adulthood that I slept under the stars. I went on long backpacking trips, camped on far-flung beaches, and even lived in a tent one summer. But despite my determination to catch up with my outdoorsy peers, I somehow still often feel like an enthusiastic newcomer. I don't have fancy gear. I don't mountain climb or backcountry ski. And I've never been camping by myself. Always, someone more knowledgeable has been on hand to find a lost trail or fiddle with a broken stove.
SIDE TRIP
Obsessed with cheese? Cowgirl Creamery is a mecca for cheesemakers, cheesemongers, and chefs. Every Friday, the cheese company's Point Reyes Station site at 80 4th Street offers tours—with tastings—that attract people from around the world and fill up weeks in advance. (You can reserve a spot online.) And it's not the only artisanal cheese outfit in the area. A "Sonoma Marin Cheese Trail" brochure includes a map dotted with cheesemakers throughout the area from Matos Cheese Factory in Santa Rosa to Spring Hill Cheese Company in Petaluma to The Epicurean Connection in Sonoma.
That's why I'd come to think of a fall trip to Point Reyes National Seashore as my own miniature Outward Bound solo challenge. Sure, I was going to be alone for only two days before meeting up with friends. And yes, I'd be sleeping at a campground, as my unimpressed friend pointed out. Well, let him scoff; it seemed momentous to me, and not just because I was trying to prove something. Also, as the parent of two small children—and this is hard to write without capital letters and exclamation marks—I am almost never by myself. I am not exaggerating when I say that sometimes a long shower or a slow walk to the subway seems like a getaway. Moreover, the trip marked a return to California for me. I lived in the Bay Area for seven years, but I'd moved away a decade ago, and my visits had become sporadic over time. It had been three years since I'd been back.
So that's how I ended up walking alone into Coast Camp in Point Reyes after spending the better part of a foggy, slightly ominous day in the park. I'd actually found my friend's teasing about my night "alone" vaguely reassuring, figuring the campground would be crawling with friendly revelers. But nope, sundown was fast approaching, and the campsite was empty. Like tumbleweed empty. It was just me, the bunnies, the birds, and the seemingly fearless deer, which kept stepping closer and closer, staring at me coldly. There actually may have been some honest-to-goodness tumbleweed. I shot a stern look at the encroaching deer and pulled out my tent.
If you live in San Francisco and are even vaguely active, Point Reyes is just part of your life. The site's national seashore designation, formalized in 1962, set aside 53,000 acres only 30 miles north of the city, a feat one ranger described to me as a "miracle." You can wake up in a busy urban neighborhood, drink your coffee in the car, and an hour later, start walking through this untamed, moody, enticing place, which now encompasses 110 square miles. I've traveled there on so many occasions—a birthday party, kayaking trips, long weekends with friends—that I've lost count.
When I'd driven out to the park earlier that September day, everything felt sweetly familiar: the staring cows, the yellow hills, the fairy cottages tucked among the redwoods. I was adrift in a nostalgic haze when abruptly, the road turned, and there I was at the park entrance.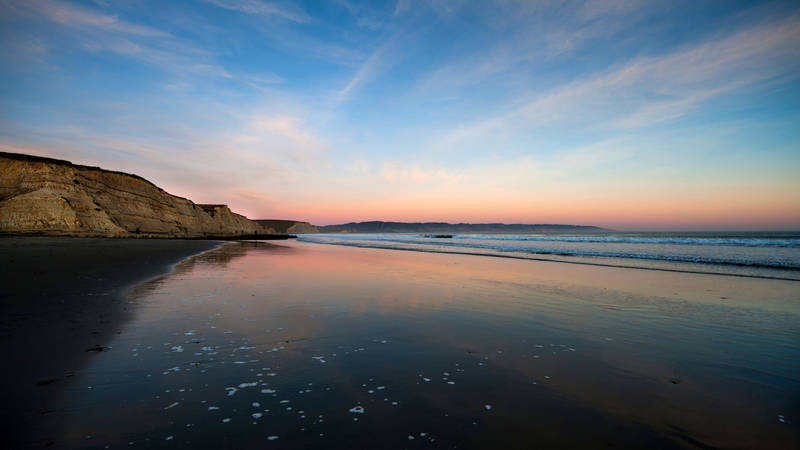 Park
This seashore, established in 1962, is the only national seashore on the West Coast. It features windswept beaches, coastal cliffs and headlands, marine terraces, coastal uplands, salt marshes, estuaries, and…
See more ›
The morning drizzle had petered out by the time I arrived, so I decided to keep driving to the park's famous lighthouse. I'd been only once before, partly because it's a serious haul. Rangers advise leaving three hours round-trip from the Bear Valley Visitor Center for the drive, the walk, and the 308 stairs down to the lighthouse. But it's a popular spot despite, or maybe because of, its remoteness. The lighthouse was decommissioned in 1975, but keepers used to live there year-round, and the idea of such an intense, chilly, solitary existence continues to intrigue visitors. Some say the lighthouse, perched on a cliff in one of the windiest and foggiest places on the Pacific Coast, has the most extraordinary views in the park. And in January, March, and April, it's an ideal location for whale-watching.
To reach the lighthouse, you travel on winding roads past Tomales Bay, chaparral-covered slopes, wooded ridges, meadows, and pasture lands, then head deep into the hills. As you swerve around one bend and then another, the ocean—swirling far below—pops into view and disappears. Often gusts of fog blow past, which can leave you with the unsettling feeling of roaring straight into nothingness. But then, moments later, the clouds loosen their grip, the sun pushes its way out, and the froth on the distant waves appears to glow.
This is what the weather at Point Reyes is like. You don't come to the park to sunbathe and take leisurely swims; the experience is romantic in a grittier way, and the fickle fog is part of the appeal. It will swallow the horizon. It will hug the hilltops and skip across your path. Often, it's sunny outside the park but socked in and practically wintry on the seashore's long, lonesome beaches. But then—at last—the sun appears and warms your face, and it feels worth every step you took through the chill.
At the lighthouse, I stared at the sea for a while—no whales—and joined a tour, walking inside the 1867 structure to look up at the crystal prisms. Afterward I stopped to spy on the 40 or so seals belching and flopping around on the sandy cove below the Elephant Seal Overlook and then waded in a warm, mini-lagoon at Drakes Beach. The empty stretch of beach called, but I wanted to get to my campsite before dusk. I dusted the sand off my feet and drove back into the hills.
There are a couple of ways to get to Coast Camp, but the shortest route is a two-mile hike along Laguna Trail, which starts near the Point Reyes Hostel. After a long look at the hostel—whose warm showers seemed to beckon—I set out toward the ocean and arrived at the deserted campsite about 40 minutes later. I had my moment with the deer-and-bunny greeting party, then headed toward a colossal eucalyptus tree. Or maybe I should say the eucalyptus tree, since it's the only one around, seemingly for miles. Say what you will about eucalyptus, a non-native species that some dismiss as a noxious weed, but this is an unusual specimen. You can spot it as you hike in; when it appears, alone and solemn on a cliff overlooking the ocean, you know you are almost there.
I settled into a nook in the tree's massive roots to eat my dinner. As I munched, I watched the gray mesmerizing waves roll in. The sky at dusk was steely and restless except for the faintest hint of yellow; somewhere back there, the sun was setting. Soon, the ocean, too, had a pale yellow cast. Then slowly, the faint distant glow evaporated. Crickets chirped and the crashing ocean seemed a little wild. I gathered my things in the semi-darkness and headed to my tent.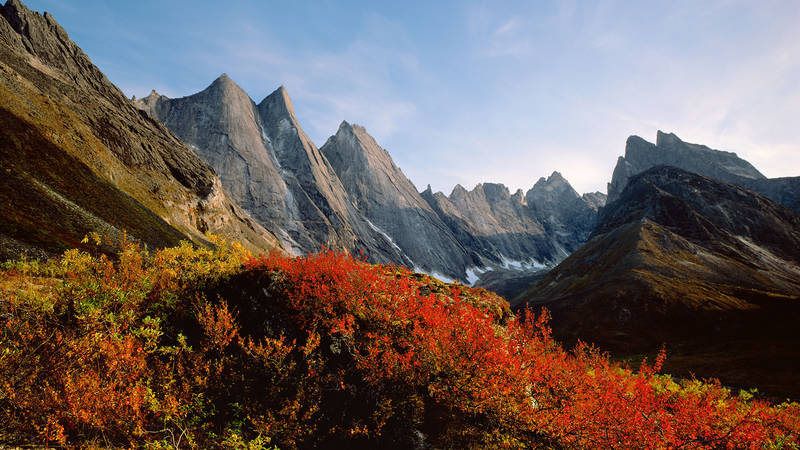 Blog Post
Celebrate the 50th anniversary of the Wilderness Act by exploring some of America's wildest places, from remote windswept tundras to cactus-dotted mountains to serene rock-strewn beaches. Several spots are surprisingly close…
See more ›
A friend told me that once when he was camping here, some enthusiastic raccoons sneaked into his tent while he slept, dragged his backpack into the brush, rifled through his stuff, scattered the contents of his wallet, and finally hit pay dirt: a half-eaten granola bar. Forewarned, I stowed my food in one of the site's metal storage boxes. I also stuffed rocks in the box corners, as advised, to keep out small critters, but the next morning I discovered that mice had broken in anyway. I stared perplexed at the tattered wrappers—how on earth…?—but actually, I really didn't care. I was too busy being exultant: I'd survived my big night alone. And now look where I was—waking up to the sound of the rolling ocean and trilling birds and the soft scent of eucalyptus, sage, and sea that I always think of as pure California.
I didn't mind that the fog was so impermeable it almost felt like it was raining. Down on the beach, hundreds of birds loitered, hopped, and waded. I spotted a squad of California quail and a delicate-looking bird I suspected was a long-billed curlew. A raft of dark birds out on the water rose and fell as the waves hummed.
There wasn't another soul around. You can walk for miles here, and I had an urge to keep going all the way to the mouth of Drakes Estero. But I hadn't brought coffee, and, as it happened, the little town of Point Reyes Station was practically on the way to my destination. So I hiked out and headed straight for Cowgirl Creamery, where I ordered breakfast and a seriously perfect cappuccino.
NPCA @WORK
Visitors who make their way to Drakes Estero, a rare protected estuary at the center of Point Reyes, will find a very different landscape from the one they would have encountered a year ago. For decades, companies planted and harvested non-native Japanese oysters here, but in December 2014—under court order—Drakes Bay Oyster Company, the last of the operators, closed down. NPCA and its allies had long contended that a commercial oyster operation didn't belong in the estuary after its lease expired, and the argument eventually prevailed. The company's departure and a government clean-up have set Drakes Estero on a path to recovery that will allow wildlife to thrive and visitors to hike, kayak, or bird watch in a marine wilderness that's free from motorboats, docks, buildings, tanks, and other oyster-growing equipment.
I'm not sure whether it was the smooth foam or the roast or just the situation, but somehow, I loved that hot little drink more than I've loved just about any coffee in my life. I polished it off and was sporting quite a caffeine high when I pulled up to Blue Waters Kayaking on Tomales Bay. The sun was out, officially, over the bay and it was downright hot for the first time since I'd arrived. I rented a kayak, stripped off several layers, and started paddling northward. You can take out kayaks overnight and camp on the beach, but I just wanted to noodle around for a couple of hours past the bare hills and sandy beaches. At one point a seal swam right up to me, nose in the air. With its earnest expression and sloppy paddling, I thought it was a dog at first, but I realized my mistake a second later when it dove down, its slick spotted body curving through the water and disappearing.
My time alone was winding down. It had been so peaceful, but my friends—14 adults and eight children—were arriving soon, and I was excited to see them. I paddled back, retraced my steps, and hustled along the trail until I could make out the eucalyptus tree in the distance.
Some of my camping pals are pretty hardcore outdoors types—backcountry telemark skiers and early morning, pre-work surfers. But there's a time for rugged adventures and a time for feasting, and this trip, with all those little ones along, was definitely the latter. When I strolled in that afternoon, the supplies were already rolling in, piled high onto bike trailers. I sat down on a fantastically comfortable folding chair to watch the procession of coolers, giant pots, table lanterns, and French presses. I love these people, I thought, sipping a cocktail.
The kids rode their bikes in the dirt and played follow-the-leader and collapsed into screaming heaps. As it grew dark, they reluctantly added layers and danced around with headlamps. Finally, they crashed and somehow slept soundly as the adults dined and laughed and forgot to whisper.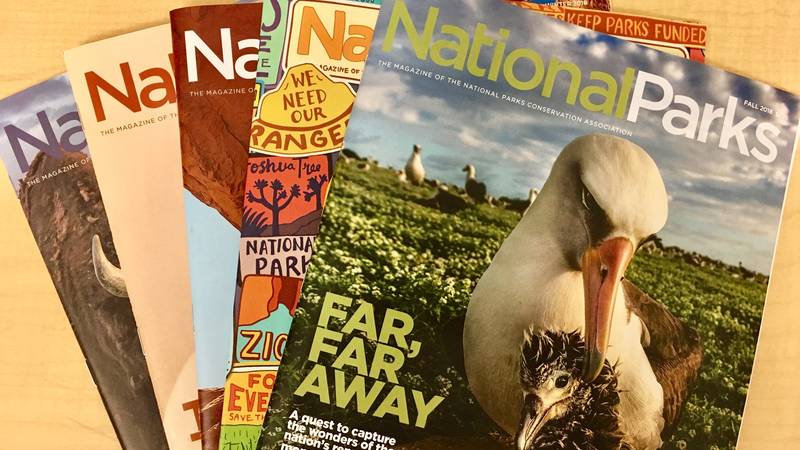 Subscribe to
You can read this and other stories about history, nature, culture, art, conservation, travel, science and more in National Parks magazine. Your tax-deductible membership donation of $25 or more entitles…
See more ›
My mouse-nibbled cheese quickly became a distant memory. We ate tomatoes with mozzarella, salad with big chunks of feta, and vegetarian paella. There were steaks and swordfish for the grill, crusty loaves of bread, bottles of wine, and s'mores. Late at night, a few people wandered down to the beach to sit in the darkness and listen to the thundering waves. It occurred to me that maybe, just maybe, this was the sort of camping my tent-phobic family would have appreciated.
That Saturday, the dads took the kids to the beach to play soccer, throw Frisbees, and build sandcastles. I convinced several women to go for a hike along Coast Trail, which continues on for miles, dipping close to the ocean, then rising high on the ridges along the water. The friends who joined me eventually all turned back (children, blah, blah, blah), but I kept going, past Sculptured Beach, Kelham Beach, and the sheer cliff face of Arch Rock.
After that, the trail climbs upward quickly. Hundreds of feet above the water, I found a spot just off the trail and sat down next to a California poppy. From afar, the ocean wasn't angry at all—just serene. I thought about all the poppies I'd encountered hiking in Northern California hills and how seeing that splash of orange felt like finding an old friend. I thought about how much my 6-year-old son would have liked biking to Coast Camp. I thought about the warm ground and the whisper of sunshine in the white sky. And suddenly I realized that after all the hiking, paddling, and carousing, I was very, very weary. I lay down gingerly, closed my eyes, and fell asleep with the sun on my face.
About the author
Rona Marech

Editor-in-Chief

Rona Marech is the editor-in-chief of National Parks, NPCA's award-winning magazine. Formerly a staff writer at the Baltimore Sun and the San Francisco Chronicle, Rona joined NPCA in 2013.