NPCA honors Peter L. Gove with the Marjory Stoneman Douglas Award for his commitment to protecting national parks in Minnesota and Wisconsin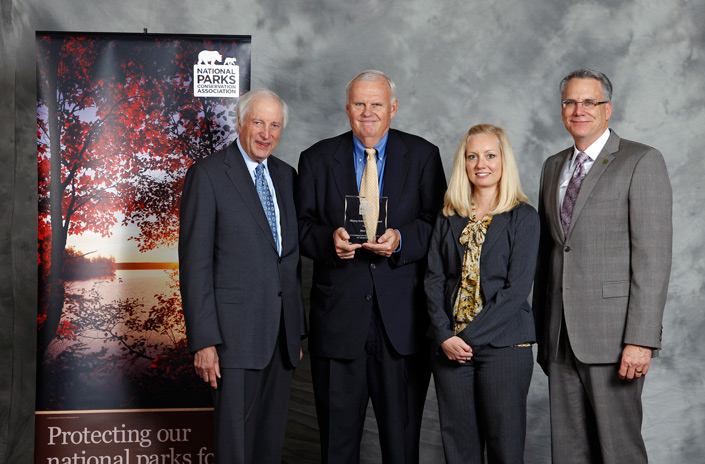 Peter Gove receives the Marjory Stoneman Douglas Award. Pictured from left to right: Bill Walter, National Board Trustee for NPCA; Peter Gove, Chair of NPCA's Upper Midwest Regional Council; Christine Goepfert, NPCA's Upper Midwest Program Manager; and Clark Bunting, President and CEO of NPCA. Photo Credit: Eric Miller
Minneapolis, Minn. – The National Parks Conservation Association (NPCA) will today honor Peter L. Gove for his incredible commitment to protecting national parks in Minnesota and Wisconsin with the Marjory Stoneman Douglas Award at a luncheon in Minneapolis. Named for famed conservationist and life-long Everglades advocate, Marjory Stoneman Douglas was also a Minneapolis native. As Chair of NPCA's Upper Midwest Regional Council, among many national park issues, Mr. Gove has joined NPCA in advocating for the protection of resources and increased federal funding for parks.
"As a Midwest native, I grew up going to parks like Sleeping Bear Dunes and Isle Royale and know first-hand how incredible these places are," said Clark Bunting, President and CEO of the National Parks Conservation Association. "It is because of people like Peter that our national parks are protected and preserved. He is a true example of how our on-the-ground volunteers across the country are invaluable to our work and contribute greatly to our successes each day."
Together with NPCA, Mr. Gove has advocated for the closure of the Upper St. Anthony Falls lock in Minneapolis as a critical measure for keeping Asian carp from advancing further up the Mississippi River. Mr. Gove is the principal founder of Friends of the Mississippi River and worked with former U.S. Vice President Walter Mondale to expand the St. Croix River Association. He has been an outspoken supporter of protecting Midwest national parks from unnecessary cell phone towers and gravel mines. Mr. Gove was instrumental in the lengthy but ultimately unsuccessful fight against the infamous St. Croix mega-bridge connecting Minnesota to Wisconsin, advocating for a reasonable approach that protected the scenic values of the St. Croix River National Scenic Riverway.
"Peter Gove has worked tirelessly in support of America's national parks for nearly 40 years," said Christine Goepfert, Upper Midwest Program Manager of the National Parks Conservation Association. "Peter is an important ally and partner for NPCA and through his leadership and expertise in working for the Department of Interior, National Park Service, the private sector, and as a concerned citizen, he continues to be a critical resource in support of our work."
His professional career has played a huge role in Gove's passion for national parks and his understanding of the responsibility that citizen advocates play in protecting these treasured places. Earlier in his career, Mr. Gove served as then Minnesota Governor Wendell R. Anderson's environmental assistant, was appointed Executive Director of the Minnesota Pollution Control Agency, and was a founding member of Minnesota's Environmental Quality Board. He subsequently served on Senator Anderson's U.S. Senate staff and then as Chief of the Office of Legislation for the U.S. National Park Service during the Carter/Mondale Administration. He continued his support of the NPS during a 25 year business career. He currently serves as the chair of The Trust for Public Land's Minnesota Advisory Board.
"I'm honored to receive this recognition from NPCA and I am proud of the work I've done on behalf of our national parks," said Peter Gove. "As we approach the centennial of America's national parks in 2016, I look to the work ahead and cannot think of a better partner than NPCA to advocate for the protection of the very best of what America has to offer."
NPCA's annual Marjory Stoneman Douglas Award was established in 1986 to honor individuals who go to great lengths to advocate and fight for the protection of our national parks. Named for Marjory Stoneman Douglas, a life-long advocate for Everglades National Park, the award recognizes the outstanding efforts of an individual or group that result in the protection of a national park or proposed site in the National Park System.
###
About National Parks Conservation Association
Since 1919, the nonpartisan National Parks Conservation Association (NPCA) has been the leading voice in safeguarding our national parks. NPCA and its more than one million members and supporters work together to protect and preserve our nation's natural, historical, and cultural heritage for future generations. For more information, visit www.npca.org.