Senator Schumer and Congressman Weiner presented with report by Floyd Bennett Field Blue Ribbon Panel to make Gateway America's iconic urban national park
NEW YORK, N.Y. – Today the Floyd Bennett Field Blue Ribbon Panel released its final recommendations on how to revitalize Floyd Bennett Field and make Gateway National Recreation Area and into an iconic urban national park.
The Panel released its recommendations in advance of Secretary of the Interior Ken Salazar and Mayor Bloomberg gathering at Gracie Mansion to discuss how best to elevate Gateway National Recreation Area into an urban national park.
The forty-page report, "Floyd Bennett Field: The Next Jewel in New York's Urban Park Crown," calls for a significant restoration of the 1,400 acre Floyd Bennett Field, the largest waterfront property in New York City.
The Blue Ribbon Panel was assembled by Sen. Charles Schumer and Rep. Anthony Weiner to establish a shared vision for the future of Gateway National Recreation Area and Floyd Bennett Field and was co-chaired by Marian Heiskell and Deborah Shanley.
"National Parks are America's most precious treasures and Gateway National Recreation Area is New York City's rough-hewn jewel of open space. I'm so pleased that we now have a plan to make Gateway and Floyd Bennett field a sight to see in New York City, and I look forward to turning this blueprint into reality in the years to come," said Senator Schumer.
Over the past year, the Floyd Bennett Field Blue Ribbon Panel organized and conducted public meetings with local community groups, businesses, non-profit organizations, public agencies and elected officials to develop a better understanding of Floyd Bennett Field's potential and future. These findings and the Panel's own deliberations are compiled in a comprehensive report that offers recommendations that address specific issues facing the park, including future vision and design, educational opportunities, restoration, infrastructure, funding needs, and opportunities for new management partnerships. The report aims to elevate Gateway as the country's premier, iconic urban national park with Floyd Bennett Field at its center.
"Gateway National Recreation area is a part of what makes New York the greatest City in the world. As one of the country's largest urban parks, it is home to immense natural beauty and an incredible variety of recreational opportunities - but we can make it better," said Congressman Weiner.
The Blue Ribbon Panel Report offers concrete recommendations for revitalizing Gateway National Recreation Area and Floyd Bennett Field as America's next great urban national park and supports Mayor Michael Bloomberg's PlaNYC (click here to view), President Obama's America's Great Outdoors initiative (click here to view), and the U.S. Army Corps' Comprehensive Restoration Plan for New York Harbor. The Blue Ribbon Panel's Report recommendations include:
•Developing a new master plan for Floyd Bennett Field to make it more welcoming to visitors, including creating a consistent park design, restoring open space, preserving aviation history, improving access to waterfront and expanding recreational opportunities;
•Improving public transportation and access to Floyd Bennett Field via bus and ferry service and enhance the bicycling experience in and around the park;
•Restoring hundreds of acres of wetlands, grasslands, and forests as outlined by the U.S. Army Corps of Engineers' Jamaica Bay Feasibility Study;
•Better serve the region's millions of school children by developing a comprehensive education and interpretation program that includes a state-of-the-art education facility and expand visitor experience to include eco-lodges and campsites; and
•Establishing a new trust, as a partnership between New York City and the National Park Service, to help manage and facilitate the above recommendations by 2016, as the National Park Service celebrates its 100th anniversary.
"Gateway's mission of providing a national park experience for New Yorkers has never been more important," said Marian Heiskell, Co-Chair of the Floyd Bennett Field Blue Ribbon Panel and a long-time advocate for the Gateway National Recreation Area. "Thanks to the leadership of our elected officials and the hard work of our fellow panel members, we have a blueprint for delivering the promise made when Gateway was established almost 40 years ago."
"National parks are a living laboratory for students of all ages," said Deborah Shanley, Co-Chair of the Floyd Bennett Field Blue Ribbon Panel and Dean of the School of Education at Brooklyn College. "But too often young people in New York and other urban centers don't have access to the outdoors. Our recommendations would ensure that Floyd Bennett Field and the rest of the National Parks of New York Harbor will be a welcome classroom for all children."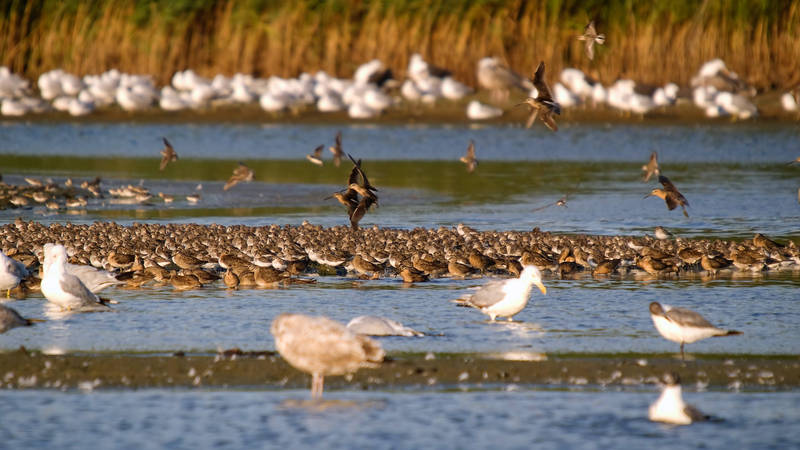 NPCA at Work
Jamaica Bay is a place where millions of New Yorkers go to have fun and explore nature. It is the largest unit of the National Park Service in New York…
See more ›
"Gateway is New York City's greatest unrealized asset. With the leadership of Sen. Schumer, and the growing partnership between Secretary Salazar and Mayor Bloomberg, we can revitalize Gateway and Floyd Bennett Field and make it America's great iconic urban national park," said Alexander Brash, NPCA's Northeast Regional Director. "With more than five miles of waterfront, wetlands, grasslands, and beaches, we must work together to implement the report's recommendations for our children and grandchildren to enjoy."
"The Blue Ribbon Panel has delivered twenty specific and achievable recommendations that will enable Floyd Bennett Field to deliver an extraordinary outdoor experience in the heart of the nation's largest city," said Robert Pirani, RPA's Vice President for Environmental Programs. "We are grateful to the Senator and Congressman for bringing together federal, state, city, and community voices around this shared vision and we look forward to working with their offices, the Secretary, and the Mayor to move it forward".
The Blue Ribbon Panel was managed as a partnership between The National Parks Conservation Association (NPCA) and Regional Plan Association (RPA). Click here to view the full report
###
About National Parks Conservation Association
Since 1919, the nonpartisan National Parks Conservation Association (NPCA) has been the leading voice in safeguarding our national parks. NPCA and its more than one million members and supporters work together to protect and preserve our nation's natural, historical, and cultural heritage for future generations. For more information, visit www.npca.org.
About the Regional Plan Association
Regional Plan Association (RPA) is an independent, not-for-profit regional planning or-ganization that improves the quality of life and the economic competitiveness of the 31-county New York-New Jersey-Connecticut region. For more than 80 years, RPA has been shaping transportation systems, protecting open spaces, and promoting better community design for the region's contin¬ued growth. A major recommendation of its 2nd Regional Plan, Regional Plan Association was instrumental in creating Gateway National Recreation Area in 1972. For more information about Regional Plan Association, please visit www.rpa.org.