Witnesses to Discuss Shutdown Impacts on the National Park Service & Communities Nationwide
Washington, D.C. – The House Natural Resources Committee and the Oversight and Government Reform Committee today will hold a hearing to address the closure of national parks during the federal government shutdown. National Park Service Director Jon Jarvis along with Denis Galvin, a 40 year NPS veteran and trustee of the National Parks Conservation Association (NPCA), will testify before members of Congress to discuss the challenges facing national parks and communities nationwide.
"The closure of our national parks disrupts the lives of millions of people whether they work in a park, want to visit a park, work in a business, or are affected by other governmental services," says Galvin. "Congress and the president need to open the government and open the parks."
Report
Fact sheets, reports, and figures on the impacts of the 2013 and previous shutdowns on national parks and their gateway communities.
See more ›
As the National Park Service approaches week three of the government shutdown, closed signs and barricades at national park sites have become powerful symbols of the fiscal standoff's impact on people around the country. Visitors are understandably angry and upset to lose access to these places of national pride. Lost visitors mean tourist-driven businesses in nearby communities are also losing big—as much as $30 million each day that national parks are closed. And in a surreal fashion, some critics are actually blaming the Park Service for the results of the federal shutdown, which forced the National Park Service to close parks and monuments to visitors.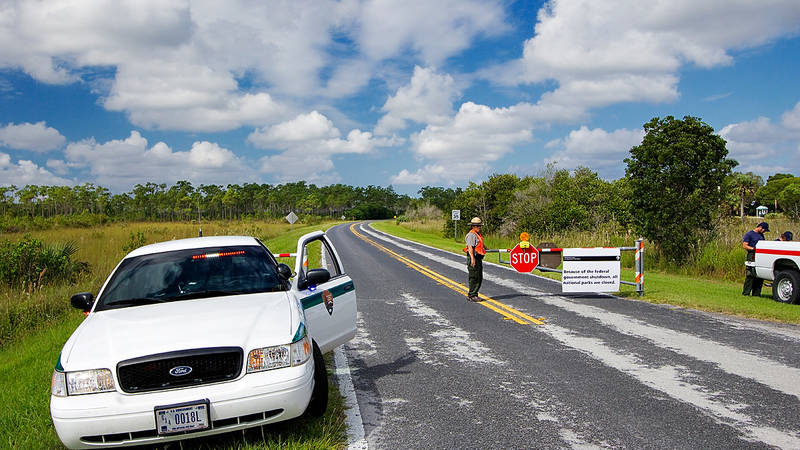 Blog Post
As we enter week two of the government shutdown, closed signs and barricades at national parks have become powerful symbols of the fiscal standoff's impact on people around the country.
See more ›
"The National Park Service is charged with protecting America's national parks for present and future generations. It's unfair to blame Park Service staff for the failure of Congress to keep our government and national parks open," said Galvin.
Congress officially shut down the government and closed all 401 national park sites on October 1. More than 21,000 National Park Service employees have been furloughed and as many as 750,000 visitors are being turned away daily, hurting local gateway communities nationwide. Remaining Park Service staff are now tasked with protecting national park treasures from poaching and vandalism. In response, NPCA, in partnership with National Park Experience: A Film Series, has released a new video that captures personal stories from anonymous national park rangers. View the video below, or click here: https://vimeo.com/76953638.
NPCA says that over the past three years, the budget to operate national parks has been cut by 13 percent, or $315 million in today's dollars. This cut has forced national park superintendents to delay the opening of parks or park roads; close visitor centers, picnic areas, and campgrounds; and decreased the number of rangers who protect and maintain parks. Thousands of students across the country have been denied educational opportunities in national parks, opportunities that would shape their love of the outdoors and parks for the rest of their lives. Yet, according to [a recent poll](//resources/2566-poll-strong-bipartisan-support-for-national-parks), nine out of ten Americans—Republicans, Democrats and Independents—want and expect the federal government to keep national parks open, protected and funded.
"As Congress works toward a compromise to reopen the federal government, they not only need to open national parks, but they need to provide them with funding and resources to fully open and have enough park rangers to serve the public," said Galvin.
The congressional hearing will take place today at 9:30 a.m. EST.
###
About National Parks Conservation Association
Since 1919, the nonpartisan National Parks Conservation Association (NPCA) has been the leading voice in safeguarding our national parks. NPCA and its more than one million members and supporters work together to protect and preserve our nation's natural, historical, and cultural heritage for future generations. For more information, visit www.npca.org.
For Media Inquiries
Former Senior Manager, Communications