Delegate's Pride, photographed in 2018 in Assateague Island National Seashore. PHOTOGRAPHY BY KATHY SHERBERT/WWW.KRSIMAGES.COM
An aggressive stallion from Assateague Island National Seashore gets relocated.
You can't go home again. That adage proved true for one unruly horse this spring when Assateague Island National Seashore exiled Delegate's Pride. 
The park site's feral, free-roaming equines — likely the descendants of mainland horses brought to Assateague in the late 1600s — are one of its main attractions. Visitors love to see these beach-bathing beauties prancing in the waves, the ocean breeze whipping their manes and tails. They're so popular, in fact, that the seashore's Friends group, the Assateague Island Alliance, often auctions off naming rights for the colts and fillies after they're 3 months old.
Unfortunately, the ponies — much like Yogi Bear — have learned to associate campgrounds, picnic areas and even cars with food. Staff take preventative measures and post warnings, but visitors don't always follow the rules.
Delegate's Pride, who earned the nickname "Chip" (as in "chip off the old block") for his similarity in both temperament and appearance to his dad, Sham, took these stealthy raids one step farther than most. If a beachgoer disrupted his dine-and-dash plans or park staff attempted to distract him from tempting treats, the horse stood his ground or lashed out. Since 2017, his go-to move has resulted in five of the seashore's nine reported horse-caused visitor injuries.
"He's not a biter. He's a kicker," said Hugh Hawthorne, Assateague's superintendent. And a strong one at that. His hooves are responsible for at least one broken leg, one cracked shoulder and numerous ghastly bruises, the latter suffered by guests and staff alike.
The stubborn bay's penchant for trouble and the park staff's fear that he could kill someone one day left them no choice, Hawthorne said. Delegate's Pride had to be re-homed.
He's not a biter. He's a kicker.
The journey for the 13-year-old walnut-colored stallion was a lengthy one. First, he was separated from his 70-odd herd mates and quarantined at a property in Maryland, where he was immunized and gelded in preparation for interstate travel. Then, he was secured in a horse trailer for a jolting, 1,400-mile drive before undergoing additional quarantining at his new forever home: Black Beauty Ranch in the small town of Murchison, Texas.
Delegate's Pride is not the only park pony to face such a fate. In 2011, an aggressive stallion named Fabio (apparently because of his luscious locks) found himself on a one-way trip to the ranch that would one day welcome Delegate's Pride.
Though there's precedent for forced relocation, not everyone was happy to see the last of this troublemaking horse. A Change.org petition garnered nearly 1,000 signatures in support of returning Delegate's Pride to Assateague. "In my opinion," wrote petition-signer Lynn Westcott, "Chip was acting like a stallion." The general sentiment was that visitors should be, well, better visitors.
Hawthorne said the two main ways the seashore horses get habituated to humans is through accidental or intentional feeding and through what he calls "horse stalking," where pony-obsessed visitors hound the animals, snapping photo after photo. The result, Hawthorne said, is that the horses lose their fear of people, leading to more brazen behavior.
To keep people safe and ensure the seashore retains the rest of its herd, the Park Service asks the park's 2.7 million annual visitors to stay at least 40 feet away from the horses and to secure their food by locking coolers in cars, stashing them in the specially designed contraptions under all the picnic tables, or making use of the complimentary cooler straps the park hands out. A latched cooler simply won't cut it against these crafty, 850-pound beasts. "They can open a cooler," Hawthorne said. "They'll kick it until it opens."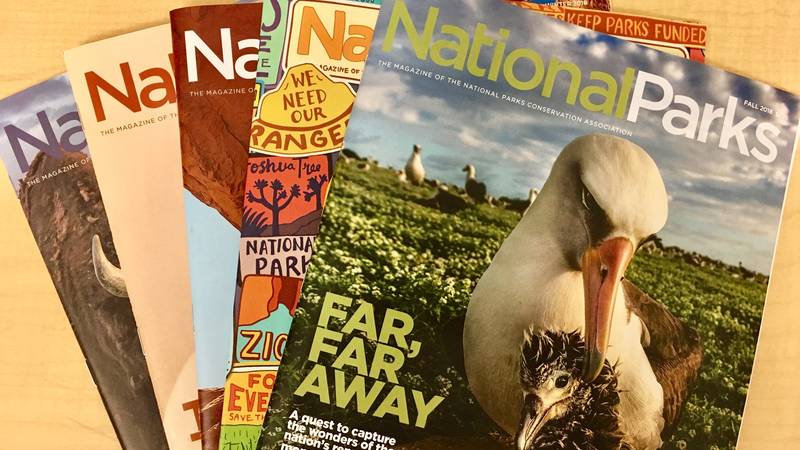 Subscribe to
You can read this and other stories about history, nature, culture, art, conservation, travel, science and more in National Parks magazine. Your tax-deductible membership donation of $25 or more entitles…
See more ›
Out in Texas, Delegate's Pride has the chance to move beyond such shenanigans. His new home, which is a Humane Society of the United States sanctuary, offers 1,000 acres of picnic-free rolling grassland for the grazing pleasure of its equine inhabitants. "Our goal is to let them live as natural a life as possible," said Noelle Almrud, the sanctuary's senior director. Delegate's Pride currently shares a small pasture with a "buddy," but Almrud said she hopes he'll soon be able to join the sanctuary's large herd. And with about 300 other unadoptable donkeys and horses to choose from, "he'll be able to pick his own friends," she said.
Perhaps he'll even catch a glimpse of Fabio, who — at the ripe age of 29 — is living out his twilight years in the cushy digs of a smaller paddock. "We call it senior living," said Almrud.
About the author
Katherine DeGroff

Associate Editor

Katherine works out of the Washington, D.C., office as associate editor of National Parks magazine. Before joining NPCA, Katherine monitored easements at land trusts in Virginia and New Mexico, encouraged bear-aware behavior at Grand Teton National Park, and served as a naturalist for a small environmental education organization in the heart of the Colorado Rockies.