National parks protect places of national significance, from historic homes to rare fossil sites to areas of scenic beauty. Everglades was the first national park designated specifically to preserve biodiversity.
Everglades National Park is a place like no other. The park encompasses one of the largest wetlands in the world with nine distinct habitats, including areas of fresh and brackish water, sawgrass prairies, hardwood hammocks, mangrove and cypress forests, and coastal lowlands. These 1.5 million acres are home to more than 1,500 plant and animal species, including dozens of federally endangered and threatened plants and animals, from the Florida bonneted bat to the Eastern indigo snake and the Florida leafwing butterfly to the West Indian manatee.
A number of public lands preserve particular species, such as sequoia trees and organ pipe cacti. Everglades was the first national park site to be recognized for its sheer abundance and diversity of life — a significant and historic designation.
One reason for this biodiversity is the fact that the park is located in a temperate zone between the tropics and the subtropics where a variety of species thrive. From bottlenose dolphins and bull sharks to endangered birds to rare turtles and salamanders, this dynamic ecosystem is common ground for an exceptional array of wildlife, as well hundreds of plant varieties, from rare grasses to varied ferns and bromeliads to a host of colorful orchids.
This year marks the 75th anniversary of Everglades National Park's historic designation, and staff are hosting a variety of events throughout the year, including monthly seminars and an "iron ranger" physical challenge, as well as a special rededication ceremony in December.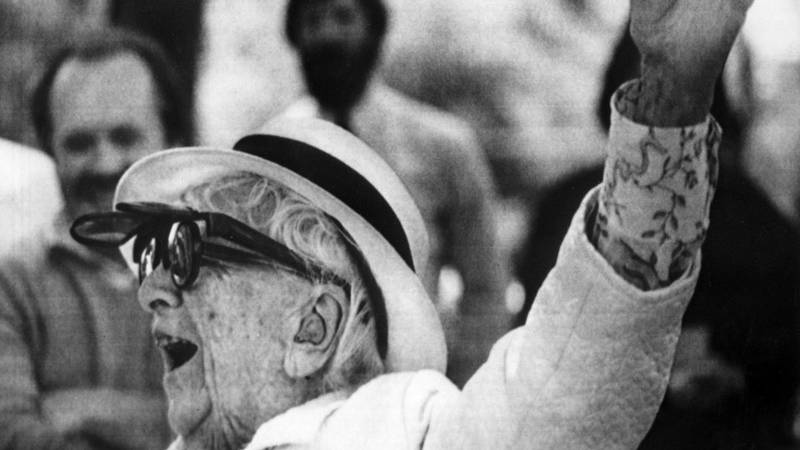 Blog Post
This tireless advocate worked for decades to defend the Everglades, and we remember her on what would have been her 129th birthday.
See more ›
NPCA's involvement with this vibrant park, which conservation champion Marjory Stoneman Douglas famously called a "river of grass," goes back even further than its creation. Speculators had begun dredging and draining parts of the Everglades region as early as the 1800s, digging canals and setting aside land for farming and residential areas. Around this time, hunters were recklessly slaughtering birds to supply feathers for hats — some species to the point of near-extinction. Both the land and its wildlife were in danger.
In 1920, NPCA (known then as the National Parks Association) first called for the creation of a new national park to protect the region. In 1932, NPCA helped study the feasibility of establishing a park and, the following year, assembled a coalition of advocates to build a stronger network of support for it. The campaign eventually paid off, and in 1934, Congress passed the Everglades Act, authorizing the park. NPCA and others then advocated for funds to buy the land. Everglades National Park was finally dedicated by President Harry Truman on December 6, 1947.
The fight to protect the Everglades and its exceptional web of life continues, however. The growth of industrial agriculture and residential and commercial development on the Florida peninsula have severely increased demand for the water that is vital to the Everglades' unique ecosystem. Over time, canals, levees and roads have paved over marshlands and diverted more than 70% of the original flow of the freshwater that once moved naturally from Lake Okeechobee in the northern part of the state to South Florida. A dedicated coalition of advocates, including me and my colleagues at NPCA, have fought to restore and improve this water flow by removing barriers, creating sustainable infrastructure in the region, and fighting for funding to support the long-term health of the ecosystem.
Stay On Top of News
Our email newsletter shares the latest on parks.
This anniversary year is a time to celebrate the many living things that swim, fly, slither and bloom throughout the park and surrounding region. It's also a time to rededicate ourselves to protecting this paradise from the threats choking it from beyond its borders.
Learn more about the park's biodiversity in a recent Park Talk from NPCA, the National Park Service and our partners, read more about NPCA's long history protecting the Everglades, and get insider tips on what to do and see at the park.
About the author
Cara Capp

Everglades Restoration Senior Program Manager, Sun Coast

Cara works to restore and protect natural resources in and around Florida's national parks as the Sun Coast's Everglades Restoration Senior Program Manager.