©CHANELL STONE/THE NEW YORK TIMES/REDUX
Summer 2022
A Retirement for the Ages
Ranger Betty Reid Soskin clocks out at 100 years old.
Betty Reid Soskin sat quietly during the hourlong program, a look of amazement on her face. When she finally spoke, it was brief — just a heartfelt thank-you — but that was enough to trigger the crowd. Hundreds of guests who had gathered for her public retirement celebration gave a standing ovation to the 100-year-old woman whom the country came to know as the oldest active National Park Service ranger.
The April gathering followed Soskin's announcement that she was retiring after more than 15 years at the Rosie the Riveter/WWII Home Front National Historical Park in Richmond, California. Dedicated to educating the public about Black women and people of color who contributed to the homefront effort during the war, Ranger Betty, as she is known, had been a star attraction at the park, where people flocked to hear her riveting talks, which she sprinkled with personal insights and contemporary commentary.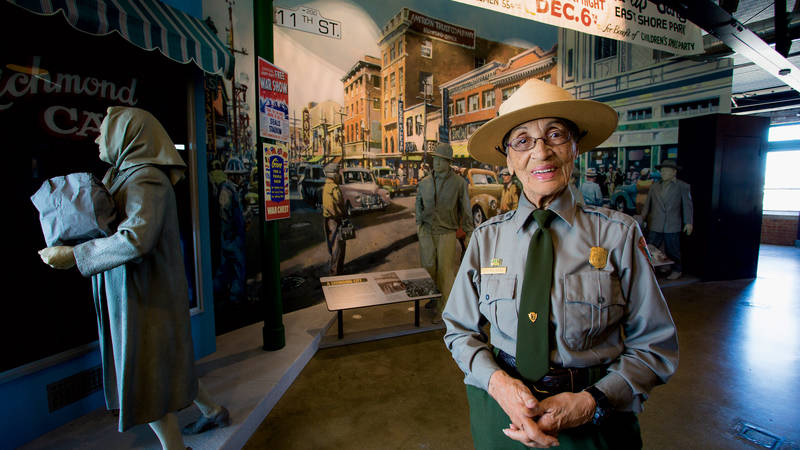 Magazine Article
Learning about the last century from the oldest ranger in the National Park System.
See more ›
Charles F. Sams III, the Park Service director, and Department of the Interior Secretary Deb Haaland were among the parade of dignitaries, officials and friends at the retirement event who paid tribute (in person and over video) to a woman who has touched thousands of people and even had a nearby middle school named after her. "Through most of our lives, she has inspired us, has challenged us; she has showed us that representation matters," said Martha Lee, Soskin's longtime friend and colleague. "She has helped to ensure that the National Park Service continues on the path of preserving the sites in history that represent all of our nation's citizens and all of our nation's stories — the heroic and inspiring, as well as the painful and sometimes shameful."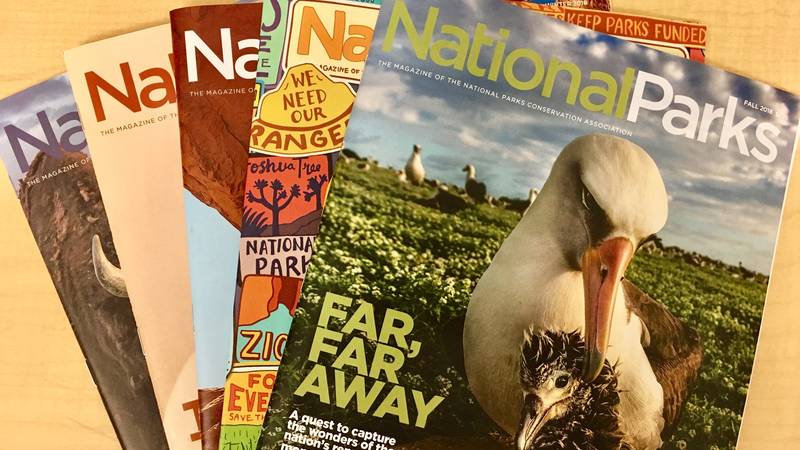 Subscribe to
You can read this and other stories about history, nature, culture, art, conservation, travel, science and more in National Parks magazine. Your tax-deductible membership donation of $25 or more entitles…
See more ›
Lee, who worked in national parks for 40 years, made a few more comments after the ceremony in an email. "I hope that Betty's legacy is a broader acceptance of the fact that everyone's story matters," she said. "She has lived a rich life in her 100-plus years and moved through so many of the traditional roles that women play — mother, daughter, granddaughter and great-granddaughter (to a woman who was enslaved and with whom Betty had a personal relationship), wife, grandmother, stay-at-home mom, political activist, musician, businesswoman, writer and so much more."
The fact that Soskin first stepped into a Park Service uniform at retirement age and "excelled in a role that was entirely new to her when she was in her 80s and 90s is a legacy that is so very powerful," Lee said. "She will always be an inspiration to me."
Retiring doesn't mean Soskin is quitting work: She is continuing to share her insights at regular virtual talks the park is offering. As Kelli English, Soskin's most recent supervisor, said at the end of the ceremony: "Once a ranger, always a ranger!"