Looking for a new adventure in the New Year? A first-time visitor to First State National Monument shares stories and tips for Delaware's new—and only—national park site.
4 Ideas for First-Time Visitors to First State National Monument
For more information, see the official Park Service website.
It was a brilliant fall Saturday and where did I find myself but in Dover, Delaware, on the Dover Green—one of four sites included in the newly established First State National Monument—watching as couples in 18th century period dress danced along the cobblestoned walk. I convinced my friends, rather easily, to accompany me on the two-hour drive from Washington, D.C., across the Chesapeake Bay Bridge and through the picturesque, rural landscape of eastern Maryland and western Delaware. Before reaching Dover, we passed a caravan of horses and buggies bouncing along outside a small, agrarian town. It was idyllic and romantic and set the stage for a day spent celebrating the past.
The Dover Green on this November day hosted an 18th Century Market Fair complete with guests in period costume, including a traveling performer, a smooth-talking doctor peddling elixir, a blacksmith, and a linen worker bestowing Irish blessings, among others. There were wares to be sold—soaps, hats, apples, wool, paintings, and the ever-popular cider donuts—and sheep to be petted (though they were a little skittish). Children played old-fashioned games with sticks, hoops, and glass bottles. They were the kind of games I remember seeing in films like Pollyanna (remember the boy who slaps a rolling metal hoop down the road, lithely jumping through it without disrupting its rhythm?). Adults wandered, soaking up the sunshine while scuffling their feet through red and orange leaves, asking questions of the vendors, and casting their minds back to a different time.
Periodically, the 1st Delaware Regiment would perform a "muster," or formal assembly, for the milling crowds or the three finely dressed couples we had first seen upon arriving at the Dover Green would once again take to the sidewalk for a choreographed dance.
Over the years, this public green space has stood witness to real, honest-to-goodness American history. On December 7, 1787, Delaware's legislature ratified the U.S. Constitution in the Golden Fleece Tavern, giving Delaware the enviable title of "First State." While the original tavern, situated along the edge of the Dover Green, was demolished around 1830, other 18th and 19th century buildings still surround the Green—including the Old State House which served as the state capitol until 1933 and the John Bell House which, now restored, remains the oldest wooden structure in Dover. The Green itself, a rectangle of lush lawn, studded with giant hardwood trees, has changed little from its earliest days. Though the trees may be grander, it continues to function as a site for public gatherings. And, when not filled with locals, craftsmen, and stray tourists like myself, it serves as an oasis of history and respite, much like a campus quad in summertime.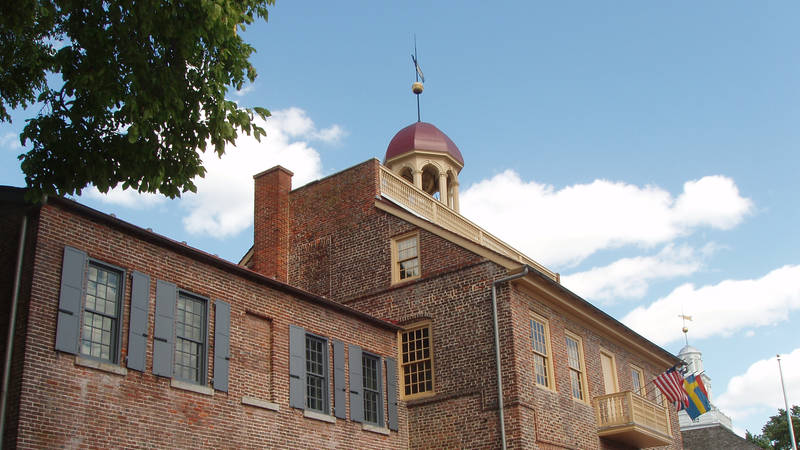 Park
This urban oasis along the Brandywine River in Delaware tells much of early American history, from the Native American Lenape tribe that lived in the river valley to the Wyeth…
See more ›
In conjunction with the 18th century market was a local art fair housed in the nearby Biggs Museum of American Art. This place had unique offerings around every corner: paintings, pottery, earrings, purses, notecards, illustrated children's books, woodworking, beeswax sculptures, photography, and more. Even if I hadn't been shopping, I would have enjoyed merely looking at what skilled hands could accomplish.
This was my first visit to Delaware, and I wasn't disappointed. It was a unique and special way to be introduced to the state and its first national park unit. If you go next year, keep your eyes peeled for me. I'll be the one hitting the hoop down the street while eating a cider donut.
If you missed the Market Fair but don't want to wait until next fall to experience the Dover Green, there are many other programs and events year-round, including walking tours every Saturday: https://history.delaware.gov/fshpvc_main/fshpvc_about/.
Learn more about the First State National Monument on the Park Service website..
About the author
Katherine DeGroff

Associate and Online Editor

Katherine is the associate editor of National Parks magazine. Before joining NPCA, Katherine monitored easements at land trusts in Virginia and New Mexico, encouraged bear-aware behavior at Grand Teton National Park, and served as a naturalist for a small environmental education organization in the heart of the Colorado Rockies.