Can they see me? Am I safe? One staff member explores ways to honor queerness and make the outdoors more inclusive and welcoming for all people.
It was a Monday morning all-hands call a couple of years ago, and we were all crammed into a meeting room at the DC headquarters. I was multitasking on my laptop while my teammates shared updates on what they were working on that week. The voice of one of my colleagues, Chad Lord, floated on the periphery.
"…and then later this week I'm speaking on a panel for Pride, testifying about…" he trailed off, searching for the right phrase, and then ended glibly, "…being gay outside."
Giggles spread about the room. Chad looked a little surprised, like he didn't intend for it to be funny. It was kind of funny, but he meant it literally, and not a lot of people in the room understood that.
I did.
Maybe my colleagues pictured a drag queen hiking or leading some kind of sing-along à la "The Sound of Music." But in reality, being gay outside means so many different things. Good things, like a camping trip with your friends, sitting around the fire happily defying the stereotype of rugged outdoorsmen. Or not so good things. A hike with your partner in a remote area, where every time someone meets your eyes on a trail you wonder if they know what you two are, and what they think of it. And what they're going to do about it.
I remember driving all night from DC through the Allegheny Mountains to meet my parents for a ski trip last March. I pulled off the two-lane road to a sleepy town, past a couple of closed outdoor outfitters and up to the only open gas station. Before I got out of the car, I glanced down at my outfit and wished I hadn't worn such tight jeans. I walked up to the door, hoping that my walk didn't swish or sway much. I could feel the cashier's eyes follow me around the store as I picked up a Kit-Kat and a Coke. When I made small talk at the register, I dropped my voice lower, just like I used to back in high school.
As I drove off, I thought that maybe I was being silly or paranoid. This was a backwoods town in West Virginia, sure, but it was 2020. It's not like they were going to gay bash me — were they? I'm from the South, and I think the stereotype that homophobia lingers in rural areas is often untrue.
But I knew that the hair went up on the back of my neck, and I trusted it.
A month earlier, NPCA had invited Ambreen Tariq, founder of Brown People Camping, to speak at a team retreat about diversity in our national parks. She asked if any of us had ever felt unsafe in our parks and surrounding towns and communities. Raised by outdoorsy parents, I have been skiing since I was three, and hiking in our parks since before I could remember. I feel at home outdoors.
I still raised my hand without even thinking. That's just part of being gay outside.
But I also have so many good memories of being gay outside. Hiking through the woods of Uncompahgre National Forest in Colorado with a close group of queer friends. Wandering around Stonewall National Monument in New York with my then-boyfriend, closing our eyes and trying to imagine what Christopher Street must have been like on that fateful night when our people fought back.
Being gay outside doesn't always feel unsafe. But if you've ever felt unsafe in a quiet neck of the woods or a dark town at night, that feeling is only intensified when you worry about hiding your identity. And in some ways, I am more privileged than others wandering the outdoors. I have hidden who I am before, and I could do it again if needed. People of color, including Ambreen, cannot hide who they are, nor should they have to. Gay and bisexual people, particularly white men, are also increasingly accepted by societal norms, even in remote places. Trans people or queer people who do not fit the same mold are often another story.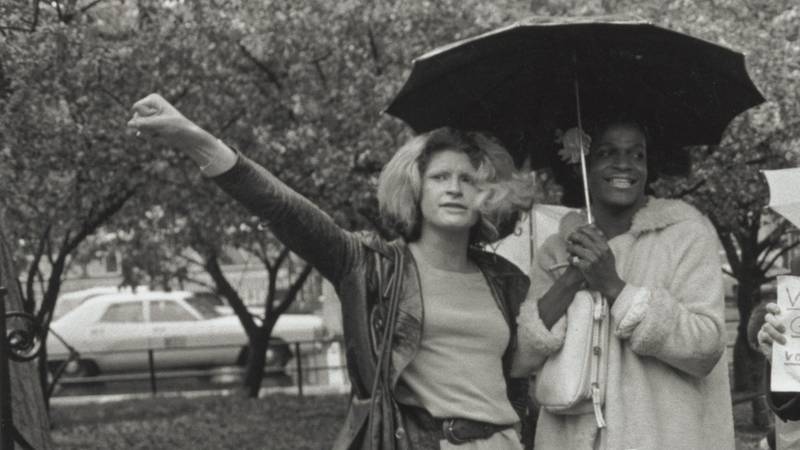 Blog Post
More than half a century later, these bold women continue to inspire.
See more ›
What can we do about this? While representation isn't everything, a big part of the solution has to be diversifying our national parks, outdoor spaces and other travel destinations as much as possible. For me, it's much less scary to be gay outside when so many other people are gay outside. And if we want more gay people outside, we need more places like Stonewall; parks that tell queer stories and honor queer love. We also need the places we already love, such as Yellowstone or Yosemite, to feel as welcome to queer people or Black people or trans people as they do to the stereotypical white, rugged outdoorsmen or nuclear families on trips. This land originally belonged to Native American people, and they should feel safe and comfortable on it, too.
Despite setbacks during the Trump administration, the National Park Service has made strides toward inclusivity in recent years, including President Obama's designation of Stonewall as a national monument in 2016. On the day the Supreme Court declared same-sex marriage legal throughout the United States, the Department of the Interior celebrated by sharing a photo of my colleague Alex Johnson kissing his husband in Black Canyon of the Gunnison National Park.
Love is love! #LoveWins pic.twitter.com/a1cKUcFqYa

— US Department of the Interior (@Interior) June 26, 2015
Outdoor advocacy organizations are banding together to sponsor events like #PrideOutside and Black Birders Week. The drag queen Pattie Gonia (I'm such a fan! Please call me) has shone a light on the perceived heteronormativity present in our parks. Deb Haaland, the first Native American Interior Secretary, recently met with advocates at Stonewall National Monument to talk about how to make our parks safer and more engaging for queer visitors and employees. Her child is also a member of the LGBTQ community; I feel she understands us and wants us to be safe and represented in parks.
I love being gay outside. I don't want to feel straight outside, since I've never felt straight inside. It's up to all of us, however we identify, to make our outdoors and beyond safe and welcoming. We all deserve to be ourselves in the places we love with the people we love.
Stay On Top of News
Our email newsletter shares the latest on parks.
About the author
Kyle Groetzinger

Associate Director, Communications, Mid-Atlantic, Southeast, Sun Coast, Texas

Kyle Groetzinger joined NPCA in June 2019 and serves as Associate Director of Communications. He leads communications strategy and media outreach efforts for the Mid-Atlantic, Southeast, Sun Coast, and Texas regions, along with the organization's cultural resources and future parks teams.