Last month, Congress increased funding for the National Park Service and other agencies that manage public lands, among other positive provisions in the federal budget. But lawmakers also included border wall funding measures that will continue putting sites such as Organ Pipe Cactus National Monument at risk.
On December 17, lawmakers passed a federal budget and averted a government shutdown, enacting numerous provisions that will help national parks and public lands. The final spending package:
Increases National Park Service funding by $155 million at a time when the agency desperately needs to address staffing shortages and maintenance and repair needs
Increases funding for the Land and Water Conservation Fund program by $24 million — funding that will allow the Park Service and other federal agencies to buy vulnerable lands from willing sellers, preserving important natural and historic sites
Increases funding for the Environmental Protection Agency by $207 million
Allocates more than $205 million for Everglades protection projects
Allocates $70 million to the Nationally Significant Federal Lands and Tribal Projects Program to address large transportation projects in national parks, tribal lands and other public lands
NPCA supports these positive measures, among others.
However, this budget also included $1.4 billion in new funding for the wall at the southern border. The wall, which is currently under construction despite numerous pending lawsuits, is already destroying wild land and threatening rare species at Organ Pipe Cactus National Monument in Arizona. The federal government waived dozens of laws to begin building the wall, and continued construction could worsen conditions at Organ Pipe and damage several other public lands in Arizona and Texas as well as their wildlife.
The bill also failed to include measures that would have prohibited the transfer of money from other federal accounts to fund wall construction. The administration is currently paying for new wall construction at Organ Pipe Cactus National Monument using funds that had been originally appropriated for Department of Defense programs. In passing the federal budget, Congress did nothing to stop this misuse of funds.
See NPCA's latest infographic below and some of our recent stories for more information on how the border wall is harming national parks.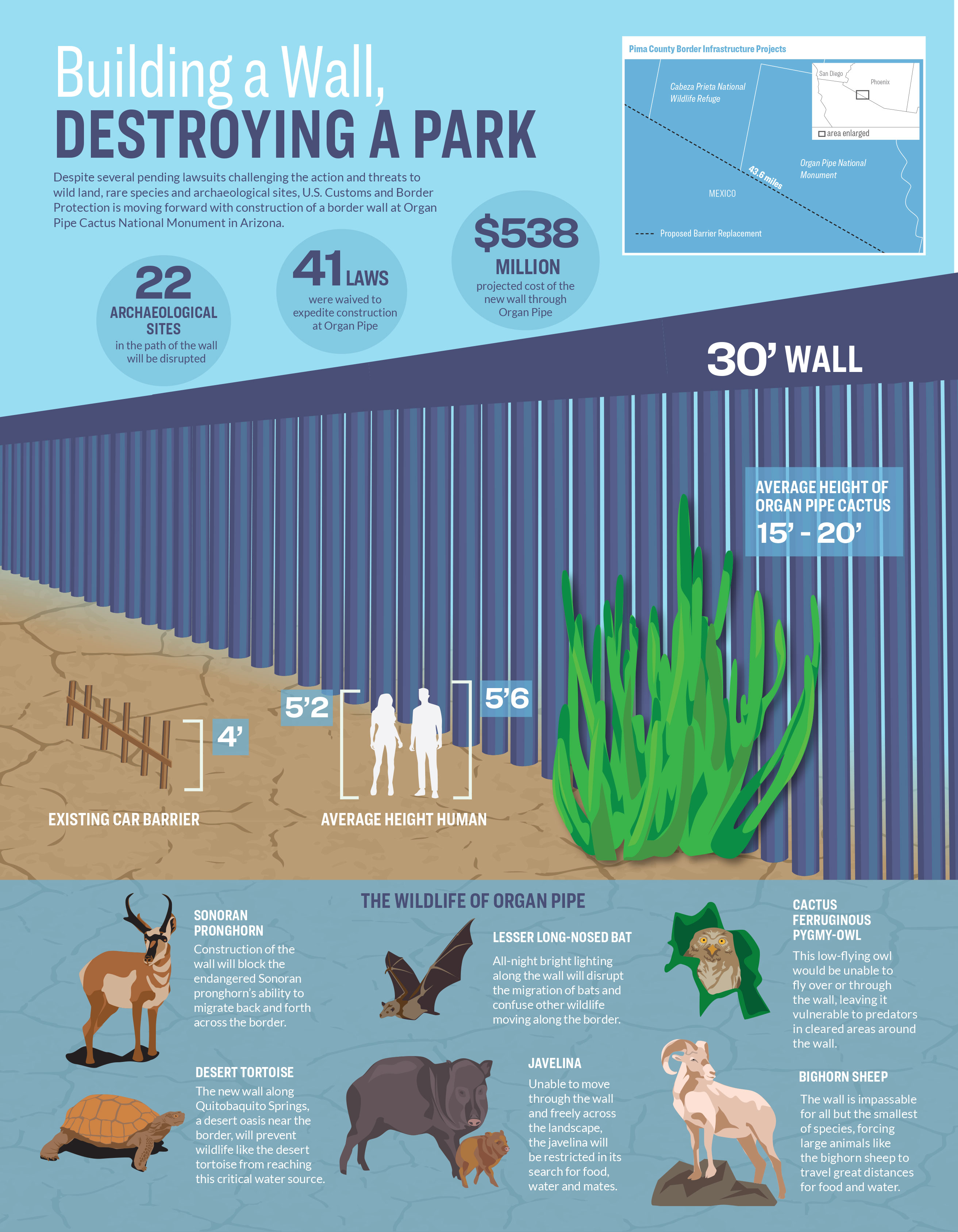 (click to enlarge)
Border security is a critical issue, which is why it's important we get it right. We need solutions that keep our country safe without destroying its irreplaceable heritage and values. There is clearly more to do to improve our immigration system, including investing in ports of entry to process migrants legally seeking asylum and to stop illicit drugs, the majority of which come through these ports of entry hidden in vehicles. However, the current state of affairs does not constitute a national emergency that requires walling off our national parks and border communities.
Related stories
Stay On Top of News
Our email newsletter shares the latest on parks.