The federal government could soon install new bollard wall on portions of the southern border, including 78 miles of barriers near National Park Service land.
Earlier this month, U.S. Customs and Border Protection announced plans to build 63 miles of bollard wall on the southern border with Mexico that would replace vehicle and pedestrian barriers at two national park sites in Arizona, Organ Pipe Cactus National Monument and Coronado National Memorial. The agency also announced plans to replace 15 miles of vehicle barriers in California with bollard wall, crossing the historic route of the Juan Bautista de Anza Expedition of 1775-6. The portion of the route north of the border, the Juan Bautista de Anza National Historic Trail, is managed by the National Park Service.
There is no question that border security is vital to our country, which is why it's so important we get it right. We need to look for solutions that keep our landscapes and communities intact. A wall is not the answer for our security or our national parks.
What is a bollard wall?
The proposed walls in Arizona and California are 18- to 30-foot-tall barriers made of steel beams. These beams are filled with concrete and rebar with narrow spaces between them to allow officials to see through the barrier.
In theory, these barriers allow water and some wildlife to pass through the spaces between the beams, but previous wire mesh fencing constructed at Organ Pipe Cactus National Monument in 2008 caused significant flooding and erosion issues. Even with gaps in the fencing, it collected debris during flash floods and displaced a significant amount of water, creating pools up to seven feet deep and worsening erosion problems along patrol roads. And although smaller wildlife could pass through the gaps between beams, larger animals would be stopped in their tracks, hindering their ability to find food, water and mates, and disrupting migration.
Is wall construction legal?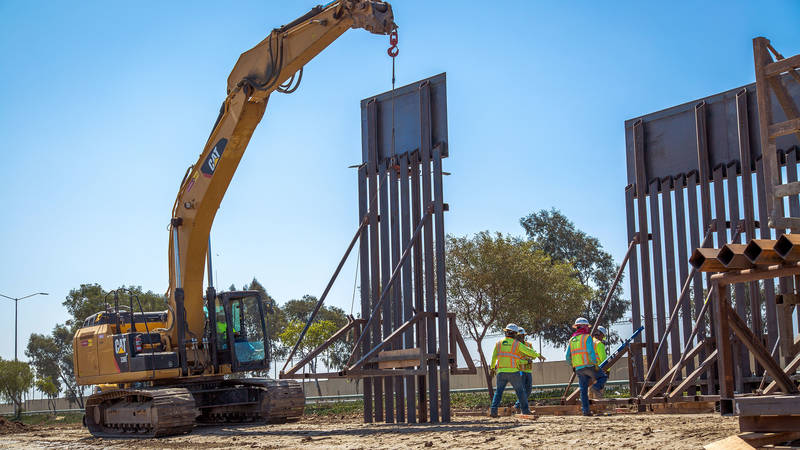 Resource
The Department of Homeland Security is waiving the following laws to build proposed sections of border wall in Arizona and California near national park lands.
See more ›
Seven lawsuits are currently challenging the president's declaration of a national emergency to build the wall, which the administration is using as justification to divert federal money already allocated to other purposes toward the proposed construction. Plaintiffs include the U.S. House of Representatives, the state of California, the American Civil Liberties Union, the Center for Biological Diversity and the Sierra Club, among others. Last week, a federal judge issued an injunction in one of the lawsuits, temporarily blocking the administration from beginning wall construction, though how the courts will ultimately resolve these legal challenges remains to be seen.
In addition to these pending lawsuits, the administration is simply disregarding many laws, and is currently within its rights to do so. Under the Real ID Act of 2005, the Department of Homeland Security can waive any and all laws to expedite border construction. The result is construction projects that move forward without environmental reviews or significant input from federal land management agencies or the public. The administration has already waived 41 laws in Arizona and 31 laws in California to build the new barriers, including the Endangered Species Act, the Clean Water Act, the National Historic Preservation Act and the National Park Service Organic Act. See the complete list here.
How would the barriers harm Organ Pipe Cactus National Monument?
Organ Pipe Cactus National Monument was created in 1937 to protect its namesake plant and a scenic, biologically rich portion of the Sonoran Desert.
Dozens of wildlife species would be unable to move freely through the landscape in search of food, water and mates. Among the wildlife that would be affected are bobcats, coyotes, endangered desert tortoises, javelinas and mountain lions.

Other wildlife would be disrupted by the barriers, including bats and migrating birds, because the clearing around the wall creates a place where predators can easily capture prey.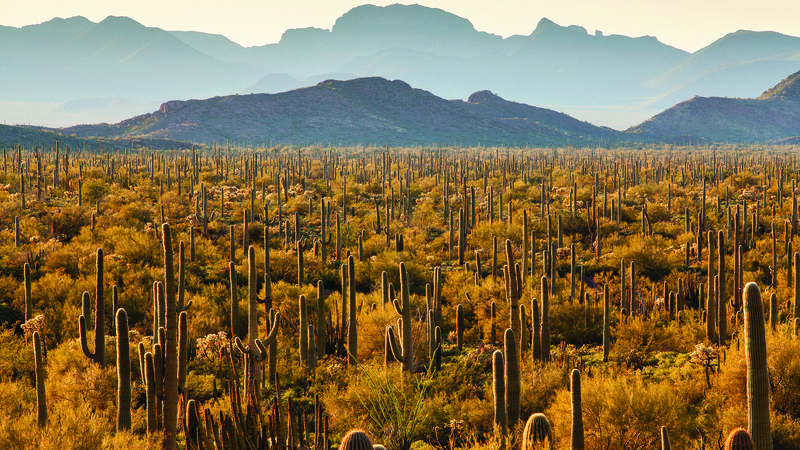 Magazine Article
Head to Southern Arizona to Discover Organ Pipe Cactus National Monument.
See more ›
Quitobaquito Springs is a desert oasis near the border that hosts two endangered species, the Quitobaquito pupfish and Sonoyta mud turtle. The new fence would be within a couple hundred feet of this pond, changing flood patterns in the area and damaging water quality. The fence would also prevent wildlife species on the other side from using a critical water source they have relied on for millennia.

The proposed wall would have bright lights on all night. These lights would disrupt the migration of endangered bats, confuse other wildlife and degrade the visitor experience, including the park's ranger-led night-sky programs.

The wall will scar the scenic vista.
How would the barriers harm the Juan Bautista de Anza National Historic Trail?
The Juan Bautista de Anza National Historic Trail, established by Congress in 1996, preserves much of the historic route of the de Anza Expedition, whose journey opened a new route for European colonization of California.
The new border wall would block the historic route of the Anza trail where it crosses the border in the Yuha Desert, a place of overwhelming historic and prehistoric cultural significance. The Yuha Desert has been inhabited for millennia by Native peoples, who built low rock walls, pathways, large-scale rock artworks known as intaglios and even rock fish traps to gain sustenance from the long-dried ancient Lake Cahuilla. The abundant physical evidence of their presence, spanning both sides of the border, also includes funerary sites. Construction activities would irreparably damage these priceless cultural sites.

Species affected would include burrowing owls and flat-tailed horned lizards. Both animals are under increasing threat in the California desert, and both have been proposed for but denied protections under state and federal endangered species laws. Flat-tailed horned lizards tend to freeze rather than run when they sense danger, making them extremely vulnerable to mortality from construction equipment. Burrowing owls are often killed in their burrows by construction and would be adversely affected by the fence once built, as they rarely fly higher than a few feet off the ground.
The barriers would mar the historic views in this desert landscape.
Can the public comment on this plan?
The administration has opened a public comment period to weigh in on the plans, but the information provided for comment is inadequate — the agency provided maps but no details about the timeline or costs involved — and the hasty timing calls the integrity of the process into question.
The administration announced its plans to build bollard walls in Arizona and California on May 7 and 8, respectively. The Park Service was not consulted on these plans until May 15. Yet by May 16, the Army Corps of Engineers had already awarded contracts to build the barriers, which the agency said could begin as soon as 45 days from then. By that schedule, construction is cleared to begin as soon as June 30 — days before the public comment period for Organ Pipe Cactus National Monument will have even closed on July 5.
What is NPCA's position for handling safety at border parks?
Stay On Top of News
Our email newsletter shares the latest on parks.
The administration should properly invest in the long-term staffing needs of our national parks so that Park Service law enforcement and other park personnel can coordinate effectively with border patrol agents while also protecting park resources. Each national park contains its own unique terrain, historic artifacts and wildlife, which is why Park Service staff are specially trained to manage potentially sensitive resources at their assigned parks while keeping visitors safe.
There is clearly more to do to improve our immigration system, including investing in ports of entry to process migrants legally seeking asylum and to stop illicit drugs, the majority of which come through these ports of entry hidden in vehicles. However, the current state of affairs does not constitute a national emergency that requires walling off our national parks and border communities.
About the authors
Kevin Dahl

Former Arizona Senior Program Manager

Kevin Dahl works as Arizona's Senior Program Manager in the Southwest region. He focuses on issues concerning Arizona's national parks, including such well-known places as Grand Canyon, Petrified Forest, and Saguaro.

Chris Clarke

Ruth Hammett Associate Director, California Desert Program, Pacific

Chris joined NPCA in 2017. He works with desert communities to protect national parks, monuments, and other protected places, and the landscapes that surround them.