Winter 2020
On the Trail Again
Tim Palmer, author of a new book about mountain hikes, reflects on a lifetime in the great outdoors. 
There is something ineffably alluring about faraway peaks jutting toward the sky, according to the writer and photographer Tim Palmer. "They are like enchanted land on the horizon," he said. "They tend to be our wildest country. … And wildness is vitally important to me."
An avid outdoor adventurer, Palmer has written frequently about heading to the hinterlands to escape the churn of the modern world, and it is a theme he picks up in his new book. "America's Great Mountain Trails: 100 Highcountry Hikes of a Lifetime," a guidebook of sorts that also features hundreds of Palmer's photographs, came out in the fall. It is his 29th book.
To write his latest volume, Palmer, 71, drew on sources including detailed notes from past trips, carefully marked-up maps and a photo collection he's been amassing for decades. To "fill in the blanks," he walked into the mountains.
The book highlights everything from the short hike up Champlain Mountain in Maine's Acadia National Park, to a 60-mile backpack route that traverses much of Great Smoky Mountains National Park in North Carolina and Tennessee, to an 18-mile trail in Olympic National Park in Washington that starts in the Hoh Rain Forest, climbs Mount Olympus and ends at the Elwha River.
The book isn't only about national parks, but the trails he describes all crisscross public lands of one kind or another, and hikes through national parks feature prominently. "When you think about it, you have to include the great trails of Yosemite, the Smokies, Glacier and Olympic," he said. "The parks are undeniably highlights of the natural world."
Palmer would know. As his friend Chris Brown, former director of the Wilderness and Wild and Scenic Rivers program at the U.S. Forest Service, said: "He's spent his entire life outside." It's not that far from reality.
Palmer studied landscape architecture in college and then worked as a county planner after he graduated. But over time, he grew frustrated by how few people read his planning documents, and the great outdoors called. A diehard paddling enthusiast, he had already started writing magazine articles about his river trips, and at some point, he realized he could probably "take this writing thing for a spin." After he got his second book contract in 1980, he quit his day job.
The career switch led to some other unconventional choices. He bought a roomy van and after a while, he moved in. "I realized this was the way to do it," he said.
He lived in the van for 22 years (minus some wintertime stints). Halfway through, he got married, and his wife joined him. "We loved the van life," he said. "You're free as a bird. Overhead is low. Every day is interesting and different and exciting."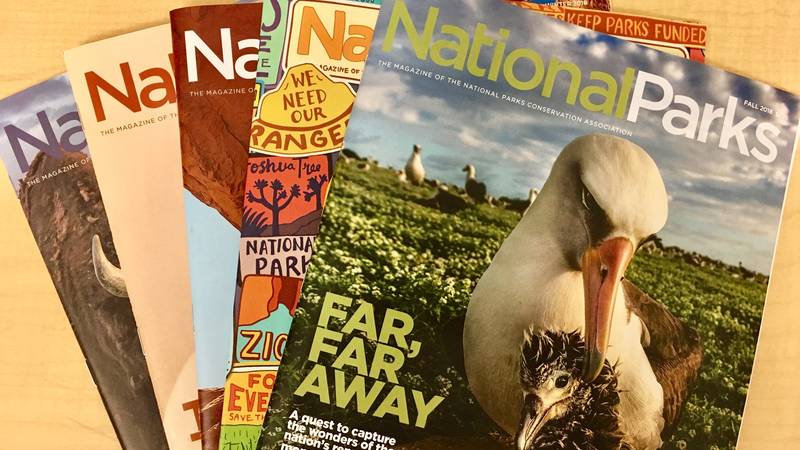 Subscribe to
You can read this and other stories about history, nature, culture, art, conservation, travel, science and more in National Parks magazine. Your tax-deductible membership donation of $25 or more entitles…
See more ›
Eventually (and a bit reluctantly), Palmer and his wife gave up living on the road — kind of. They bought a house in a small community on the Oregon Coast in 2002, but Palmer still travels frequently. Age has barely slowed him down, he said. He no longer mountaineers in the winter on his own, but he still does just about everything else. He recently took a 530-mile solo canoe trip down the Yellowstone River. And he has numerous projects in the works: a guide to forest trails, a guide to rivers of the Rockies, a book about flooding and an updated edition of a book about the Youghiogheny River in Pennsylvania.
Yet with age, a certain kind of pensiveness has set in. "I do think about questions of what I want to do with the rest of my time, because of course, it's limited," he said. He has always considered himself an environmentalist above all else, and as time goes on, that commitment has only deepened. He and his wife are very involved in conservation efforts in their adopted hometown, and he considers writing a form of activism.
"I fear that our culture and society is losing touch with nature because technology is so dominant, and I look at my books as a humble response to the challenge of keeping people connected to the natural world," he said. "The old axiom is really true: We only take care of places we know, and we only know the places we see, so by getting out and experiencing these amazing landscapes, we get to know them, and hopefully we become committed to better protection of them."
About the author
Rona Marech

Editor-in-Chief

Rona Marech is the editor-in-chief of National Parks, NPCA's award-winning magazine. Formerly a staff writer at the Baltimore Sun and the San Francisco Chronicle, Rona joined NPCA in 2013.