NPCA's director of legislation and policy notes a few trends from last week's elections that could affect national parks in 2019.
The record turnout in last week's elections brought a mixed bag of results across the nation. Fortunately, there's plenty of good news for national parks. A couple of states are still counting votes as I write this, but I've studied the results to date and noted a few larger trends that could come into play for national parks when the 116th Congress is sworn in this January.
1. Voters elected new representatives in the House with pro-environmental agendas in places where we haven't had pro-park votes in many years — or ever. If these new members of Congress, representing districts that include parts of Kansas, Iowa and southern California, vote even once in favor of a park issue, it will be enormous progress on the political map for national park legislation. As political fights loom that could threaten bedrock laws such as the Antiquities Act and the Endangered Species Act, these votes become more critical than ever.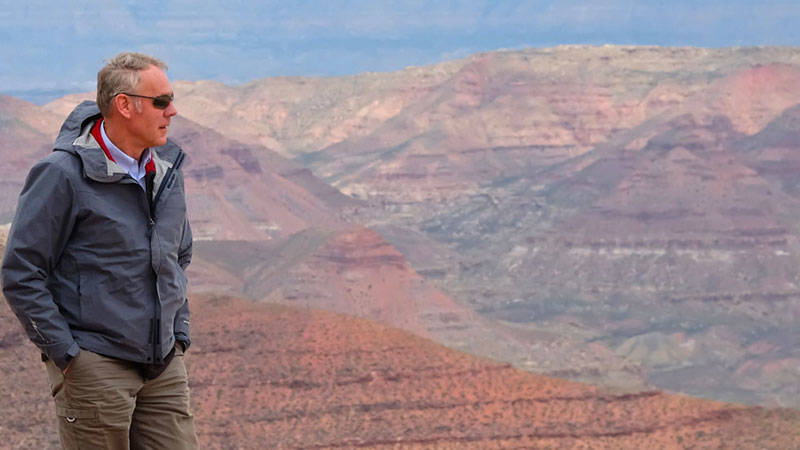 Blog Post
Last May, Interior Secretary Ryan Zinke told environmental leaders that he would make a "grand pivot" to prioritize conservation over energy development, but we're still waiting to see him…
See more ›
2. Democratic control in the House of Representatives means potential ability to investigate Trump administration rollbacks on environmental regulations. It's no secret that the Department of the Interior and the Environmental Protection Agency have prioritized a pro-energy development agenda over the will and input of the conservation community and the public. In the name of so-called "energy dominance," President Donald Trump and Department of the Interior Secretary Ryan Zinke have aggressively pursued oil, gas and coal extraction on public lands and in oceans, often at the expense of public input and public health. The administration's actions blaze an anti-conservation path that harms our parks and our prospects for a clean and affordable energy future. With the new change in House leadership, Congress will be much more likely to gain access to information that can determine how pro-industry proposals such as offshore drilling recommendations or rollbacks on mandated coal industry cleanups were developed, who was part of the process, and how access to decision-making was granted.
3. New members of Congress in the Sun Belt and Western United States could make these regions friendlier to park issues than they were before. Members of both chambers of Congress in Arizona, Colorado, Nevada and even Utah could be more receptive to NPCA's legislative priorities next year — and these members represent a large percentage of the park system that all of us own.
4. NPCA sees more potential to engage governors on national park issues. With several governorships changing hands in states with key parks and public lands, there are new opportunities for state-based engagement on our nation's shared conservation values. For example, Maine's outgoing governor, Paul LePage, strongly opposed the creation of the Katahdin Woods and Waters National Monument. LePage also had the ear of the Trump administration when conservationists did not have a seat at the table to defend public lands. Now, Maine and other states have elected governors who could be more likely to support NPCA's issues. In some instances, governors have played a key role in influencing federal issues such as the enforcement of the Endangered Species Act, or embracing state commitments to improved environmental safeguards, such as renewable energy goals, better vehicle emission standards and methane leak detection technology.
We don't know what the new Congress and state governments will ultimately be able to accomplish, but these four changes are reasons to be optimistic. I do have one potentially less positive takeaway, however.
Stay On Top of News
Our email newsletter shares the latest on parks.
5. Fewer moderate Republicans will be returning to their jobs in January. As the country gets more polarized, the political center continues to shrink, including NPCA's proud park allies on the right side of the aisle. NPCA lost strong Republican park defenders in New Jersey, Washington and Pennsylvania. While we are confident that the new Democrats taking these seats in 2019 will continue to represent the park priorities in these districts, NPCA remains committed to investing in bipartisan support for all our national park issues. The potential loss of cooperation across the aisle in some states may hurt political dialogue and worsen the political climate for everyone.
Of course, NPCA has worked with every Congress and every administration for the last 99 years, and we remain dedicated to protecting America's best places, with your help.
About the author
Ani Kame'enui

Former Deputy Vice President, Government Affairs

Ani Kame'enui is the Deputy Vice President for the Government Affairs team and responsible for managing NPCA's policy portfolio across a range of park issues. She comes to NPCA with a background in geology, water resources engineering, and a love for natural resource science and policy.