Fall 2017
For Love and Trains
A modern-day troubadour hops aboard and spreads her love of parks through song.
On the eve of the National Park Service centennial in the hubbub of Grand Canyon's Bright Angel bar, a woman with an open face framed beneath a swoop of bangs approached the stage. Removing her guitar from its sticker-clad case, Gigi Love slipped the strap over her head. "The canyon is a place that calls my spirit home," she sang.
A self-professed seeker with a certain bohemian flair, this Moab-based singer-songwriter defies pigeonholing. She has a refreshingly genuine belief in the power of the arts and — as quickly became apparent at her performance that night — a soft spot for land protection. At the time, Love was wrapping up production on a national-park-themed album.
As her folksy ode, "In the Grand," smoothed over the audience at Bright Angel, it won the attention of a nearby cluster of colleagues unwinding after a day spent discussing an innovative program known as Trails & Rails. A partnership among the Park Service, Amtrak and Texas A&M's Department of Recreation, Park and Tourism Sciences, the program places trained volunteers on Amtrak routes to spread awareness about parks. Catching the eye of Jim Mičulká, national coordinator for the partnership, one of the rail officials said of Love, "She's really good. You should think about putting her on the train." A sliver of an idea took shape.
A few weeks later, after a successful trial ride from Los Angeles to Portland, Love joined the ranks of nearly 700 other Trails & Rails VIPs — Volunteers in Parks — as the first-ever troubadour. This summer, between paying gigs and her weekly radio show, she embarked on an epic train tour, playing her park songs while traveling on lines whose names evoke a bygone era — Coast Starlight, California Zephyr and Sunset Limited. She traced the West Coast, wound through the Rockies and dipped from the Southwest into the Deep South, performing dozens of times in Amtrak observation cars and parks alike.
"People from all over the world are on the trains," Love said, and most "are kind of looking for something to do. So as soon as I start singing, it's a gathering."
The Trails & Rails program started in 2000 as a way "to reach out to nontraditional audiences at diverse sites who may not always visit national parks," said Mičulká, a 43-year veteran of the Park Service. Reaching roughly half a million summer and weekend Amtrak riders per year, the onboard volunteers might highlight the role passenger trains have played in promoting parks, discuss how to get to parks or delve into the natural and cultural history of public lands. "That's 500,000 people who didn't step into a national park but who got the National Park Service message," Mičulká said. The program has experimented with using living history volunteers, but Love's acoustic performances are something new that he likened to a "campfire-on-the-train-type program."
Love first picked up a guitar when she was 7. Later, as a teenager whose world was frequently upended by moves, she discovered that music provided an anchor and an avenue to making new friends. "Music was my only real hold on reality during that time," she said.
After high school, Love hopped a Greyhound bus in Arlington, Texas, bound for college in a place she'd never been: St. George, Utah. "I arrived at St. George at night" she recalled. "The next morning, I woke up and was surrounded by red rock everywhere. I just felt like I had landed on another planet."
It didn't take her long to find her way to nearby Zion National Park. Whether scaling slabs of pumpkin-colored rock or challenging herself with excursions in the river-carved Narrows, she felt liberated by all that wildness. "Everything fun that I've ever learned in a national park started in Zion" she said.
While Zion is the place that convinced Love she had the "potential to be brave and take risks," it's the Grand Canyon she holds most dear. Her all-time favorite haunt lies along the quiet North Rim — 40 bumpy miles beyond where good sense tells you to stop — at a point where she can unroll her sleeping bag and feel like she's at the edge of the world. "It's a very transformative place," she said. She credits these wide-open spaces with calming and humbling her and helping her "learn how to just be."
Hoping to harness these lessons and use her music for good, Love pivoted from writing about people to writing about parks. With support from her husband, Peter Nicholson, a retired engineering professor who is also her manager, she embarked on a multiyear passion project that eventually evolved into an album of park-specific ballads peppered with regional imagery.
"Glacier Symphony," for example, was written during a rainy horseback ride into one of Glacier National Park's high-mountain meadows. Somewhere along the way, Love had an epiphany about how the glaciers had carved out "everything that I was looking at … the mountains, the valleys, the meadows." This reminder about the inevitability of change in the natural world somehow helped assuage her despair over the gradual loss of the park's namesakes and inspired the lyrics she dictated into her iPhone while astride her alabaster horse. She described it as a "prayer for the future."
Performing her songs in the intimate setting of a train car has afforded Love a musician's dream: an attentive, captive audience. Beyond simply educating passengers about national parks, Love wants to inspire people, further their appreciation of the arts and ignite (or reignite) their love for parks. What she's seen this year gives her hope.
Cocooned within lounge cars as America's heartland hurtles by, Love has noticed the distinction between first class and coach passengers blur. Time slows. The land unrolls. And people with little in common find that the long hours and close quarters engender a degree of familiarity. Immigrants sit alongside families in transition who sit alongside elderly couples with bucket lists.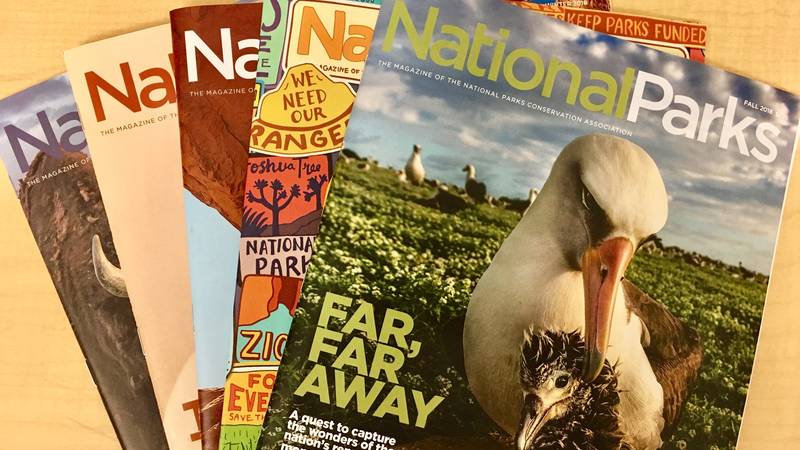 Subscribe to
You can read this and other stories about history, nature, culture, art, conservation, travel, science and more in National Parks magazine. Your tax-deductible membership donation of $25 or more entitles…
See more ›
As a troubadour, Love met a New Orleans historian "full of Southern grace and style" traveling with her grandson. She chatted with a Los Angeles-bound filmmaker who finds inspiration in the faces and lives of his fellow passengers. She received Yellowstone wolf-watching tips from a man employed by the fossil fuel industry and overheard a young Chinese family bond with a family from Ohio over similar park experiences. "The connection might only be for a brief moment," she said, "but it's a bridge."
Tisha Anne Melvin of Hanceville, Alabama, a passenger traveling with her two young sons, witnessed how Love's playing transformed the energy in the car. "It was a magnet," she said. "Love just has this type of energy you can't help but notice." For Melvin, who was taking a 36-hour journey from Louisiana to Arizona on a train with no Wi-Fi, Love's performances were "a godsend."
Though the future of the troubadour program is uncertain, the payoff for this creative venture couldn't be clearer to Love. "It's crazy," she said, "but the music is the unifying factor. Once the songs come out, all the barriers are broken down, and people just start talking about what they love about this beautiful Earth and our parks. It's why I love being a musician and songwriter."
About the author
Katherine DeGroff

Associate Editor

Katherine works out of the Washington, D.C., office as associate editor of National Parks magazine. Before joining NPCA, Katherine monitored easements at land trusts in Virginia and New Mexico, encouraged bear-aware behavior at Grand Teton National Park, and served as a naturalist for a small environmental education organization in the heart of the Colorado Rockies.