A Maine native reflects on the state's new national park.
It wasn't until I left for college in upstate New York that I discovered how little most people knew about my home state of Maine. A few of my friends had been there, but only to the coast, and all anyone could say about Mainers was that we talked funny and ate lobsters. I took it as a civic duty to educate my peers on Maine's glories and haven't stopped evangelizing yet.  
When I first started working at NPCA as our Civil War Associate in 2011, I didn't have much of a chance to flaunt my Maine bona fides. But then in 2012, the organization began working in earnest on a campaign to create a national park in the woods of northern Maine. The effort was led by Roxanne Quimby, the Maine entrepreneur behind the Burt's Bees cosmetics company, and her son, Lucas St. Clair, who had a vision to purchase land near Mount Katahdin and donate it to the federal government. After years of work and debate among Mainers for and against the proposal, last summer President Barack Obama designated the Katahdin Woods and Waters National Monument.  
I've seen a lot of good things happen during my five years on staff at NPCA, but nothing meant as much to me as the creation of this national park site — 87,000 acres of deep forest along the East Branch of the Penobscot River. This victory was personal. Participating in the campaign brought me back to my childhood, when my family taught me a love of nature and inspired me to pursue a career in conservation. 
The northern Maine of my childhood was a perfect wilderness. In the car, as we drove north, houses and businesses would disappear from the sides of the highway, and the woods would close in. They were dense and dark and appeared entirely wild. I imagined, as a child, that no human had ever before dared to set foot in them. No one but us, of course. 
Accompanied by our parents and a cast of grandparents, great-uncles, uncles, aunts and cousins, my brother and I experienced the Maine woods as a four-season playground. I didn't know it at the time, but my grandfather, Jon Lund, was (and is) a towering figure in Maine's environmental community: He played a key role in passing landmark environmental bills during his career as a state legislator and led a number of important campaigns as an advocate. But to my brother and me, he was just grandpa, who taught us proper canoe-paddle technique and took us fishing every morning from his cabin on Cobbosseecontee Lake. The camp was on an island in the middle of the lake, and we were the only ones out there. 
We had the run of the place. We'd fish in the early mornings, hooking large- and smallmouth bass from the dock or canoeing out to a rocky point to catch perch. Later, we'd head to the small cliffs on the far end of the island for jumping and swimming, or hunt along the shoreline for arrowheads. I tried to learn how to sail — shelves in the camp were lined with silver trophies my dad and grandpa won sailing Sunfish sailboats on the lake in the '60s — but it never took, and I stuck to the canoe, which was easier to fish from.
Fishing was the priority. We knew about a pond where the fishing was so good we were told to keep the name a secret, referring to it only as "No Name Pond." To this day, my brother and I compete to catch the biggest bass at No Name (he usually wins), and each of my uncles has some childhood No Name story, involving catching multiple fish on a single lure, or a fish so large it towed the canoe around the lake like a leashed dog dragging its owner. Our winter ice-fishing excursions are immortalized in a photo of me at age 5 holding up an American eel we'd pulled from the lake. I'm stuffed into a snowsuit and crying my eyes out as I wait for the electric shock I felt certain was about to come.
We fished for trout in Baxter State Park, the famous heart of northern Maine, and found it so active in the early spring that we started tamping down the barbs of our hooks to make the fish easier to remove. I was 13 when my family first hiked Mount Katahdin, the tallest peak in the state. Reaching the rocky top was a triumph, especially for my mom, who pushed through her fear of heights and made a slow but dignified hands-and-feet crab-walk across the famous Knife Edge ridge.
As it turns out, from the summit of Mount Katahdin I was looking out over what would become Katahdin Woods and Waters National Monument. The area appeared then as it does now, and as it has for thousands of years: It's a rolling green sea of pine trees, broken only by granite peaks and shimmering lakes. It looked the same to Henry David Thoreau, who described finding "a primitive forest, more interesting" than any other for "a thousand miles westward." It looked the same to a young Theodore Roosevelt, who took his experiences in the Maine woods and turned them into a life dedicated to conservation. 
It can be easy for residents of northern Maine to forget how unusual it is to live in such a beautiful place, just as people living here in D.C. don't give a second glance to the White House on their daily commutes. A common refrain from opponents of the Maine woods national monument was that the area around Katahdin just wasn't special enough to warrant all the attention. 
Having left Maine but never seen anything else quite like it, I disagreed. There is simply nothing like the woods of Maine left in the eastern United States. Miles of forest floor covered in a thick bed of pine needles. Stands of fir so dense you need to turn around and use your back to push through. Moose — always so much bigger in person than you imagine — wading through a pond or crashing through the woods. A landscape alive with snowshoe hare, American woodcock, black bear, ruffed grouse, mink, otter and Canada lynx, if you're one of the few lucky enough       to see them.
It always bothered me that the National Park Service didn't seem to think the Maine woods were as extraordinary as I've known they were since I was young. National parks conserve examples of lots of America's beautiful landscapes; why wasn't there one to protect part of this wild land I loved?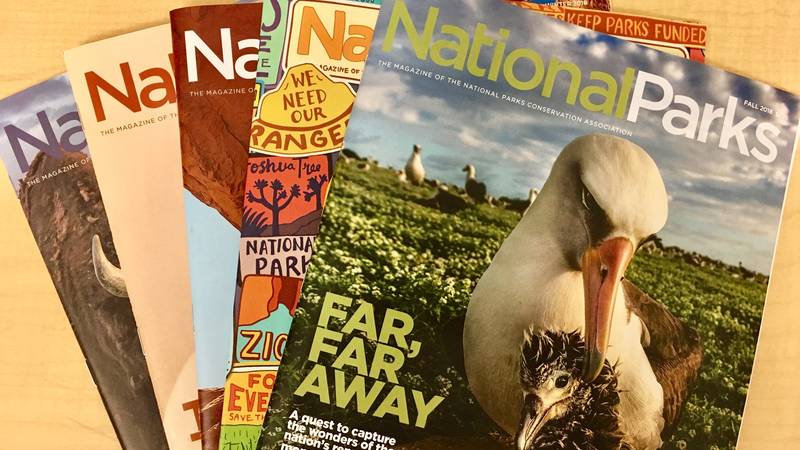 Subscribe to
You can read this and other stories about history, nature, culture, art, conservation, travel, science and more in National Parks magazine. Your tax-deductible membership donation of $25 or more entitles…
See more ›
As I would learn, part of the answer is that it's not easy to create a national park, no matter how beautiful the land. It takes people like Roxanne Quimby and Lucas St. Clair, who have a dream and refuse to give up. It takes groups like NPCA, which can help turn desire into action. And it takes thousands of Mainers, raised in the outdoors by families who value wild experiences, willing to speak up for the protection of their land.
My grandfather taught me years ago that Maine's environment doesn't stay wild on its own; rather, it requires ceaseless effort from those who are dedicated to protecting the land. Yet most of the time, that effort is invisible. As kids pulling fish out of Cobbosseecontee Lake or looking out from the top of Mount Katahdin, we had no idea that our experiences were directly linked to the labor of untold numbers of Mainers who had helped to keep the air and water clean, to ensure that wildlife populations were healthy and to set aside land for the enjoyment of others. In time, the struggle to establish Katahdin Woods and Waters National Monument will also fade from memory, but the land will remain an inspiration to Mainers for generations to come. 
About the author
Nicholas Lund

Former Senior Manager, Landscape Conservation Program

Nick is a conservationist and nature writer. He is the author of several forthcoming books, including the American Birding Association Field Guide to the Birds of Maine (2022) and "The Ultimate Biography of Earth" (2022). His writing on birds and nature has appeared in Audubon magazine, Slate.com, The Washington Post, The Maine Sportsman, The Portland Phoenix and Down East magazine, among others.