Diversity and inclusion are key to the future success of our national parks
In one of his final moves before leaving the White House, President Barack Obama issued a presidential memorandum on the need for diversity and inclusion in the work force of federal land and water management agencies. This comes after a call from diverse communities across the nation for these stewards of our public lands and waters to better represent who we are as Americans and ensure that these places better reflect the diversity of our nation. This is an issue that NPCA and many other non-profits are making a priority. The memo also calls for all Americans to have the opportunity to enjoy our public lands and waters and to have the chance to engage in decisions about how they are managed.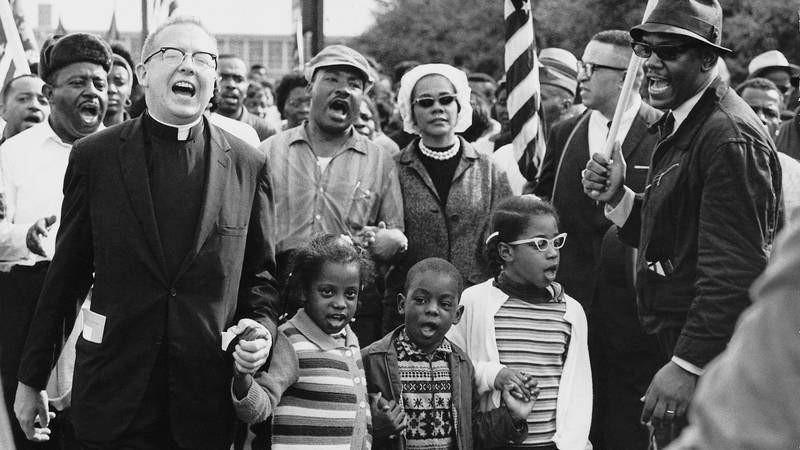 Blog Post
Our national parks reflect our struggles and victories as Americans so we can learn from the past and build a better future.
See more ›
Today is the day we honor one of the greatest civil rights leaders in history, Dr. Martin Luther King Jr. We remember his dream of true equality, his brilliance as an orator and an organizer, and his life's work to overcome injustice. The importance of his work and its lasting impact are reflected in a growing number of our national parks. This encourages future generations to never forget the struggles that determined groups of people endured in the fight for human rights and the sacrifices visionaries like King made to bend "the moral arc of the universe" toward justice.
NPCA has long held diversity and inclusion as key tenets in the core values that drive our mission and our work. We believe passionately that national parks must fully represent all Americans and serve as welcoming places for all visitors and staff. Thanks to important additions to our National Park System over the last eight years, visitors can now gaze on a 30-foot statue — and quotes from King himself — at the Martin Luther King Jr. Memorial in Washington, D.C., walk through the birthplace of the farmworkers' movement at the Cesar Chavez National Monument in California, and reflect on the long struggle for civil rights at Stonewall National Monument in New York City and the recently designated Birmingham Civil Rights National Monument in Alabama.
NPCA and our supporters worked for years to help make these sites a reality, among many others. Now, people from all different backgrounds and walks of life can see themselves, their ancestors and our common humanity represented in these places. But more is needed.
Our national parks belong to all of us. It takes a community to achieve this kind of success, and all of us must take part in making this vision a reality. That's why NPCA launched our Find Your Voice initiative in 2015 to engage and empower new national park advocates to speak up for parks. Of the 35,000 people who took part in our year-long series of events and trainings, 54% were first-time national park visitors, 48% were millennials and 42% were people of color. We are proud to help bring this new generation of stewards to our parks and public spaces. We know that people all across America care about these places; it is critical to help foster personal connections so that all people can see themselves within our national park story.
The president's memo is a big step forward, but it is far from the only step we must take.
We challenge the incoming administration to seize this momentum and make these recommendations a reality. Last year marked the centennial of the National Park Service and inspired thoughtful reflection on the last century of land management. This year, we must look to the future of our beloved national parks as we kick off their next 100 years. The success of our national parks and public lands depends on a diverse and fully engaged community of visitors and a federal work force that is welcoming and truly representative of who we are as a nation.
Join us on this journey. Learn more at www.npca.org/join.
About the author
Theresa Pierno

President and CEO

Theresa Pierno is President and CEO of the National Parks Conservation Association. She joined NPCA in 2004 after a distinguished career in public service and natural resource protection, and has helped to solidify the organization's role as the voice of America's national parks.