Fall 2016
Have Phone, Will Travel
Introducing a paperless travel guide to the national parks.
On a rainy day in April 2008, Kerry Gallivan set out on a long day hike from his campsite in Acadia National Park. Snow still clung to the mountains in parts of the park, and high on a ridge, Gallivan found himself wondering about the trail ahead, the weather and the elevation. He pulled out his iPhone, but cell service was intermittent, and even when he briefly had a connection, he couldn't find much useful information. That's when he had an aha moment: More and more people will be traveling to parks with these miniature personal computers, he thought. Why not find a way to get the information they need into the palms of their hands?
Fast-forward eight years: Gallivan is now the co-founder and CEO of Chimani, a Maine-based company that has developed what is essentially a set of digital guidebooks to the national parks. Using an overarching National Park System app and 59 individual apps that detail parks from Acadia to Zion, travelers can decide where to go, see where they are on a topographic map, find the nearest bathroom, read about a hike or learn when the sun sets. And because the apps can be downloaded in advance and use GPS, visitors can do all that without an internet connection.
"I was a longtime Lonely Planet fan, but I didn't want another paper guide," said Gallivan, a dedicated world traveler who has lived in Southeast Asia and Africa, where he worked in international development. "I wanted something that was designed for and could be used on a mobile device."
The complete collection of individual guides to the national parks (plus a few extras such as Cape Cod National Seashore and Baxter State Park in Maine) became available in June, and since Chimani's launch, the apps have been downloaded 1.2 million times. (They are free; funding comes primarily from brand sponsorships and local advertising.)
Robert Caston, the content manager of a catalog that sells park furnishings, used the Everglades guide to make plans and locate hiking trails on a recent trip to Florida. Once back home, he found himself browsing through the overview app and daydreaming. "It's one of those things where you can sit on your couch and use the app to look at the parks, and once you see the photos, you're like, 'That's it. I'm going there,'" he said. "To me, it's a way to get you off the couch and into a park."
Gallivan also hopes the app will encourage some budding conservationists. To that end, he has partnered with NPCA, and the park system guide now has information about the organization, pressing issues facing parks, recent victories and ways to help.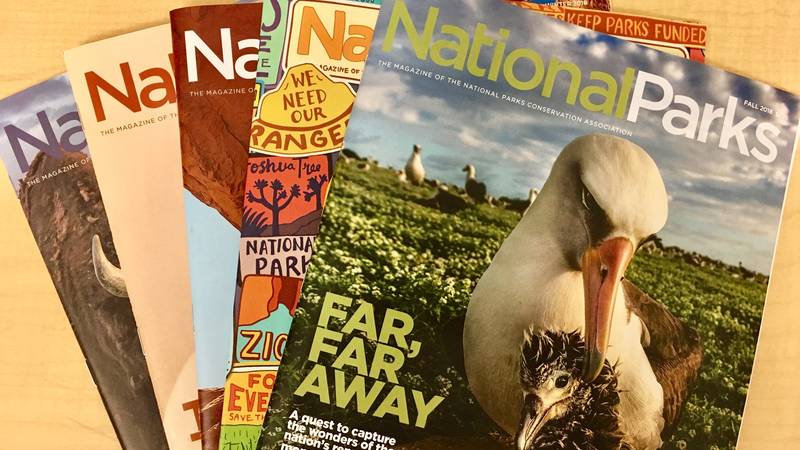 Subscribe to
You can read this and other stories about history, nature, culture, art, conservation, travel, science and more in National Parks magazine. Your tax-deductible membership donation of $25 or more entitles…
See more ›
"The parks may seem like primitive, beautiful places that won't change, but there are real pressures on them, and nothing is locked in time. I don't think a lot of people realize that," Gallivan said. "If we can graduate people into being advocates for parks, that's my ultimate goal of working with NPCA."
Over the next year, the company will continue to roll out guides to other Park Service sites including seashores, recreation areas, lakeshores, historic sites and national trails. Gallivan also plans to expand to include apps for national parks around the world in places from England to Iceland to Costa Rica and New Zealand.
"It comes back to one of our primary missions: to get people to explore and to inspire them and to spark curiosity," he said. "This planet is a pretty incredible place."
About the author
Rona Marech

Editor-in-Chief

Rona Marech is the editor-in-chief of National Parks, NPCA's award-winning magazine. Formerly a staff writer at the Baltimore Sun and the San Francisco Chronicle, Rona joined NPCA in 2013.