Are the synchronous fireflies of Great Smoky Mountains getting too popular?
"Look — over there. See them? They're starting."
Lynn Faust pointed to a spot in the forest bordering a quiet section of the Little River Trail in Great Smoky Mountains National Park. Peering into the woods, I watched as a quick set of flashes interrupted the sapphire twilight. I'd come from New York hoping to witness the synchronous fireflies' spectacle, and it looked like I was in luck. Crowds would arrive the next evening, but for now we had the trail to ourselves. Faust checked the time. "Nine-eighteen," she said, grinning. "They're right on time."
It began like the tuning strains of a symphony. Six quick pulses of light followed by darkness. A few yards away I saw it again — six flashes, then darkness. Other fireflies quickly joined the party, syncing their flashes to their neighbors', until soon an entire swath of woods filled with undulating light. Six flashes, then darkness. Six more. Dark. Six. Dark.
Fireflies are heralds of summer, captivating children and adults alike with a single flash — there one moment, gone the next. But every year between late May and early June in a small pocket of Great Smoky Mountains, a firefly known as Photinus carolinus puts on an even more magical display: thousands of sparkling fireflies all pulsing in rhythmic waves.
An Intimate Show
Can't get a pass for Great Smoky Mountains' synchronous fireflies display? Head to Congaree National Park in South Carolina, where one of two other species of synchronous fireflies in North America, Photuris frontalis, puts on a smaller, but less crowded, show from about mid-May to early June.
Faust, a lifelong naturalist and author of a forthcoming opus on these bioluminescent insects, "Fireflies, Glow-worms, and Lightning Bugs," has watched the fireflies' dazzling spectacle for decades in the park's historic Elkmont district — a collection of turn-of-the-century cottages and other buildings that were occupied until 1992, when their leases expired. It was Emily Faust, her mother-in-law, who christened it "The Light Show" in the 1960s, the same moniker park officials use nowadays.
"We'd all be sitting out on the porch after dinner," Faust said, "and Miss Emily would suddenly go, 'Okay, everybody put the babies to bed because the light show is going to start!' And then we'd turn out the cabin lights and watch the waves of flashing travel down the hill."
Other species of synchronous fireflies have long been observed in Malaysia and Indonesia, but the phenomenon was presumed nonexistent in the Western Hemisphere by the scientific community. That changed in 1992 when Faust read an article by Cornell University mathematician Steven Strogatz detailing the synchronous behavior of certain Asian firefly species. The author's description sounded just like the lightning bug show Faust had been watching her whole life. Strogatz led Faust to another firefly expert, who determined that she had indeed identified the first synchronous species in the Western world.
Isolated groups of the fireflies have since been found as far north as New York state, but the population in Great Smoky Mountains is the densest, and those in the know figured it was just a matter of time before the public caught wind of the spectacular. In fact, by 2006, so many people were traveling to the park to see the show that park officials closed Elkmont to cars, requiring visitors to take a shuttle instead. Demand has been so high that this year, for the first time, hopefuls had to enter a lottery to secure one of the 1,800 parking passes for the eight-day event.
Managing even the limited crowds is challenging. Artificial light can disturb the synchrony, so rangers urge visitors to cover flashlights and LCD panels on cellphones and cameras with red or blue cellophane. With hundreds of people corralled in a small section of Elkmont, I saw many stray from the path into the forest, where mating clusters and egg-laying females hiding in the leaf litter are vulnerable to trampling.
"That's why we strongly encourage people to stay on those hardened areas: so they're not dispersing throughout the woods and destroying habitat for the fireflies," said park spokeswoman Dana Soehn.
The window when the fireflies mate is only a couple of weeks long, so minimizing disturbances is crucial. Females must first recognize the males of their own species before emitting the receptive quick double flash that eventually leads to coupling. The distinct flash train that the males display — six then dark — is helpful for this recognition, but when many males flash together, they increase the likelihood that the females will know they're surrounded by the correct species, said Andrew Moiseff, a biologist at the University of Connecticut. At the sight of the double flash, a swarm of potential suitors descends upon a female, each hoping for the chance to mate.
"One way to think about it is that if you don't synchronize, you never mate," Moiseff said. "The higher probability of successful mating will be for males that synchronize and pass that trait on generation by generation until most of the males will synchronize."
Like any of nature's miracles turned tourist attraction, the Smokies' firefly event is a catch-22. The detrimental effect of throngs of humans is worrisome, but exposure to these phenomena can nurture a spirit of conservation — people naturally seek to protect the things to which they have a connection. The flash of a firefly sparks childhood memories of running barefoot through the cool grass with a jelly jar. There's an ethereal quality about these insects that gives us a thrill.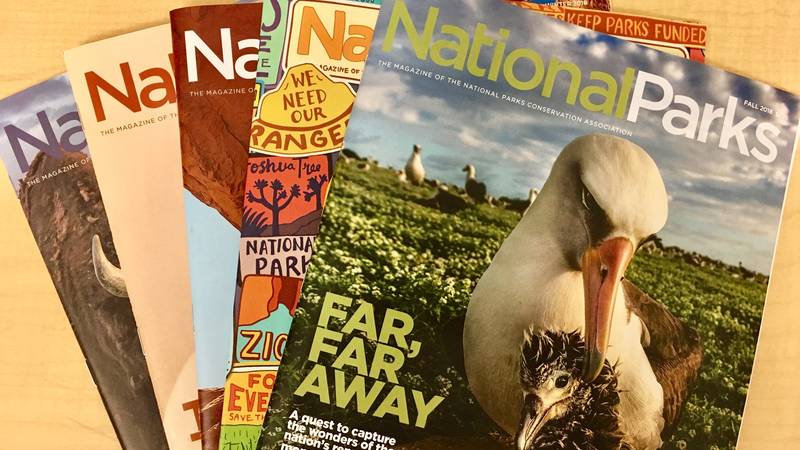 Subscribe to
You can read this and other stories about history, nature, culture, art, conservation, travel, science and more in National Parks magazine. Your tax-deductible membership donation of $25 or more entitles…
See more ›
Coming down from Little River that first night, we made our way toward a section of Elkmont known as Millionaire's Row where the Fausts' now empty cabin still stands. From a small bridge over Bearwallow Creek, we watched as cascades of tiny sparkling lights that appeared to come from some cosmic disco ball illuminated the blackness. One section would begin, followed by another and another. Then, like children singing in a round, when the last batch finished, the first group began anew.
"One thing about the fireflies is it's flat-out spiritual, it makes you be quiet, it makes you think, it makes you have a feeling of joy that just comes from somewhere outside of you," Faust said. "If you're going to see it — if someone's going to only see it once in their life — I want them to be at Elkmont on a peak night."
About the author
Gina Vercesi

GINA VERCESI is a freelance writer who works and chases fireflies in New York.