A new national park site will ensure that the tragic death of Emmett Till and the strength and resolve of his mother, Mamie Till-Mobley, are never forgotten.
Emmett Till's story is one of the most shocking hate crimes in American history. The tragedy of Till's death and the subsequent bravery and determination of his mother, Mamie Till-Mobley, galvanized the nation and sparked the modern Civil Rights Movement.
On July 25, 2023, the day that would have been Emmett Till's 82nd birthday, President Joe Biden established a national monument honoring Till's family, preserving sites in the Mississippi Delta and Chicago.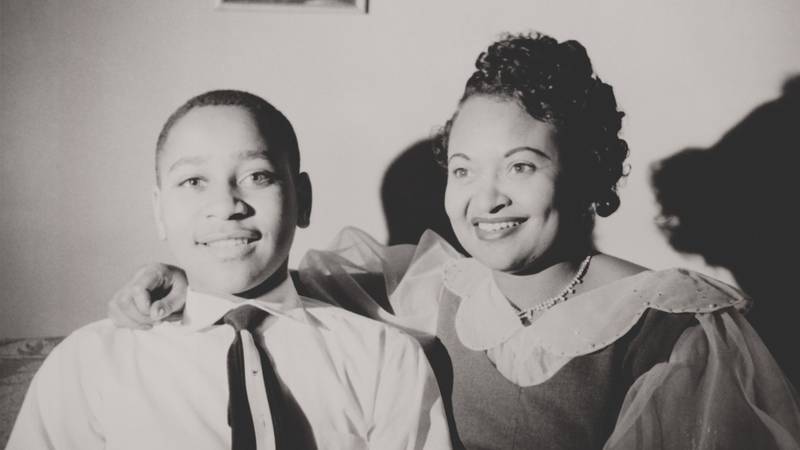 Press Release
Recognized as one of our country's most infamous hate crimes, the widely publicized murder of Emmett Till and his mother's calls for justice were major catalysts for the Civil Rights…
See more ›
In August 1955, 14-year-old Emmett Till traveled from Chicago to Money, Mississippi, to visit relatives. A few days after his arrival, a white woman named Carolyn Bryant accused him of making sexual advances toward her. Bryant's husband Roy and his half-brother J.W. Milam later kidnapped Emmett at gunpoint, and Till's disfigured, brutally beaten body was later found in the nearby Tallahatchie River.
On hearing the news of Till's murder, his mother, Mamie Till-Mobley, demanded that officials return his body to their home in Chicago for the funeral and that the casket remain open during the viewing and service, insisting, "Let the world see what I've seen."
Mamie's efforts to publicize the murder and its injustice forced people around the country and the world to confront the brutality of racism, sparking international outrage.
An all-white, all-male jury acquitted Roy Bryant and J.W. Milam of all charges. In a magazine interview, both men later admitted to the murder. Mamie Till-Mobley devoted herself to public speaking, connecting with other mothers of slain Black children, and teaching students history and confidence until her death in 2003.
The story of Emmett Till and Mamie Till-Mobley is critical to telling the full story of the Civil Rights Movement. NPCA has worked for years with members of the Till family, the Emmett Till and Mamie Till-Mobley Institute, the Emmett Till Interpretive Center, the National Trust for Historic Preservation, and Latham & Watkins LLP to create the new park site. Emmett Till and Mamie Till-Mobley's story must never be forgotten.
The park includes the Tallahatchie County Courthouse in Sumner, Mississippi, where Emmett Till's murder trial took place; Graball Landing outside Glendora, Mississippi, where Till's body was recovered; and Roberts Temple Church of God in Christ in Bronzeville, Illinois, the site of Till's open-casket funeral, where his mother wanted to "Let the world see what they did to my boy."
Blog Post
FAQs: A National Monument for Emmett Till
NPCA and its partners advocated for years for the establishment of a national park site to honor Emmett Till, a 14-year-old Chicago native murdered in Mississippi, and his mother, Mamie Till-Mobley, who became a civil rights icon after his death. Today, the White House established the Emmett Till and Mamie Till-Mobley National Monument in Mississippi and Illinois. Read frequently asked questions about why it's important.   
Special thanks to the Emmett Till Interpretive Center for video footage.
A generous donor has offered to match every dollar you give to tell the story of Emmett Till and the heroics of his mother.
Sign Up
Get Action Alerts
Want national parks in your inbox? Sign up for NPCA email updates to receive news, features, and opportunities to make a difference! You can unsubscribe at any time.