NPCA and its partners advocated for years for the establishment of a national park site to honor Emmett Till, a 14-year-old Chicago native murdered in Mississippi, and his mother, Mamie Till-Mobley, who became a civil rights icon after his death.
Today, the White House established the Emmett Till and Mamie Till-Mobley National Monument in Mississippi and Illinois. Read frequently asked questions about why it's important. 
Who were Emmett Till and Mamie Till-Mobley?
Emmett Till was an African American teenager who grew up in Chicago and had relatives in the Mississippi Delta. At 14, he visited Mississippi on vacation in August 1955. He was kidnapped, tortured and killed by white men after being accused of whistling at and making sexual advances toward a white woman.
His mother, Mamie Till-Mobley, was an active member of the Chicago community with an especially close relationship with her son and who became a civil rights icon after his death. She quickly sought justice for her child, demanding his casket be transported home and unsealed, and then insisting his mangled corpse be shown to the world.
Till-Mobley devoted the rest of her life to seeking justice for her son, speaking publicly on issues of racism, educating children and comforting other grieving families. Her long journey was filled with setbacks, but her determination and resilience saw her through. She died in 2003.
Where is the monument located?
The National Park Service examined key civil rights sites in Mississippi for possible designation as part of a Till national monument. There also were proposed locations in Illinois, where Emmett Till was born, raised and buried.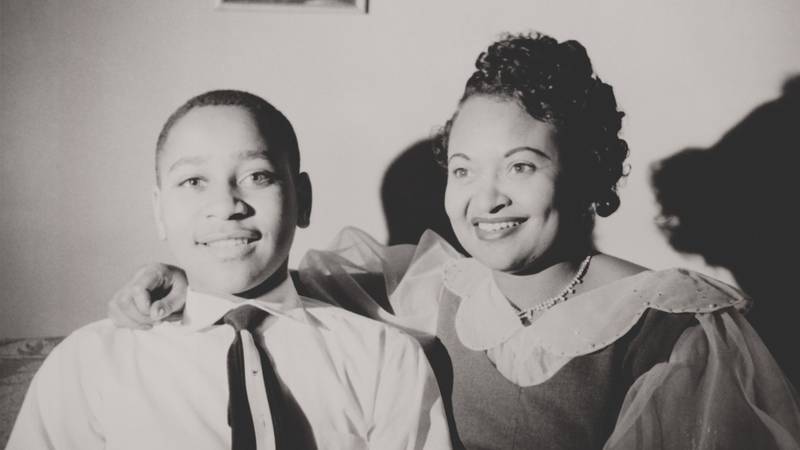 Press Release
Recognized as one of our country's most infamous hate crimes, the widely publicized murder of Emmett Till and his mother's calls for justice were major catalysts for the Civil Rights…
See more ›
The White House proclamation identifies three key sites in two states. It also directs the National Park Service to develop a plan in consultation with local communities, organizations and the public to support the interpretation and preservation of other sites in Mississippi and Illinois that help tell the story of Emmett Till and Mamie Till-Mobley.
Anchor sites preserved by the monument are:
Graball Landing, Glendora, Mississippi
Graball Landing is where Emmett Till's disfigured body is believed to have been found early in the morning of Aug. 31, 1955, by a Black teenager fishing. Located across from the confluence of the Tallahatchie River and the Black Bayou, the spot has become a recognized commemorative site.
Signs placed here by the Emmett Till Memorial Commission have been vandalized three times — the first one torn down and thrown in the river and two more signs shot up with bullets. The current sign, installed in 2019, is bulletproof and observed by security cameras.
Graball Landing served as a steamboat mooring until an 1894 tornado destroyed much of the area. Today, a dirt road leads to a clearing used by anglers.
Tallahatchie County Courthouse in Sumner, Mississippi
The five-day murder trial of Roy Bryant and his half-brother J.W. Milam, the two men who kidnapped and killed Till, took place in this courthouse. Thousands of people came to Sumner to witness the event, including the deceased boy's mother, Mamie Till-Mobley.
With just over an hour of deliberation, the all-white, all-male jury acquitted the men of murdering Till. One juror told Time magazine, "If we hadn't stopped to drink pop, it wouldn't have taken that long." The two admitted to the murder in a magazine article just a few months after the verdict.
Thanks to a fundraising effort by Tallahatchie County and the Emmett Till Memorial Commission of Tallahatchie County Inc. between 2007 and 2020, the courthouse's interior has been restored to its 1955 appearance and an Emmett Till Interpretive Center has opened across the street. The center offers historic tours of the courthouse and a museum with information on the Till story and the trial. A Confederate statue, whose creation was spearheaded by the United Daughters of the Confederacy, has remained in place near the building's north entrance since 1913.
The courthouse was added to the National Register of Historic Places in 2007 for its role in the Till story and its Richardsonian Romanesque architecture. That same year, the Emmett Till Memorial Commission issued a public apology on behalf of the residents of Tallahatchie County to the Till family.
Roberts Temple Church of God in Christ in Chicago
Till's open-casket memorial service was held in this church in early September 1955, drawing tens of thousands of people who responded to Mamie Till-Mobley's public cry that the world see what racists in Mississippi did to her son.
That Till's body even made it to Chicago from Mississippi demonstrates Mobley-Till's determination and resilience. She paid nearly a year's salary to have his body transported by train and insisted the casket be opened, despite signed agreements by undertakers in both states to keep it sealed. Inside the church, the casket held Till's bloated, disfigured corpse under a thick glass panel. An estimated 25,000 people viewed the body at the Saturday service. The church was filled to capacity, while another estimated 10,000 people stood outside listening to the service over loudspeakers.
So many people showed up to the viewing that Till-Mobley decided to delay her son's burial three days to accommodate the thousands more who wished to pay their respects. The church was open from 6 a.m. to midnight, with people waiting in line for over an hour.
In 2006, city leaders declared Roberts Temple Church of God in Christ a City of Chicago Landmark in recognition of the funeral's impact on American history.
Is Emmett Till buried in Mississippi or Illinois?
Till was buried at Burr Oak Cemetery in the Chicago suburb of Alsip, Illinois — twice. The first was on Sept. 6, 1955, and again 50 years later after his body had been exhumed for an autopsy.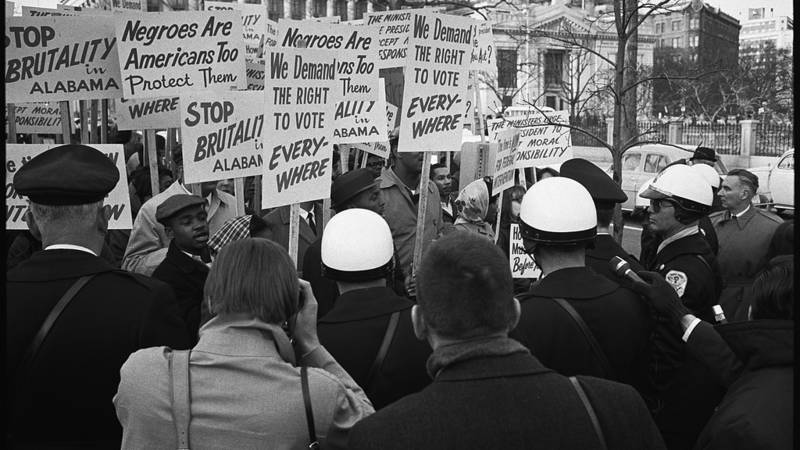 A Timeline
A timeline of key moments that changed America, from the 1950s to today.
See more ›
Federal authorities hoped the procedure would shed more light on how he died, since no such formal examination was done at the time of his death. Tests conducted in 2005 confirmed the body to be Till's and that he died from a gunshot wound to the head.
Mississippi authorities tried to bury Till in a church cemetery in state before his mother was even informed of the body's discovery. However, Till's great-uncle arrived on the scene and intervened, announcing that Till's mother insisted his body be returned to Chicago.
Why create the monument now?
The fight for justice and equality is never-ending, as seen by the renewed national conversation about race and racism in America. People such as Emmett Till and Mamie Till-Mobley forced the nation to face the reality of racism, and their courage indelibly influenced the course of the civil rights movement and the fight for equality. Learning their story can help people continue to reckon with our past, including the memories our country is least proud of, and help enlighten the ongoing dialogue.
The story of Emmett Till and Mamie Till-Mobley also serves as an example of how the extraordinary efforts of ordinary people touched the conscience of the nation — urging us to strive for justice and equality.
How was NPCA involved in advocating for this monument?
NPCA worked with members of the Till family, the Emmett Till and Mamie Till-Mobley Institute, the Emmett Till Interpretive Center, the National Trust for Historic Preservation, and Latham & Watkins LLP. NPCA received a grant for this work from an anonymous donor.
Does the Till family support this monument?
Yes. Members of the Till family and friends of Emmett and Mamie called on the Park Service to tell the family's story, in hopes of enshrining their memory in American history for future generations to learn from. This support included a personal appeal from the Rev. Wheeler Parker, Emmett's cousin and the last surviving eyewitness to the kidnapping.
What does NPCA hope can be achieved through this monument?
The stories of Emmett Till and Mamie Till-Mobley are critical to revealing more of the full story of the modern civil rights movement. This park site not only conveys the story of a boy's murder, but also of his mother's heartbreak and subsequent determination to ensure the world knew what racism in America had done to her son.
This monument, which includes multiple spaces, honors Till's story and carries forward his mother's life's work, securing their legacy for generations to come.
Our hope is that the Till monument also helps highlight the stories of other foot soldiers in the Mississippi Delta — all of whom made sacrifices, and some of whom paid the ultimate price, in this long and ongoing fight for human rights.
Is a park site related to social injustice in keeping with the National Park System?
Yes, two-thirds of the more than 420 U.S. national park sites were specifically designated to interpret history and culture. These sites can be as large as Gettysburg National Military Park at 5,989 acres or as small as Belmont Paul Women's Rights National Monument at .34 acres.
The National Park Service is mandated to preserve the natural and cultural heritage of America — including history that may previously have been neglected or ignored.
The Emmett Till and Mamie Till-Mobley National Monument tells important stories to complement existing national park sites, such as Birmingham Civil Rights National Monument and the Selma to Montgomery National Historic Trail.
Not all these stories are easy to hear. But, these are the stories that need to be protected and told for all to learn. Recent studies show that people of color are significantly underrepresented among visitors to our national parks. As America's greatest storyteller, the Park Service is well suited to tell Till's story with the sensitivity and complexity his memory deserves.
This is an update from a previously published story.
Stay On Top of News
Our email newsletter shares the latest on parks.
About the author
Linda Coutant

Staff Writer

As staff writer on the Communications team, Linda Coutant manages the Park Advocate blog and coordinates the monthly Park Notes e-newsletter distributed to NPCA's members and supporters.