Explore parts of Glacier Bay National Park that 99% of visitors never visit. On this eight-day small-ship cruise, you will get an up-close look at glaciers, old-growth forests, and sea life. Hike remote coastlines and take in diverse birding at South Marble Island. Here, you can search for wildlife like bears, sea lions, seals, porpoises and eagles. With a guest to crew ratio of 3:1, you will enjoy the comfort of having a robust onboard team, each with a fierce love of travel and appreciation for the wilderness, to make your journey unforgettable.
Download Detailed Trip Brochure (6 MB pdf) ›
Book by January 31, 2021 and receive $800 off per cabin.
Departure Date:
September 12–19, 2021
8 days/7 nights
NPCA Host Participation Minimum: 14 NPCA guests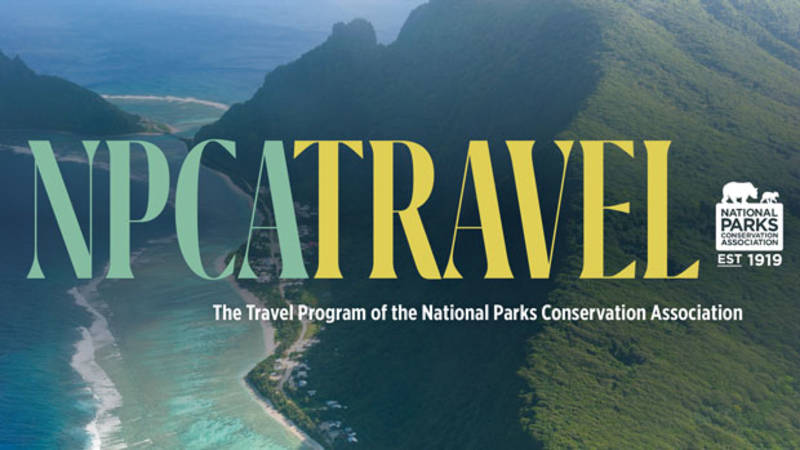 Resource
Our goal is to offer premium educational travel itineraries in the places we know best: America's national parks.
See more ›
Schedule Highlights
Bushwhack and hike in old-growth forests and glacial outwash fields
Explore Tidewater glaciers: Margerie, Grand Pacific, and the twin Sawyers
Search for wildlife—bears, sea lions, seals, porpoises, eagles
Whale watch in Frederick Sound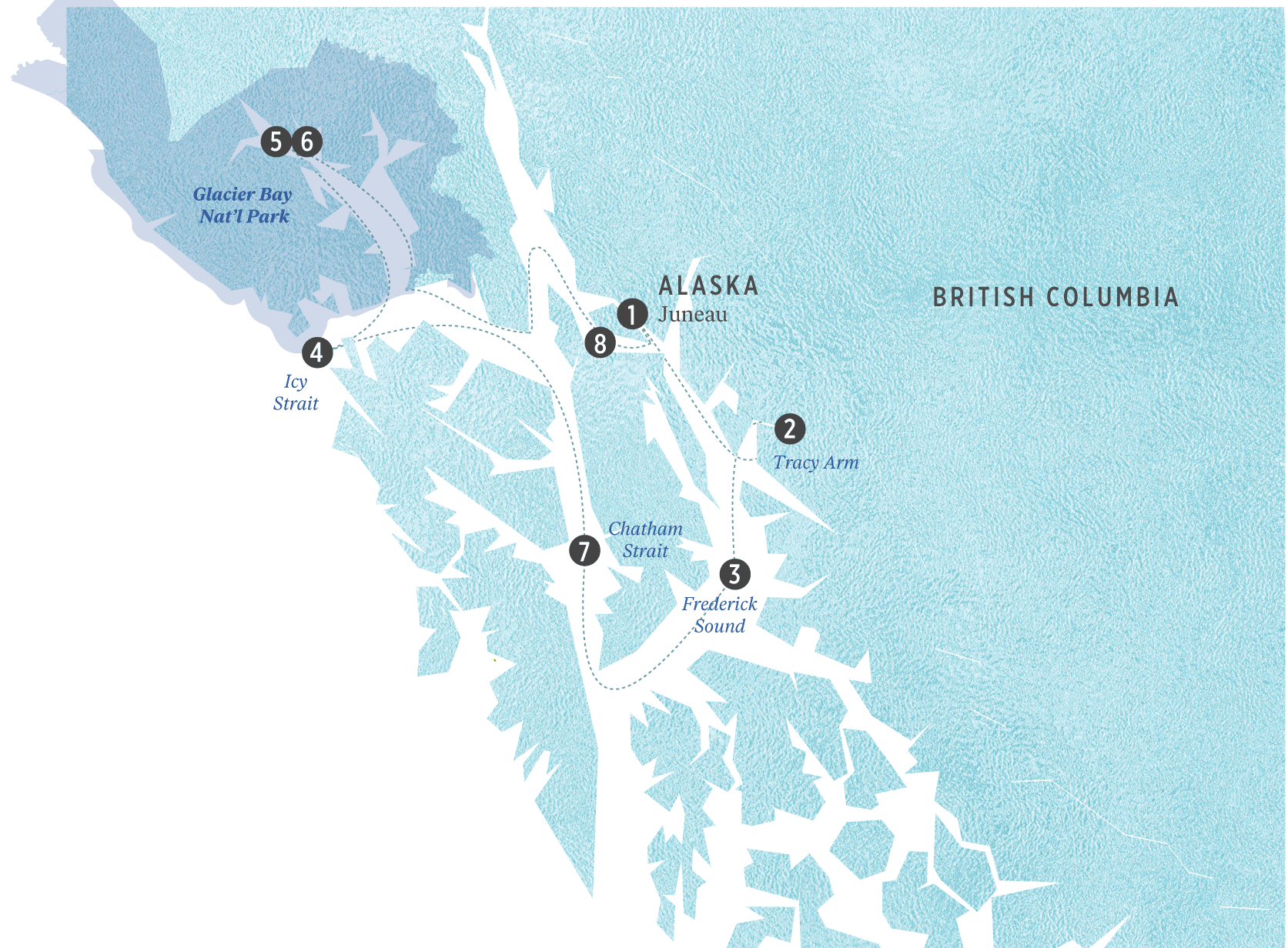 DAY 1: Juneau, Alaska – Embarkation Arriving in Juneau, you will be greeted at the airport and transferred to our check-in area. Later in the afternoon, your crew greets you on board with champagne and smiles. Set sail for a week of scenic channels and secluded wilderness.
(D)
DAY 2: Tracy Arm: Take an early peek outside. Fjord cliffs reach skyward. Floating ice. And deep u-shaped valleys. Cruise past harbor seals and their pups lounging on chunks of ice. Tracy Arm delivers with the cotton-candy blue twin Sawyer Glaciers of its furthest reaches. Tides permitting, your skiff driver knows the ropes and guides you along. It's a mashup of towering walls, temperamental currents, and the Coastal Mountains. Amongst the waterfalls, mountain goats show off fancy footwork on the cliffs.
(B, L, D)
DAY 3: Frederick Sound: Humpbacks beeline it here each season to feed on krill, zooplankton, and herring. Watch for whales feasting in these abundant glacial waters. Hang out and enjoy the show. Cruise past Five Finger Lighthouse, Alaska's oldest light station and The Brothers Islands, where sea lions nap on rocky nobs. Tonight, toast to a whale of a day in Alaska.
(B, L, D)
DAY 4: Icy Strait: From kelp-lined channels to hemlock and spruce forests, every inch of this far northwest corner is worth exploring. Seals and sea lions haul out on rocky outcroppings, resting before they disappear in the water to search for food. If the tides are right, head out in the skiff with one of your guides for a closer peek along the rugged shore, or perhaps, make it all the way to George Island. Whatever you do—wilderness trekking, skiffing, or paddling—your expedition team guides the way. (B, L, D)
DAY 5: Glacier Bay National Park: This crown jewel of America's national parks covers 3.3 million acres (slightly smaller than the state of Connecticut). You'll have two days to explore. Taylor Bay sea stacks and rocky shores make for good adventure. Or hike the outwash field of glaciers winding down the Fairweather Mountain Range. If you motor over to Dundas Bay, keep your eye out for bears, humpbacks, and if you're lucky, a wolf sighting. Kayak the bay. Bushwhack into the forest. (B, L, D)
DAY 6: Glacier Bay National Park: Today, a National Park ranger comes aboard joining your adventures in Glacier Bay. South Marble Island is abuzz with activity. Rare sea birds, black oystercatchers, and orange-beaked tufted puffins can't be missed. Tucking into silent Tidal Inlet—the stomping grounds for bears, wolves, mountain goats, and eagles—the backdrop is spectacular. At the end of the western-most arm of the bay sits Margerie and Grand Pacific Glaciers with possible views of glacial calving. (B, L, D)
DAY 7: Chatham Strait: On board, watch for whales and other creatures before tucking into Port Frederick or another inlet in the Tongass National Forest. Hike, paddle, or skiff your way through this remote corner with bears on the shoreline, seals bobbing on the surface, and welcoming boughs of moss in the trees. Back on the boat, we'll have the Farewell Dinner and some special memories from your crew. (B, L, D)
DAY 8: Juneau – Disembarkation: Linger over breakfast this morning cruising into Juneau. Wish your crew and new friends goodbye. Then it's off to the airport or begin your UnCruise hotel stay or land tour. (B)
*Itineraries are guidelines; variations in itinerary and the order of days may occur to maximize your experience. *
---
NPCA TRAVEL ELIGIBILITY: NPCA is the only independent, nonpartisan organization dedicated to advocacy on behalf of the National Park System. We are 100% privately funded and we rely on donations from individuals like you. One traveler per group must be an active NPCA member to participate in an NPCA trip. An annual membership starts at $15 per person. Please make dues payable to NPCA by check or credit card at npca.org.
TRAVEL SAFE WITH NPCA Your safety is our top priority. NPCA has worked diligently with each of our travel partners to develop important safety measures for all our trips. As guidelines and protocols evolve, we are committed to creating flexible options for those interested in rescheduling or booking new travel. For more information, check out our COVID-19 Travel Update.
MORE INFORMATION For full details on this trip, including inclusions, exclusions, accommodations, terms and safety protocols, please download the detailed trip brochure.
Download Detailed Trip Brochure (6 MB pdf) ›
MAKING RESERVATIONS To secure your space on this NPCA trip, please contact Jared Dial, NPCA's Travel Program Manager, at 1-800-628-7275 or email travel@npca.org.
TRAVEL PROTECTION We strongly recommend purchasing important optional travel insurance that will cover you for a variety of travel-related contingencies, such as trip cancellation, interruption, and/or delay; baggage loss, theft, damage or delay; accident and/or sickness medical expenses; accidental death; as well as evacuation/repatriation coverage. Please note that a Pre-Existing Condition waiver is available if you purchase the policy within 21 days of making your initial trip payment. Also consider the optional "Cancel for any Reason" protection. All questions regarding the plan's coverage should be directed to Travel Insurance Select through USI Affinity at 1-800-937-1387 or by visiting their website.
Check out NPCA's full tour lineup at www.npca.org/trips
Cost:

Starting at $5,195 per person; single supplement applies
Learn More