Join NPCA for an insider look at Yellowstone — America's first national park. From the rolling valley of the Tom Miner Basin through the heart of Yellowstone country, the diverse Greater Yellowstone Ecosystem is an adventurer's playground. Tour participants can hike mountains, peer at rivers coursing through canyons, dip their toes in high-altitude lakes, stand beside waterfalls and wander amid one of the most geothermally active areas of the world. We'll get off the beaten path with our NPCA staff hosts and local experts as we learn why this park is so special.
Download Detailed Trip Brochure (1 MB pdf) ›
Available Dates:
June 2-8, 2024
7 days/6 nights
Minimum/Maximum: 12 guests/14 guests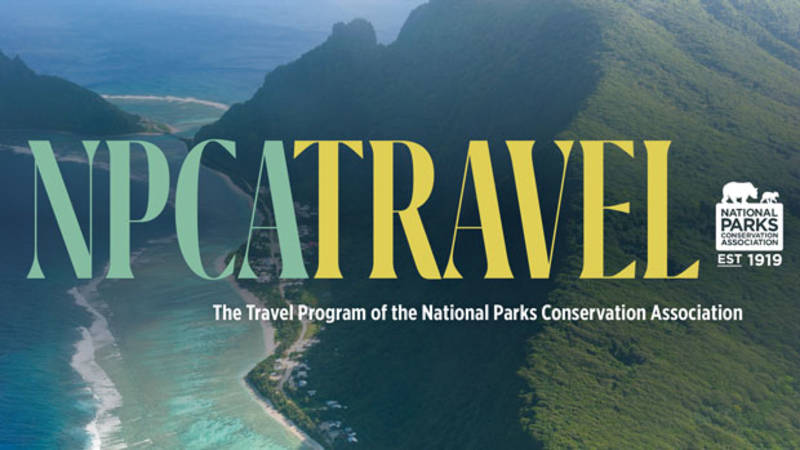 Resource
Our goal is to offer premium educational travel itineraries in the places we know best: America's national parks.
See more ›
Itinerary Highlights
Hike the bison trails atop Specimen Ridge, where you'll learn about NPCA's work to expand Yellowstone bison habitat
Spend time in Lamar Valley, often called America's Serengeti for its abundant wildlife
Get up-close to Grand Prismatic Spring and Old Faithful Geyser with NPCA and local experts and hear about the various geological processes that created these iconic sites

Engage with a local wolf expert in Lamar Valley to learn about the complex story of wolf reintroduction into the park

Journey to explosive geysers, jewel-toned hot springs and the magnificent, colorful layers of the Grand Canyon of the Yellowstone

Look for grizzlies, bison and wolves as you learn from NPCA staff about efforts to protect some of Yellowstone's key species

Itinerary
Day 1: June 2 - Bozeman to B Bar Ranch: Welcome to Montana! After an early afternoon arrival to Bozeman Gallatin Airport (BZN), we'll meet our Iconic Trip Leader and NPCA experts upon exiting baggage claim. Once the entire group has arrived, we will hop in our private vans for a 2-hour drive to B Bar Ranch, which is nestled in the beautiful Tom Miner Basin. We'll stop in Livingston to stretch our legs en route.
We'll have the chance to settle into our home for the next two nights before we meet as a group for a brief orientation and introductions. Then, we'll grab a cocktail or hot chocolate and gather around the fire as we get an overview of the landscape we will explore over the coming days. This will be followed by a group welcome dinner. The resident chef's healthy and diverse menus feature ranch-raised organic beef and locally grown vegetables. B Bar Ranch (D)
Day 2: June 3 - Tom Miner Basin: The day starts with a freshly prepared ranch breakfast at B Bar. Then, we'll embark on a group hike to take in the impressive views of the southwest Montana landscape and Paradise Valley's Tom Miner Basin. Keep your eyes peeled for grizzlies, elk and moose. As we walk, our NPCA staff host will introduce us to the challenges that Yellowstone species face when they cross park boundaries and enter private land. For over a decade, NPCA has worked with volunteers, veterans and neighboring landowners to protect migration patterns critical to species' survival.
We'll relax at B Bar Ranch in the afternoon before partaking in a delicious dinner followed by s'mores around the outdoor firepit. Don't forget your binoculars! If it's a clear night, the sky is sure to dazzle!
B Bar Ranch (B, L, D)
Day 3: June 4 - Tom Miner Basin to Lamar Valley: After breakfast, we'll check out of the B Bar Ranch and head into the park, where our first stop will be Mammoth Hot Springs. We'll enjoy a short hike to Sheepeater Cliff, break for lunch and then drive into Lamar Valley, often called America's Serengeti for its immense and easy-to-see populations of large animals. Our NPCA staff host will discuss the impacts of last summer's flood and share the opportunity park staff now have to rebuild in a way to benefit wildlife. As we make our way through the valley, we will stop for wildlife viewing opportunities before exiting the park and arriving at Silver Gate Lodge, our home for the next two nights. We'll have some downtime at the lodge before our group dines in Cooke City.
Silver Gate Lodge (B, L, D)
Day 4: June 5 - Lamar Valley and Wolves: We'll get an early start in order to get to Lamar Valley with a chance of spotting wolves in the morning light. (The drive from the lodge will be 45–minutes.) We'll then traverse Lamar's impressive landscape with a local wolf expert. We'll learn about the wolf reintroduction that took place in the 1990s, including NPCA's role in securing protections for the species, get a sense for where the six pens that housed those first wolves were placed in the park and gain insight into this complex and evolving story.
After a picnic lunch among the trees, we will set out for a hike along the bison trails atop Specimen Ridge. During our walk, we'll learn how bison use the land and what this landscape used to look like. We'll also learn about the steps NPCA has taken to expand bison habitat outside of Yellowstone, such as its work to ensure park bison are transferred to Tribal and public lands rather than being shipped to slaughter. Our evening will be spent back at Silver Gate Lodge with dinner nearby. Silver Gate Lodge (B, L, D)
Day 5: June 6 - Lamar Valley to West Yellowstone: After breakfast in our cabins, we will load up our luggage and head into the park for an epic journey through some of Yellowstone's most iconic landscapes. We'll drive for an hour and then stop for a short, rewarding hike to Tower Fall. We'll then enjoy a picnic lunch before continuing on to the Grand Canyon of the Yellowstone, an hour drive away depending on road closures and wildlife. At the Grand Canyon of the Yellowstone, we will take in the incredible views as we choose from a wealth of hiking options. After exploring the canyon, we'll drive the remaining 75 minutes to Hibernation Station, our home in West Yellowstone for the next two nights. After checking into our cabins, we'll gather as a group for dinner in West Yellowstone.
Hibernation Station (B, L, D)
Day 6: June 7 - Yellowstone National Park: The day begins with breakfast in West Yellowstone. Then, we'll embark on today's adventure: Touring the geothermal features that make Yellowstone such a unique place to visit. With our NPCA staff hosts by our sides, we'll learn about the various geological processes that created Grand Prismatic Spring and Old Faithful Geyser. We'll then hike around West Thumb Geyser Basin and take in views of magnificent Lake Yellowstone. Upon our return to Hibernation Station, we'll relish in some downtime before our final evening together where we can reflect on our memorable experience in Yellowstone.
Hibernation Station (B, L, D)
Day 7: June 8 - Departures: After breakfast in West Yellowstone, we'll drive to Bozeman for flights home.
(B)
Please note: Accommodations and activities are subject to change at any time due to unforeseen circumstances or circumstances beyond NPCA's control.
---
MORE INFORMATION: For full details on this trip, including inclusions, exclusions, accommodations, terms and safety protocols, please download the detailed trip brochure.
Download Detailed Trip Brochure (1 MB pdf) ›
NPCA TRAVEL ELIGIBILITY: NPCA is the only independent, nonpartisan organization dedicated to advocacy on behalf of the National Park System. Over 70% of our funding comes from donations from individuals like you. NPCA trips are an exclusive NPCA member benefit. One traveler per group must be an NPCA member to participate in an NPCA trip. An annual membership starts at $15 per person. Please make dues payable to NPCA by check or credit card at npca.org.
MAKING RESERVATIONS: To secure your space on this NPCA trip, please click the "Register Now" button at the top of this page or contact NPCA's National Parks Experiences Program at 1-800-628-7275 or travel@npca.org.
TRAVEL PROTECTION: We strongly recommend purchasing important optional travel insurance that will cover you for a variety of travel-related contingencies, such as trip cancellation, interruption, and/or delay; baggage loss, theft, damage or delay; accident and/or sickness medical expenses; accidental death; as well as evacuation/repatriation coverage. Please note that a Pre-Existing Condition waiver is available if you purchase the policy within 21 days of making your initial trip payment. Also consider the optional "Cancel for any Reason" protection. All questions regarding the plan's coverage should be directed to Travel Insurance Select through USI Affinity at 1-800-937-1387 or by visiting their website.
Have questions? Please visit our Frequently Asked Questions page.
Check out NPCA's full tour lineup at www.npca.org/trips
Cost:

$6,570 per person double occupancy; $7,310 per person single occupancy
Register Now