Embark on an unprecedented five-day expedition into wildness and wellness in the remote and remarkable Channel Islands. Step aboard in Los Angeles and sail to three of the five wildlife-rich islands that make up Channel Islands National Park, plus Catalina Island. Dayboats can take you to a single island to hike or camp, but a true in-depth exploration of the Channel Islands on our nimble ship (with comfortable cabins) is a unique offering and the only way to take in the full natural splendor of this extraordinary national park.
Download Detailed Trip Brochure (1 MB pdf) ›
Available Dates:
November 4-8, 2023
5 days/4 nights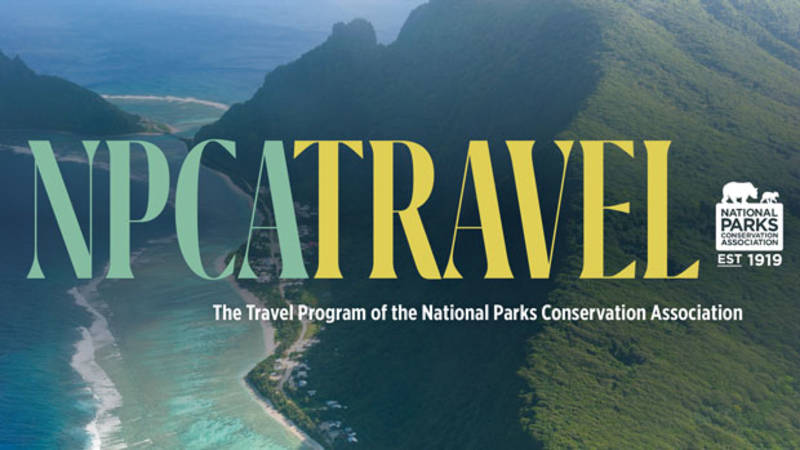 Resource
Our goal is to offer premium educational travel itineraries in the places we know best: America's national parks.
See more ›
Itinerary Highlights
Kayak, stand-up paddleboard, hike or relax ashore and enjoy the wild and remote island landscapes
Catch a glimpse of the elusive fox species found only in the Channel Islands

Hike to one of only two naturally occurring Torrey pine groves in the world
See the last major light station to be built on the West Coast on Anacapa Island

Learn how NPCA works to protect Channel Islands National Park from external threats

Spot some of the 150 native plant and animal species found nowhere else in the world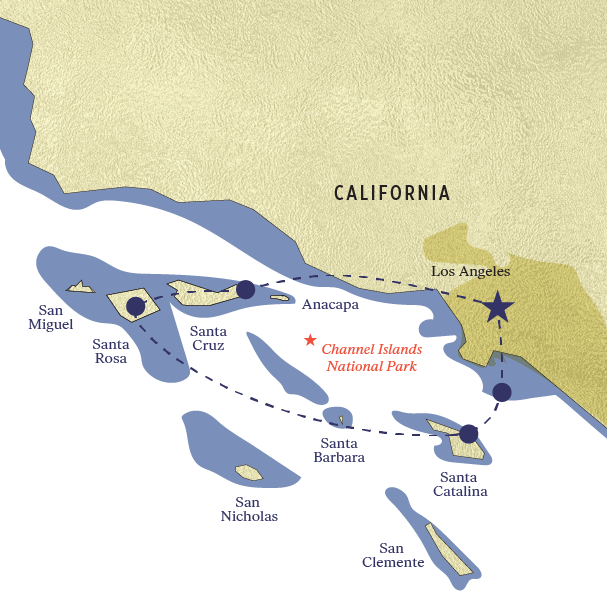 Itinerary
Day 1: November 4 - Los Angeles / Embark: Arrive in Los Angeles or toss your bag in your car if you live there and meet us at our hospitality room to check-in by 3:00 PM and later transfer to the ship to be welcomed aboard. Familiarize yourself with the ship, stow your stuff and take in the sights on the ship's deck. We'll embark in the early evening—where you'll meet the team and settle in for the days ahead! (D)
Day 2: November 5 - Anacapa and Santa Cruz Islands, Channel Islands National Park: Wake to the ship at anchor off the rocky outcropping of East Anacapa Island. Join your wellness specialist on the sundeck for morning yoga before heeding the call of the breakfast buffet. After breakfast, join naturalists aboard our Zodiacs (rigid inflatable boats) to go ashore on East Anacapa. The goal is the Anacapa Island Lighthouse, built in 1932, the last major light station to be built on the West Coast. Soak in the views from Inspiration Point or, for a more relaxing option, explore Arch Rock via Zodiac.
(B ,L, D)
Day 3: November 6 - Santa Rosa Island, Channel Islands National Park: Kick-start your morning with a stretch class before breakfast. Weather permitting, go kayaking, hike one of the many trails or simply relax ashore. With luck, we may catch a glimpse—or photo—of the elusive fox species endemic to the island. Join the naturalists for a more strenuous hike out to the base of the Torrey Pines State Natural Reserve, which contains what is considered one of the world's rarest pines and is one of only two naturally occurring groves in the world. End the day with a sunset cocktail party.
(B, L, D)
Day 4: November 7 - Santa Catalina Island: Spend the day discovering the colorful history and natural wonders of Catalina Island. Once a haunt of smugglers and gold-diggers, the island was transformed into a resort destination by chewing gum tycoon William Wrigley, Jr. in the 1920s. Some 50 years later, William's heirs, Philip K. Wrigley and Dorothy Wrigley Offield, established the Catalina Island Conservancy, protecting nearly ninety percent of the island. After a morning workout on deck followed by breakfast, meet a conservancy member to learn about their work on the island before heading out on the trail for spectacular views of the coastline and the Catalina backcountry. With luck, catch a glimpse of the elusive bison herd that has resided on Catalina Island since 1924. Head for the water to kayak or stand-up paddleboard. After lunch, the ship arrives in Avalon Harbor for a free‐ranging afternoon on your own. Explore downtown Avalon, the island's only incorporated city, population a little under 5,000. Take the 30‐minute (mostly uphill) stroll up Avalon Canyon to visit the Wrigley Memorial and Botanical Gardens. Or visit an architectural gem: the famous Catalina Casino, built by William Wrigley, Jr. in 1929. Scuba‐certified? Our team will arrange diving and gear rental for you with a top local operator. Return to the ship for a farewell dinner and a last evening at sea under the stars. (B, L, D)
Day 5: November 8 - Los Angeles / Disembark: Awake dockside in the bustling Port of Los Angeles (early risers can catch the action in one of the world's largest ports). Enjoy a final breakfast on board before disembarking and either transferring to the airport or heading to your car or Uber—refreshed by your getaway. (B)
Please note: This itinerary is subject to change based on weather conditions and park closures related to COVID-19.
Listen: Sarah Barmeyer, Deputy Vice President of Conservation Programs for the National Parks Conservation Association, recounts her thrilling time as staff host on NPCA's Wild California Escape: Channel Islands National Park Cruise. Jump to 15:08 to hear Barmeyer's unforgettable experience.
---
NPCA TRAVEL ELIGIBILITY: NPCA is the only independent, nonpartisan organization dedicated to advocacy on behalf of the National Park System. Over 70% of our funding comes from donations from individuals like you. NPCA trips are an exclusive NPCA member benefit. One traveler per group must be an NPCA member to participate in an NPCA trip. An annual membership starts at $15 per person. Please make dues payable to NPCA by check or credit card at npca.org.
TRAVEL SAFE WITH NPCA: Your safety is our top priority. NPCA has worked diligently with each of our travel partners to develop important safety measures for all our trips. As guidelines and protocols evolve, we are committed to creating flexible options for those interested in rescheduling or booking new travel. For more information, check out our COVID-19 Travel Update.
MORE INFORMATION: For full details on this trip, including inclusions, exclusions, accommodations, terms and safety protocols, please download the detailed trip brochure.
Download Detailed Trip Brochure (1 MB pdf) ›
MAKING RESERVATIONS: To secure your space on this NPCA trip, please contact our Educational Travel Program team at 1.800.628.7275 or email the Travel Program at travel@npca.org.
TRAVEL PROTECTION: We strongly recommend purchasing important optional travel insurance that will cover you for a variety of travel-related contingencies, such as trip cancellation, interruption, and/or delay; baggage loss, theft, damage or delay; accident and/or sickness medical expenses; accidental death; as well as evacuation/repatriation coverage. Please note that a Pre-Existing Condition waiver is available if you purchase the policy within 21 days of making your initial trip payment. Also consider the optional "Cancel for any Reason" protection. All questions regarding the plan's coverage should be directed to Travel Insurance Select through USI Affinity at 1-800-937-1387 or by visiting their website.
Check out NPCA's full tour lineup at www.npca.org/trips