Isle Royale National Park is a remote island of rugged wilderness in Lake Superior consisting of dense forests, rocky ridges and small lakes. The island park is accessible only by boat or seaplane, there are no paved roads, and all the human inhabitants leave in the winter, returning control of the island to its wolves, moose, red squirrels, bats, river otters and loons. Our adventure will take you to landmark lighthouses and forts and give you a behind-the-scenes look at a bold wildlife restoration project.
Download Detailed Trip Brochure (9 MB pdf) ›
Departure Date:
August 16-22, 2021 (Arrivals on August 15th) - SOLD OUT
8 days/7 nights
Minimum/Maximum: 10 guests/16 guests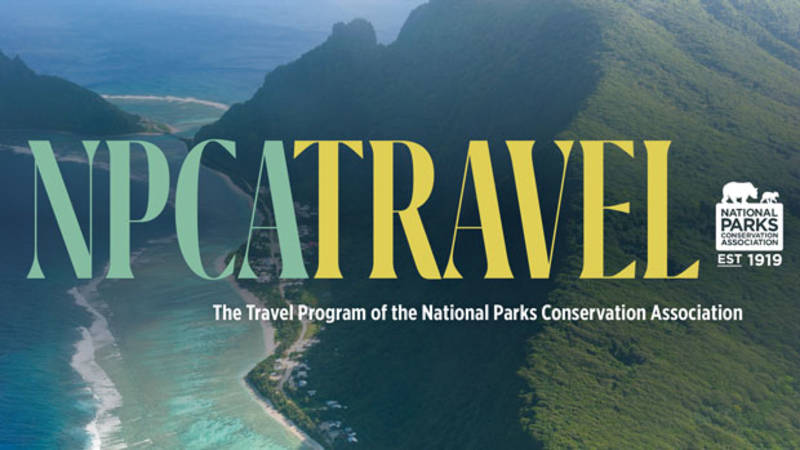 Resource
Our goal is to offer premium educational travel itineraries in the places we know best: America's national parks.
See more ›
Schedule Highlights
Relax on scenic boat rides to Raspberry Island, Hidden Lake and Lookout Louise
Take a scenic drive through the Upper Peninsula with several curated stops along the way
Opportunities for canoeing along the rocky shorelines of Rock Harbor
Learn about wildlife and ecology research from expert scientists and park naturalists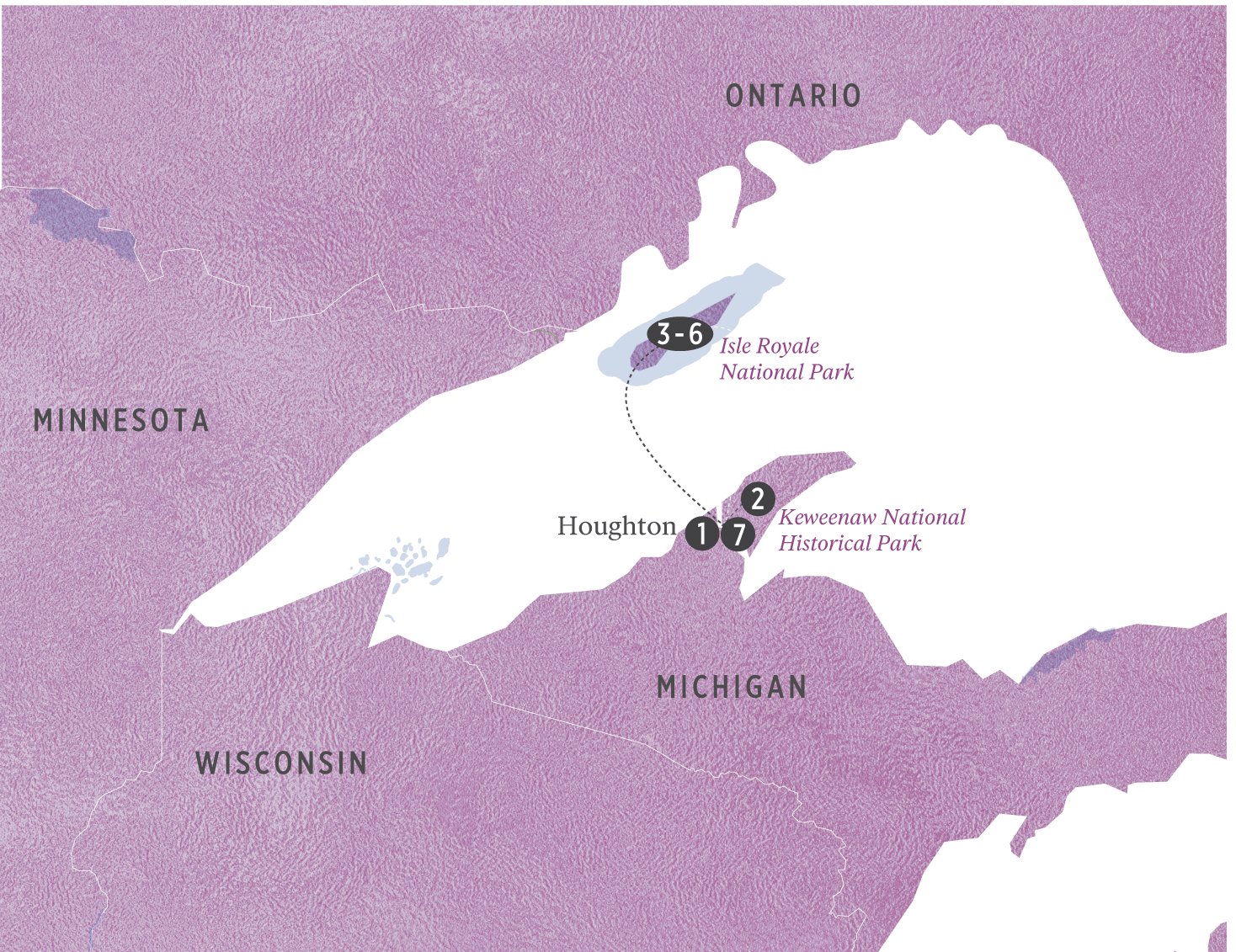 Day 1: Arrivals into Houghton: Independent arrivals into Houghton, Michigan (CMX). There are two flights from Chicago into Houghton on this day, so guests can choose which flight works best for their schedule. Settle into the hotel and get ready to start your adventure the following morning. Hampton Inn by Hilton
Day 2: Keweenaw National Historical Park: Today we'll take a scenic drive up to Copper Harbor and discover several different stops that showcase the beauty of the Upper Peninsula! We'll meet with National Park Service staff at Keweenaw National Historical Park, which celebrates the life and history of copper mining on the Keweenaw Peninsula. We'll visit The Eagle Harbor Lifesaving Station, grab a pastry at the historic Jampot, then take the scenic Brockway Mountain Drive to the Estivant Pines Nature Sanctuary for a quick loop hike before dinner at a local favorite. Hampton Inn by Hilton (B, L, D)
Day 3: Ferry to Isle Royale: We'll catch the National Park Service ferry to Rock Harbor in Isle Royale National Park. As the ship navigates through the scenic Keweenaw Waterway and into the world's largest freshwater lake, we will hear from National Park Service interpretive staff for an introduction to everything Isle Royale has to offer. We arrive at Rock Harbor mid-afternoon for a quick geology-focused interpretive hike before dinner and an evening program with national park experts. Rock Harbor Lodge (B, L, D)
Day 4: Isle Royale National Park: After breakfast, we will take a morning hike to Scoville Point, which provides a perfect introduction to the park and opportunity to investigate some of the flora and fauna of the island.* In the afternoon, we'll head by boat to Raspberry Island for a loop hike along a boardwalk through the spruce bog and forest with areas for taking in the views from the island's rocky shores. This evening, your NPCA host will share important park protection efforts related to the park. Rock Harbor Lodge (B, L, D) Our schedule for the Isle Royale days will vary depending on weather and individual interests.
Day 5: Isle Royale National Park: We'll enjoy a hearty breakfast this morning before adventuring to Hidden Lake and Lookout Louise for one of the more spectacular northern views of the islands and bays, as well as the Canadian shoreline. Walk past the lake up to the ridge top, while having the chance to spot moose and learn about the natural and cultural history of the island from National Park Service staff. This afternoon, choose to explore by foot or kayak around the rocky shorelines, boreal forest and other habitats in the vicinity of Rock Harbor. Rock Harbor Lodge (B, L, D)
Day 6: Isle Royale National Park: We leave Rock Harbor for the day via boat to the historic Edisen Fishery and Rock Harbor Lighthouse. Following a picnic lunch on the beach, we hike a short distance to meet with the lead scientist involved in the island's wolf-moose research, for a private presentation and group discussion. Hear how NPCA worked with our members to advocate for the wolf restoration effort. The group will then take a boat ride to meet with the Superintendent for an inside look into the park.
Rock Harbor Lodge (B, L, D)
Day 7: Ferry to Houghton: Enjoy the last breakfast on Isle Royale before boarding the National Park Service ferry for our Lake Superior crossing back to Houghton. The six-hour boat ride includes detailed presentations by park naturalists and researchers. Our mid-afternoon docking allows time to rest at the inn or an opportunity to explore Houghton on foot before meeting for a formal farewell dinner as a group. Hampton Inn by Hilton (B, L, D)
Day 8: Departures from Houghton/Hancock: Following breakfast and checkout, we will have one last morning tour into the old mine shafts of the Quincy Mines, which is part of the Keweenaw National Historic Park. From there, guests will catch their 1:00 p.m. departure flight* from Hancock to Chicago O'Hare. (B) A 6:00 a.m. flight is also available.
Itinerary is subject to change based on weather and potential unforeseen park closures due to COVID-19.
---
NPCA TRAVEL ELIGIBILITY: NPCA is the only independent, nonpartisan organization dedicated to advocacy on behalf of the National Park System. We are 100% privately funded and we rely on donations from individuals like you. One traveler per group must be an active NPCA member to participate in an NPCA trip. An annual membership starts at $15 per person. Please make dues payable to NPCA by check or credit card at npca.org.
TRAVEL SAFE WITH NPCA Your safety is our top priority. NPCA has worked diligently with each of our travel partners to develop important safety measures for all our trips. As guidelines and protocols evolve, we are committed to creating flexible options for those interested in rescheduling or booking new travel. For more information, check out our COVID-19 Travel Update.
MORE INFORMATION For full details on this trip, including inclusions, exclusions, accommodations, terms and safety protocols, please download the detailed trip brochure.
Download Detailed Trip Brochure (9 MB pdf) ›
MAKING RESERVATIONS To secure your space on this NPCA trip, please contact Jared Dial, NPCA's Travel Program Manager, at 1-800-628-7275 or email travel@npca.org.
TRAVEL PROTECTION We strongly recommend purchasing important optional travel insurance that will cover you for a variety of travel-related contingencies, such as trip cancellation, interruption, and/or delay; baggage loss, theft, damage or delay; accident and/or sickness medical expenses; accidental death; as well as evacuation/repatriation coverage. Please note that a Pre-Existing Condition waiver is available if you purchase the policy within 21 days of making your initial trip payment. Also consider the optional "Cancel for any Reason" protection. All questions regarding the plan's coverage should be directed to Travel Insurance Select through USI Affinity at 1-800-937-1387 or by visiting their website.
Check out NPCA's full tour lineup at www.npca.org/trips
Cost:

$4,925 per person double occupancy; $475 single supplement
Learn More