Hidden Gems
Congaree National Park
A park with an abundance of wonders that's just as beautiful by foot as it is by water.
---
This fall, NPCA and Travelodge® by Wyndham are calling attention to hidden gems sites within the National Park System that we think are worth knowing more about. From locations rich with history to those with majestic views, we're taking a closer look at trails, vistas and other lesser-known sites in parks across the country. Protecting public lands is at the heart of what we do and is important to Travelodge as well; we hope by learning more about these lesser-known places, you're inspired to protect our parks, too.
---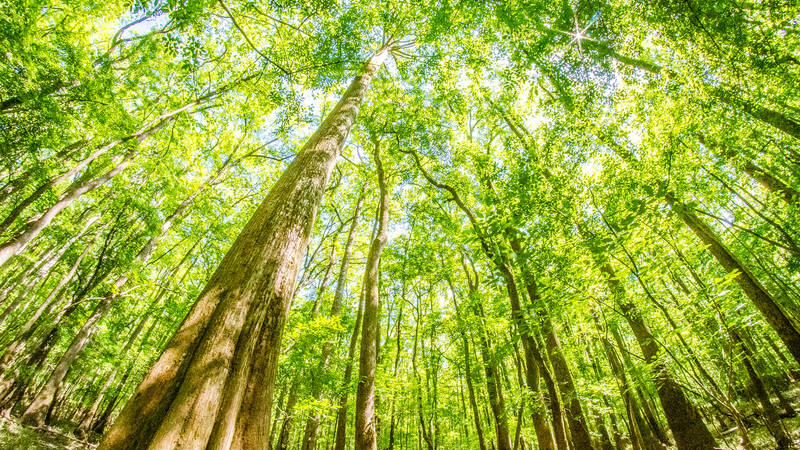 Park
Wild and primeval, Congaree National Park is home to the largest old-growth floodplain forest in North America, with large, majestic bald cypress, water tupelo, cedar and loblolly pine trees. The…
See more ›
Home to the largest intact expanse of old growth bottomland hardwood forest remaining in the southeastern United States, Congaree National Park is a park that's just as beautiful by foot as it is by water. With over 25 miles of hiking trails, almost 2.5 miles of boardwalk, and canoeing and kayaking for all levels of experience, park explorers can glimpse the park's rich wildlife, which includes river otters, deer, turtles and even the occasional alligator! The park's over 20,000 acres are home to a vast array of trees, including bald cypress, tupelo and pine, making its forest one of the most biodiverse in the nation and one of the oldest and tallest forests east of the Mississippi.
Closest Major City: Charleston, South Carolina or Charlotte, North Carolina
Fun Fact: The Congaree and Wateree Rivers can flood up to 10 times a year, replenishing soil nutrients that sustain the forest habitat.
By Land or By Water
Whether it's a short stroll through the woods on one of the park's boardwalks or a canoe trip down Cedar Creek, Congaree National Park has an abundance of wonders. There's primitive backcountry camping and river trip options for the more experienced, as well as day hikes to oxbow lakes, the Congaree River and stands of magnificent old-growth trees that make up the tallest deciduous forest in the United States. Because the park is situated on a floodplain, the terrain tends to be very flat with slight elevation changes, making it a great place to spot wildlife; the water itself offers anglers plenty of spots for good fishing, too!
A Closer Look at Park Hidden Gems
Did You Know?
While a lot of the land in Congaree National Park might look like a swamp, the park is actually a floodplain. While swamps are permanently covered with water, floodplains are low lying areas near a river and are only covered with water for part of the year.
Kingsnake Trail
Don't be intimidated by the name of this trail — while it might sound ominous, this 7.8 mile out-and-back trail is a great option for visitors of all skill levels for hiking, walking and running. Due to the dense, diverse vegetation that surrounds it as well as its proximity to Cedar Creek, it's a particularly good trail for bird watchers. When the sloughs are full of water, the trail features beautiful views around every bend.
Bates Ferry Trail
Head to the eastern part of the park and follow a 1920s ferry road south to the Congaree River to experience a remnant of the area's rich history, including spots where colonial-era ferries once navigated the river. The flat, 2.3 mile out-and-back trail is a fast way to get to the river and another excellent spot for bird watching.
Fork Swamp Trail
A short distance from the Bates Ferry Trail is the park's second-newest trail, a quick 0.6-mile hike that runs along a narrow section of Bates Old River, a large oxbow lake created by a hurricane in 1852. It's one of the best places in the park to see river otters, especially in the late fall and early winter, and don't forget to look up for a chance to spot bald eagles and osprey looking for fish in the river below!
What People Love About Congaree National Park
We asked our followers on social media who have been to the park what they liked best about their visit and what hidden gems people should know about — here's what they said:
"Honestly, getting past the boardwalk and into the floodplain is just really special."

"Take a kayak tour of the river! It was the best thing we did. My kids and I loved it."

Another frequent answer as to the best part of the park: the massive trees!
How Can You Adventure Responsibly When Visiting?
Support responsible tour companies

that recognize cultural heritage, maximize the economic benefits in the destinations they operate in, and establish guidelines for managing environmental harm. NPCA carefully vets its tour partners, so consider taking an NPCA trip. For more information, visit [npca.org/trips](https://www.npca.org/trips.)

Pack reusable items

to help keep plastic waste out of our parks and out of the landfill — including water bottles, coffee mugs, tote bags and reusable straws. Remove as much plastic packaging (e.g., from food items) as you can before your visit.
These are just two of the many ways you can ensure you're adventuring responsibly when you visit a national park site; learn about all 10 Ways to Adventure Responsibly.
Travelodge® by Wyndham Supports NPCA's Mission
Travelodge® by Wyndham supports NPCA's mission to protect and enhance America's National Park System for present and future generations and believes in the importance of preserving parklands. Since 2016, Travelodge® by Wyndham has provided more than $750,000 in support of NPCA and its work to protect public lands. Travelodge's continued support of NPCA and national parks is complemented by an ongoing commitment to promote eco-friendly travel, aiming to reduce the carbon footprint of over 450 hotels throughout North America with eco-friendly initiatives around breakfast, housekeeping, and bath amenities. Plus, with more than 75 percent of hotels located about an hour's drive from some of the nation's most celebrated national parks, Travelodge is your basecamp for adventure. For more information, visit www.travelodge.com/NPCA.
Make a tax-deductible gift today to provide a brighter future for our national parks and the millions of Americans who enjoy them.
Donate Now