Hidden Gems
Catoctin Mountain Park
A rich tapestry of maple, hickory, ash, oak and cherry trees and home to a vast array of birds, chipmunks and other wildlife.
---
This fall, NPCA and Travelodge® by Wyndham are calling attention to hidden gems sites within the National Park System that we think are worth knowing more about. From locations rich with history to those with majestic views, we're taking a closer look at trails, vistas and other lesser-known sites in parks across the country. Protecting public lands is at the heart of what we do and is important to Travelodge as well; we hope by learning more about these lesser-known places, you're inspired to protect our parks, too.
---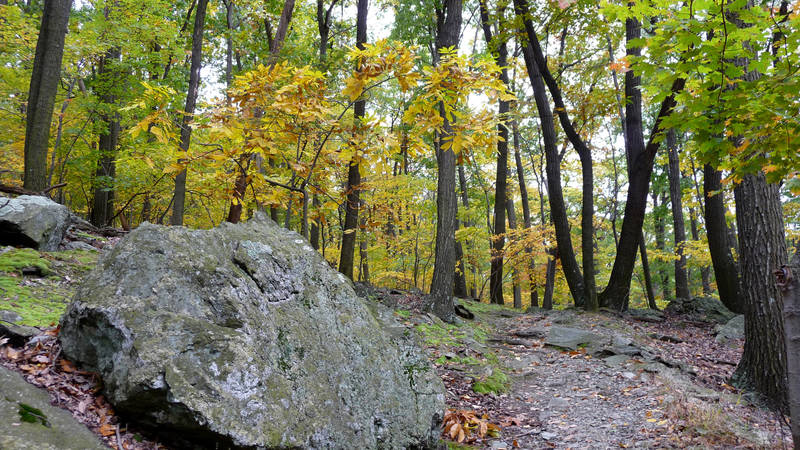 Park
Visitors to Catoctin Mountain Park find streams replete with native trout; forests of maple, hickory, ash, oak and cherry trees; and air alive with the sounds of birds, chipmunks and…
See more ›
Nestled in the mountains of Western Maryland in the northeastern part of the Blue Ridge Mountains, Catoctin Mountain Park was once devastated by logging and agricultural growth in the 18th and 19th centuries. Today, however, the park is a rich tapestry of maple, hickory, ash, oak and cherry trees and home to a vast array of birds, chipmunks and other wildlife. Established in 1936, the park features historic structures and products of the Works Progress Administration and the Civilian Conservation Corps, tangible reminders of the second chance the land was given. The natural landscape is a reminder of that second chance, too — the forest that covers nearly 95% of the park is second growth.
Closest Major City: Washington, D.C., or Baltimore, Maryland
Fun Fact: Catoctin Mountain Park is a great spot for trout fishing! Anglers will find brook, brown and rainbow trout in Big Hunting Creek.
Where Industry Meets Natural Wonders
With a number of buildings and locations throughout the park that detail the history of the area, as well as trails to stunning overlooks and vistas, Catoctin Mountain Park offers visitors opportunities to learn and explore. The park was once home to a thriving charcoal industry, as well as a sawmill industry, the remnants of which can still be visited today. Whiskey production, too, was popular in the area now protected by the park; visitors can take a short hike to visit a whiskey still that operated during the time of Prohibition.
Hidden Gems in the Park
Cunningham Falls to Hog Rock
Is there anything better than a hike with a waterfall? Cunningham Falls to Hog Rock Vista is an out-and-back hike with great views of Cunningham Falls, a natural waterfall fed by Big Hunting Creek. Follow the yellow blazes north along the trail to Hog Rock Vista and look east for a great spot to take in the sweeping landscape dominated by deciduous trees. For the adventurous, continue north along the trail to follow the loop back to the falls and take in Blue Ridge Summit Vista.
Owens Creek Sawmill
On the west side of the park, the Owens Creek Sawmill exhibit is a re-creation of a sawmill that was built sometime before 1857, originally one of four sawmills that operated on Owens Creek. The Youth Conservation Corps built the reconstructed mill, and visitors can walk down an accessible boardwalk for a closer look at the gears and underwater workings of the sawmill.
Did You Know?
The park is home to Camp David, which serves as a place for recreation, contemplation, rest and relaxation for sitting presidents. While Camp David is closed to the public, many historical events have occurred at the presidential retreat, including the planning of the Normandy invasion (1944), the Eisenhower-Khrushchev meetings (1959), and the Accords with Menachem Begin of Israel and Anwar Sadat of Egypt (1978).
Thurmont Vista and Wolf Rock
This strenuous 3.9-mile hike on the east side of the park rewards hikers who conquer the rocky terrain with an unmatched view of the surrounding mountains from the top of Chimney Rock. The orange blazes continue from Chimney Rock to Wolf Rock, and from there to a less-explored viewpoint — Thurmont Vista. In the fall, bright yellow foliage frames a view of the changing trees in the valley.
What People Love About Catoctin Mountain Park
We asked our followers on social media who have been to the park what they liked best about their visit and what hidden gems people should know about — here's what they said:
"Sunset at Wolf Rock is pretty awesome!"

A frequently mentioned favorite for hikers: Blue Ridge Summit Overlook

"Chimney Rock was the best part!"
How Can You Adventure Responsibly When Visiting?
Keep wildlife wild and alive.

Don't feed wild animals, as they will become desensitized to humans if they become accustomed to being fed. Not only does this harm animals, but when bears, coyotes and other animals see people as food sources, it can cause wildlife to become less afraid and more likely to approach humans, creating potentially dangerous situations.

Look but please do not touch.

While some aspects of national park landscapes and sites may seem unbreakable, it is a good reminder to appreciate all from a distance – for example, be sure not to disturb artifacts, touch cave walls, lean on dwellings or climb trees. And always be sure to treat cultural sites and the resources within with respect.
These are just two of the many ways you can ensure you're adventuring responsibly when you visit a national park site; learn about all 10 Ways to Adventure Responsibly.
Travelodge® by Wyndham Supports NPCA's Mission
Travelodge® by Wyndham supports NPCA's mission to protect and enhance America's National Park System for present and future generations and believes in the importance of preserving parklands. Since 2016, Travelodge® by Wyndham has provided more than $750,000 in support of NPCA and its work to protect public lands. Travelodge's continued support of NPCA and national parks is complemented by an ongoing commitment to promote eco-friendly travel, aiming to reduce the carbon footprint of over 450 hotels throughout North America with eco-friendly initiatives around breakfast, housekeeping, and bath amenities. Plus, with more than 75 percent of hotels located about an hour's drive from some of the nation's most celebrated national parks, Travelodge is your basecamp for adventure. For more information, visit www.travelodge.com/NPCA.
Make a tax-deductible gift today to provide a brighter future for our national parks and the millions of Americans who enjoy them.
Donate Now