NPCA and AIA release blueprint for development and growth of Chicago's first national park
CHICAGO – Today, National Parks Conservation Association (NPCA) and American Institute of Architects Chicago (AIA) released "Positioning Pullman," a blueprint for development and growth in Chicago's first national park. The action plan is the product of forty volunteer economists, architects, landscape architects, planners and engineers, working with Pullman residents and a team of technical advisors with expertise in the neighborhood and the region.
"Just eight months after Pullman National Monument was established we have a road map for success. That's unheard of in the world of national parks," said Lynn McClure, Midwest director for NPCA.
The projects detailed in "Positioning Pullman" are the result of a collaborative community workshop hosted by NPCA and AIA earlier this year. The 33 projects are clustered in several areas, including improving the park experience, historic preservation and adaptive reuse, access and connections to the area, and leveraging the national monument for community development.
"We are truly indebted to the outstanding talent that gave their time to envision what we needed at Pullman to welcome the projected 300,000 annual visitors and benefit the neighborhood and surrounding areas," said Richard Wilson, Positioning Pullman project lead, Adrian Smith + Gordon Gill Architecture. "Their ideas, renderings and plans are providing an incredible boost to this national park."
"To be in on the ground floor in guiding the launch of a national park is an honor," said Zurich Esposito, Executive Vice President for AIA Chicago. "The quality of Chicago's built environment, including in the Pullman neighborhood, is a testament to the talent and high expectations that propel our city and its design professionals."
Click here to learn more about "Positioning Pullman".
###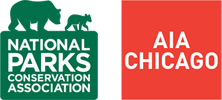 About Pullman National Monument: Pullman National Monument was designated by President Obama on February 19, 2015, making the historic neighborhood Chicago's first national park. Pullman National Monument protects and tells the stories of America's industrial past, the formation of one of the first African American labor unions, and it is home to the country's first model industrial town. The Pullman Strike of 1894 was instrumental in the creation of our national Labor Day holiday.
Although the designation is relatively new, this national park will be an economic powerhouse for Chicago. By its 10th year of full operation, Pullman National Monument is expected to attract more than 300,000 visitors each year, create 350 jobs annually, generate $150 million in annual wages, and sustain $40 million in economic activity due to visitor spending.
About AIA Chicago (AIA): With more than 3,000 members, AIA Chicago is one of the largest chapters of the American Institute of Architects. As the leading professional association for architects in the nation, AIA is the voice of the architectural profession and the resource for its members in service to society. In addition to organizing education and design awards programs, AIA Chicago produces publications, such as AIA Guide to Chicago Architecture and "Chicago Architect" magazine. For more information visit www.aiachicago.org.
About National Parks Conservation Association
Since 1919, the nonpartisan National Parks Conservation Association (NPCA) has been the leading voice in safeguarding our national parks. NPCA and its more than one million members and supporters work together to protect and preserve our nation's natural, historical, and cultural heritage for future generations. For more information, visit www.npca.org.
For Media Inquiries
Former Senior Media Relations Coordinator