© AP PHOTO/WACO TRIBUNE HERALD, ROD AYDELOTTE
Fall 2015
A Mammoth Discovery
The lucky find that led to the creation of a monument.
In 1978, 21-year-old Paul Barron wasn't out to make a big discovery. He was looking for something small: snakes.
It had been a cold spring in Waco, Texas, and when he picked up a bundle of wood to make a fire, a copperhead darted from the pile, terrifying his sister. She asked Barron and his friend, Eddie Bufkin, to clear the family's house of snakes to protect her young sons.
The two men eventually wandered to the banks of a nearby creek, where Barron made a startling find. "As I was climbing, a piece of what appeared to be rock broke off in my hand. … It turned out it was a ball joint from a hip," he said.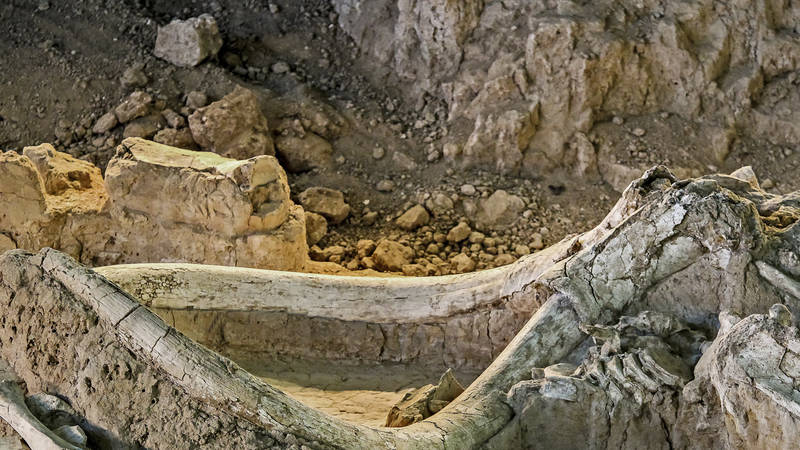 Park
What began as a search by two men in 1978 for snakes near the Bosque River became the first and only recorded discovery of a nursery herd of Pleistocene mammoths…
See more ›
As Barron and Bufkin scanned the area, they spotted what appeared to be a femur, a tusk, and numerous other bone fragments lodged in the clay, covered with moss. "The tusk in particular was shot through with tiny little cracks," he said. "It looked to me like if you tried to pick it up, it would probably crumble."
Fortunately, Barron had spent significant time learning about the natural sciences with his Boy Scout troop and had even met the director of his local science museum as a teenager. He knew what he found at the creek was special enough to pay the director a visit. Though it took some convincing, once experts examined the trove of fossils, they quickly realized the great scientific value.
"It was like I stepped into a time warp or something," Barron said.
He had discovered one of the richest Ice Age fossil beds in the world, and the only known nursery herd of Columbian mammoths. These animals died in a single event—probably a flood 70,000 years ago. In the decades since, researchers have found 23 mammoths, a tooth from a saber-toothed cat, and numerous other fossils, providing new insights into the behaviors of prehistoric animals. In July, President Barack Obama officially designated the site, now known as Waco Mammoth, as the country's newest National Park Service monument.
"I'm glad I did what I did and the site is now being recognized as a national treasure," Barron said, "because it is."
---
For many years, NPCA and local partners in Texas advocated for the creation of Waco Mammoth National Monument. Find out more about the 408th national park site.
About the author
Jennifer Errick

Managing Editor of Online Communications

Jennifer co-produces NPCA's award-winning podcast, The Secret Lives of Parks, writes and edits a wide variety of online content, and manages NPCA's style guide.