A new national park could provide more than recreation and conservation opportunities. It could actually help lessen the devastation from natural disasters.
In September 2008, Hurricane Ike made landfall in the Galveston area of Texas after causing devastating damage to Cuba, Haiti, the Bahamas, and the Turks and Caicos Islands. Millions of Texans fled their homes, and more than a hundred people died in the United States alone. It was one of the costliest hurricanes in history.
Researchers discovered afterward that undeveloped areas of the Texas coastline helped protect inland communities from the massive storm. People who lived near these natural areas suffered less damage because the land served as a natural sponge absorbing the floodwater.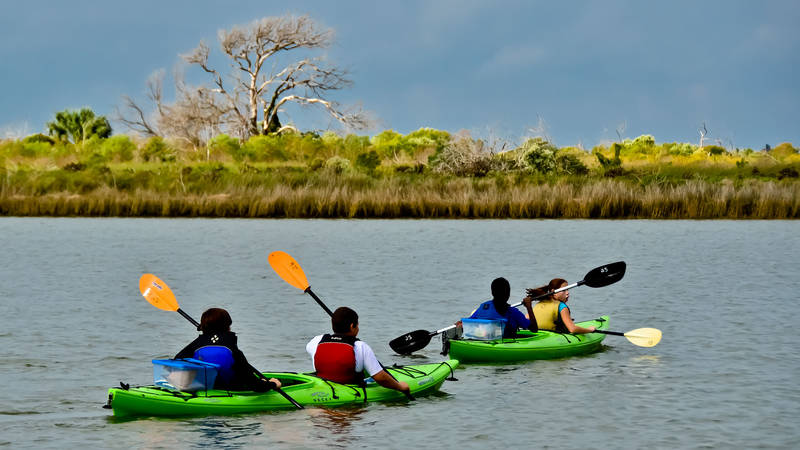 Report
Hurricane Ike tore through the upper Texas Gulf coast in 2008, unleashing devastation on communities and economies. Yet portions of the region fared better, showing that undeveloped lands along the…
See more ›
This is one reason why Suzanne Dixon, director of NPCA's Texas Regional Office, has seen widespread support for turning these coastal regions into a proposed Lone Star Coastal National Recreation Area, a federally protected park that would span four counties in the Galveston/Houston area. This "vibrant patchwork of natural, cultural, and historical sites," as Suzanne calls it, is one of the most cost-effective ways to provide protection from future storms, according to an analysis by Rice University's SSPEED Center.
There's also world-class birding, historic Civil War sites, fantastic fishing areas, beaches, and more.
"It makes sense to use these natural assets," says Suzanne. "People are excited about the possibility."
Suzanne has been doing outreach all over the area for a year and a half and has found strong, bipartisan support throughout the region. "It's a different model, and one people are receptive to," she explains. For one thing, any lands purchased would be from willing sellers. Some lands would stay in their current ownership and participate as partners. Local residents are driving the effort from the ground up; it hasn't been a government-led proposition. And, not least of all, the economic benefits could be tremendous.
A recent report commissioned by NPCA, Houston Wilderness, and Rice University's SSPEED Center estimates that by its tenth year, a Lone Star Coastal National Recreation Area could attract 1.5 million new visitors to the area annually, create more than 5,000 local jobs, and sustain a 2% growth in the private economy.
"The great thing about this national recreation area is that it would provide long-term economic resiliency for the people who live in the area," says Suzanne. "The things that make it ideal from a preservation standpoint also make it good from an economic standpoint—there's fishing, hunting, crabbing, and swimming, as well as historic and cultural sites. It's what we've been saying at NPCA all along—these natural areas go hand-in-hand with jobs and economic growth."
NPCA will continue to work with a team on the ground to engage local communities, explore management and protection options, and find a champion in the Texas Delegation who can help make the park a reality. You can learn more about the proposed park and read the economic report.
About the author
Jennifer Errick

Managing Editor of Online Communications

Jennifer co-produces NPCA's podcast, The Secret Lives of Parks, writes and edits a wide variety of online content, and manages NPCA's style guide.