The Upper Delaware River in Pennsylvania and New York is one of the best wild trout fisheries in the country. Just a two-hour drive from Manhattan, this region of beautiful rolling farmland features charming small towns dotted with restaurants showcasing local foods. The bucolic landscape, however, belies tensions between residents who hold sharply divergent visions of its future.
"It's a great place to live—and can be a hard place to make a living," observes Dan Plummer, a founder and now chairman of the Friends of the Upper Delaware (FUDR). He's not surprised that some of his neighbors support proposals to extract natural gas from the Marcellus Shale that lies under the region.
Developing a natural gas economy, however, could threaten this world-class cold-water fishery. Many local residents value the area's rural character and have deep concerns about the potential impacts that gas drilling—and the infrastructure to support it—would have here.
So FUDR is working with communities in the region to revitalize the area and build a river-centered economy that leverages the clean water and rural nature of the Upper Delaware River. They've developed annual events, such as the "One Bug"—a remarkable fundraiser modeled after the Jackson Hole, Wyoming, "One Fly" fishing competition.
At a recent NPCA-hosted roundtable discussion about the region's economy in Narrowsburg, New York, Plummer described the "One Bug" event. "Guys pay how much for one day of fishing?" exclaimed one businessman. Since its inception eight years ago, FUDR's "One Bug" competitive fly fishing event has raised more than a quarter-million dollars. Participating anglers pay $2,500/person, many times the normal daily fee, to fish with an ace guide for the day, with proceeds used for river restoration and other activities that help rebuild local economies. The event has grown substantially and now employs five local teens and 20 licensed Upper Delaware River guides, and contracts with more than 15 vendors in the Hancock, New York, area. The local stream restoration projects help mitigate the devastating impacts of flooding, and protect and restore aquatic habitat.
Young fishermen on the Upper Delaware River.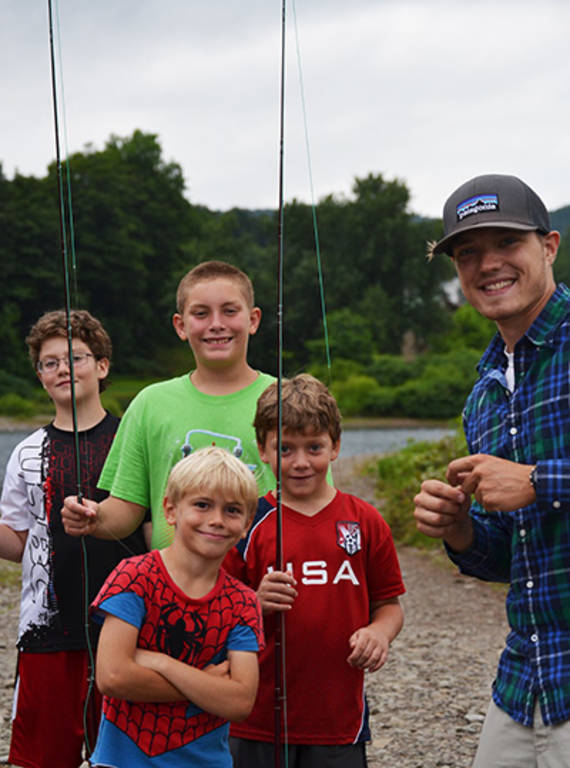 Photo courtesy of the Friends of the Upper Delaware River.
The successful event underscores the larger point—people value this unique area, and are willing to invest their hard-earned dollars to enjoy and protect it.
FUDR's annual conference, "Water, Water, Everywhere," is scheduled for October 14-15, 2014, at the West Branch Angler & Resort near Hancock. "The Delaware River is a priceless asset to communities," says Plummer. "Business owners, anglers, other interested citizens, and government officials convene to discuss what a healthy river system means and to strategize on solutions."
Recently, FUDR partnered with Delaware County, New York, on a groundbreaking economic study (PDF) that pegged the recreational and second-home value of the river and its surrounding lands at over $200 million. This powerful economic message got the attention of local elected officials who, under FUDR's leadership, formed the Upper Delaware River Tailwaters Coalition.
"For the first time ever, our elected leaders are united in an effort to protect the cold-water ecosystem of the Upper Delaware River because they recognize how it can bolster the economy," said FUDR Executive Director Jeff Skelding.
This kind of broad support is essential in order for residents to protect the area's rural values. Some 25 percent of the region's land is already under lease to drilling companies. These companies often promise lower taxes as an incentive to local areas to approve projects such as the Millennium Pipeline that crosses the region to carry gas from the Marcellus Shale to market. FUDR's leadership demonstrates the strong local and political support for an economic model that protects the clean water and community character many people value.
To learn more about the Upper Delaware Scenic and Recreational River, its ranger-led programs, and ways you can help the national park, visit www.nps.gov/upde.
To learn more about the Friends of the Upper Delaware's upcoming "Water, Water, Everywhere" conference, visit www.fudr.org or contact Jeff Skelding at skelding@fudr.org or 410.245.8021.
About the author
Joy M. Oakes

Former Senior Regional Director

Since 2001, Joy M. Oakes been a leader with the National Parks Conservation Association based in Washington, D.C. Joy serves as Senior Director in the Mid-Atlantic region, overseeing NPCA's activities in five states and the District of Columbia.