The second video in a new series showcases park advocate Daniel Hernandez and his deep generational connection to Blackwell School National Historic Site in Texas.
Through a new video series in partnership with Nature Valley, NPCA celebrates the historical and cultural heritage of our Hispanic and Latino communities — while honoring a few of the people who preserve national park sites and other public lands.
The series features three videos highlighting profound park experiences by national park advocates, including Daniel Hernandez. Inspired by his familial connection to Blackwell School in Marfa, Texas, he has become an advocate for protecting this place and the collective memories held within it.
In addition to Hernandez, this video features El Paso artist Jesus "Cimi" Alvarado, who creates an art piece celebrating Hernandez's story and the Blackwell School. Hernandez sees the work of art for the first time in the video — and is invited to add some personal finishing touches to it.
Here is a behind-the-scenes look into the filming of this video and the people and place it honors.
Blackwell School National Historic Site is a tangible reminder of American history when "separate but equal" dominated our culture. The site includes an original three-room school building and the surrounding grounds that served as the school for children of Mexican descent in Marfa from 1909 to 1965. The park site commemorates the complexities of segregation, including the stories of hardship that students faced at Blackwell, as well as their resilience and achievements in the face of discrimination.
We arrived in Marfa to meet the film crew after about a three-hour drive from El Paso, Texas. Along the route, we were surrounded by the beauty of the West Texas landscape, including the native yucca, ocotillo and cholla cacti. The Blackwell School is nestled within a small, desert neighborhood in Marfa, which has about 2,000 residents. Marfa comprises less than two square miles and has one main street.
Hernandez is an advocate for just how important the park site is to the small town of Marfa, the greater Texas community and for all America. He grew up in Marfa, and his grandparents on both sides attended Blackwell School. He's also a board member of the Blackwell School Alliance, a nonprofit organization that worked alongside NPCA and other community partners to preserve the original schoolhouse and grounds and establish them within the National Park System.
"Protecting the Blackwell School is so important, not only for this community, but really for the advancement of telling undertold stories in our National Park System. There are very few park sites right now that are dedicated to Latino and Mexican American history, so I also hope that the Blackwell School will serve as a launching point to be able to tell more obscured stories in places just like Marfa, all across the country," Hernandez said.
We got the chance to explore the small schoolhouse, which showcases photos and memorabilia such as band uniforms, sports trophies, graduation programs and other objects donated by alumni. Hernandez talked with us about the power and inseparability of the physical structure of the schoolhouse and the history and collective memories it holds.
The outdoor space surrounding the school also provides a beautiful backdrop to invite and engage the community in understanding history. Hernandez shared how some young children who had been playing on the school's outdoor playground during an informal open house hosted at the site noticed the open school door and wandered curiously inside. Hernandez was then able to share the school's history with them.
"It felt like such a full circle moment, to be able to walk them through the Blackwell School and tell them about what happened here, and for me it sparked that renewed interest in leveraging this space to tell this story in so many different ways … for generations to come to be able to feel like they have ownership, and they have a stake in this place in history," he said.
Hernandez explained that the 10-15-minute interaction he had with the children perfectly encapsulates his goals through his work with Blackwell: tell the stories of the alumni who attended Blackwell School, and open doors for new generations to learn about their history and their family's history.
There are very few park sites right now that are dedicated to Latino and Mexican American history, so I also hope that the Blackwell School will serve as a launching point to be able to tell more obscured stories.
Daniel Hernandez, national park advocate
He reflected on the importance of the outdoor space, explaining that if the playground hadn't been there, he doesn't think the children would have ventured inside the building and engaged with him or the exhibits.
The outdoors, history, school building and community come together in a powerful nexus at the Blackwell School, he said.
"Being able to leverage that outdoor space and the uniqueness of the Chihuahuan desert and the Marfa community to tell a story that is both so deeply resonant with this community that will also resonate with people from across the country — I just could not ask for a better project to be working on," he said.
Storytelling through art
Cimi Alvarado's art is inspired by and rooted in community. He is a painter and mural artist in El Paso who depicts figures and symbols reflecting Mexican and Mexican American identity in his pieces.
"Representing our stories of our communities, especially of people of color in art is really important because we need to not only know where we came from and our stories, but also we've got to remember the struggles that some of our elders went through," Alvarado said.
He said that the connection between community and history resonated with him most in hearing Hernandez's story. Prior to meeting Hernandez, Alvarado painted a mural in Marfa commissioned by the Blackwell School Alliance. Titled "Pages from the Marfa Storybook," the mural debuted in 2018 and includes imagery based on memories and photographs from the Marfa community. On our drive into Marfa, we stopped and visited the vibrant mural along U.S. Highway 90.
We need to not only know where we came from and our stories, but also we've got to remember the struggles that some of our elders went through.
Jesus "Cimi" Alvarado, artist
While we were filming, Alvarado surprised Hernandez by inviting him to contribute to his painting before he signed it and considered it complete. Hernandez shared that he had spent the previous night at his parents' house, and right before he went to bed, they told him, "Goodnight, mijo."
He explained that "mijo" is a Spanish term of endearment for a son, something that he hears not only from his parents, but also former teachers or people who used to work at the grocery store or post office he frequented growing up. For him, that word encapsulates the power of community and connection to his heritage and history, which is why he chose that word, along with "familia," or family, to add to the painting.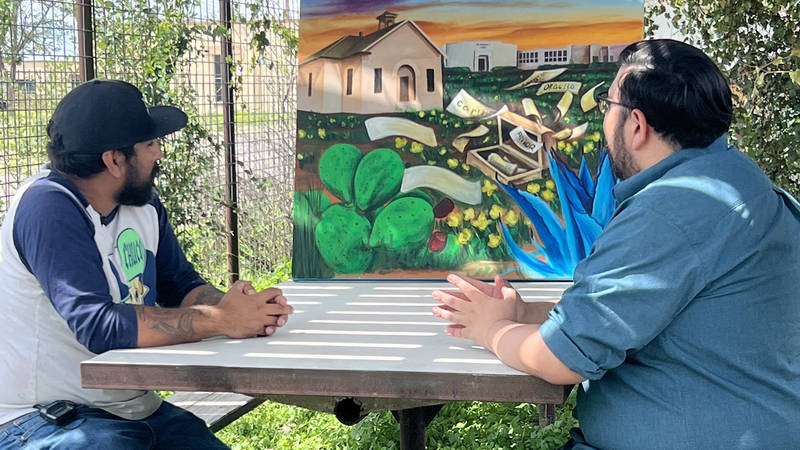 Video Series
Watch the full video showcasing Daniel Hernandez's experience and learn more about NPCA's partnership with Nature Valley and its impact.
See more ›
"I'll go around town and see people that call me 'mijo.' For me, that's such a big part of my identity. It just felt so nice to be home and hear 'goodnight, mijo' and to be able to have that identity of being Latino and being Chicano and that experience of growing up with this mixed culture of being American but also being proud of our Mexican heritage and our people," Hernandez explained.
Like Hernandez, Alvarado works to inspire future generations to learn about their histories and feel proud of their heritage. In that spirit, he co-founded Kalavera Culture Shop in El Paso where emerging artists can buy art supplies at affordable prices and be supported by a community focused on elevating the next generation of artists.
"I talk a lot about our youth. We tell them to be proud of where they're from, but if they don't know where they're from, how are they going to be proud? We need to protect places like Blackwell because it's our history," he said.
Be sure to follow along on NPCA's Instagram, Facebook, Twitter, YouTube, Vimeo and TikTok as new videos and stories are released!
About NPCA's Partnership with Nature Valley
Together, NPCA and Nature Valley are celebrating and bringing awareness to spaces and stories within nature to help people discover new and meaningful ways to explore our national parks. These efforts are supported by a donation from Nature Valley, which advances the permanent protection of places that celebrate and bring awareness to the historical and cultural heritage of our Hispanic and Latino communities.
About the author
Alana Garibaldi

Manager, Strategic Partnerships

As the manager of corporate partnerships and cause marketing, Alana connects like-minded companies to NPCA's work, creating collective impact for our parks.