The first video in a new series showcases park advocate Josie Gutierrez and how exercising in San Antonio Missions transformed her appreciation for this natural and historical space. Her passion for the national park is now spreading across generations within her community.
Through a new video series in partnership with Nature Valley, NPCA celebrates the historical and cultural heritage of our Hispanic and Latino communities — while honoring a few of the people who preserve national park sites and other public lands.
The series will feature three videos highlighting profound park experiences by national park advocates, starting with Josie Gutierrez. She discovered San Antonio Missions National Historical Park through her love of running, but her connection quickly deepened, and she's now working to share her love of the outdoors and public lands with her family and her community.
In addition to Gutierrez, the first video features painter and muralist Cristina Noriega, who creates an artistic representation of Gutierrez's story at San Antonio Missions National Historical Park in Texas. The advocate's experience — as well as the mission's historical and cultural importance — is brought to life through the custom piece by Noriega, who was born and raised in San Antonio. Gutierrez sees the work of art for the first time in the video.
Here is a behind-the-scenes look into the filming of the first video and the people and place it celebrates.
San Antonio Missions National Historical Park encompasses four separate mission sites. One of them is Mission San Juan, located less than 20 minutes from downtown San Antonio. When our video crew arrived to meet Gutierrez and Noriega, we saw people of all ages escaping the nearby city and enjoying time in nature.
Some people were getting a jumpstart on their day, running along the Hike and Bike Trail that connects each of the missions. Others were enjoying a leisurely stroll outdoors with their morning coffee. Some gathered in a mission courtyard for a group exercise class.
Gutierrez, too, became connected with the national historical park through recreation.
"I was doing long-distance running, training for a half marathon with a couple of my friends, and we needed room to run. The easiest place and the safest place for us, we thought, would be getting on the riverwalk. We had heard about these missions, and the trail would run for miles. We started realizing, wow, there's these parks and there's history here. And, so for me, I knew it was something I had to discover more," Gutierrez said.
Gutierrez quickly realized that even though she grew up in San Antonio and played in her backyard a lot as a child, she didn't know much about the San Antonio Missions. She took it upon herself to learn. She started visiting the missions on her days off, either alone or with her family, to explore.
As her experiences in the missions and other public lands grew, she also began working with the nonprofit organization Latino Outdoors, which works to inspire, connect and engage Latino communities in the outdoors. She became program coordinator for Latino Outdoors in 2015, the same year that the San Antonio Missions became a UNSECO World Heritage Site for reflecting the area's rich history and culture, including the interweaving of Spanish and Indigenous cultures.
"Passing on my love for the national parks and the outdoors in general has been probably the best thing I've ever done. It keeps that connection, not just with me to the outdoors, but it's something that I always tell my children: If I ever leave before you guys, this is the place you'll find me," she said.
It's important to see yourself represented in and welcomed by national parks and public lands, Gutierrez explained.
That's why she's made it her personal mission to make sure her daughters, granddaughter and community have access to these places in nature earlier in life than she did. She described this pursuit as a way for her to give back.
"There's a lot of things here in the missions that to me represent us, and I think just being able to come out here and explore that would be beneficial to everybody," she said.
Storytelling through art
Cristina Noriega's Hispanic heritage inspires her art — she paints her people and culture through portraits. Gutierrez's story is an inspiration for one of her latest works.
In preparation for the art piece commissioned by NPCA, Noriega met Gutierrez at Mission San Juan for a walk and to share stories.
During taping of the video, Gutierrez shared which historical and cultural elements of the site resonate with her most. They include the active church, the Virgen de Guadalupe, the nopales (or prickly pear cactus), the river and even a small birdhouse where Josie looks for cardinals — which represent to her a connection with people who've passed away, like her abuelita, or grandmother.
Noriega said it was beautiful to hear Gutierrez describe how she saw herself reflected in the park's history and culture, such as seeing in historical photos people whose skin looked like hers and who had similar last names.
"[Josie] is a great example for many people in San Antonio who might not realize, hey, this is my culture," Noriega said.
The two women also discovered commonalities in their life stories.
Like Gutierrez, Noriega didn't grow up in a family that frequented national parks or went hiking. Instead, her backyard provided the backdrop for her outdoor experiences.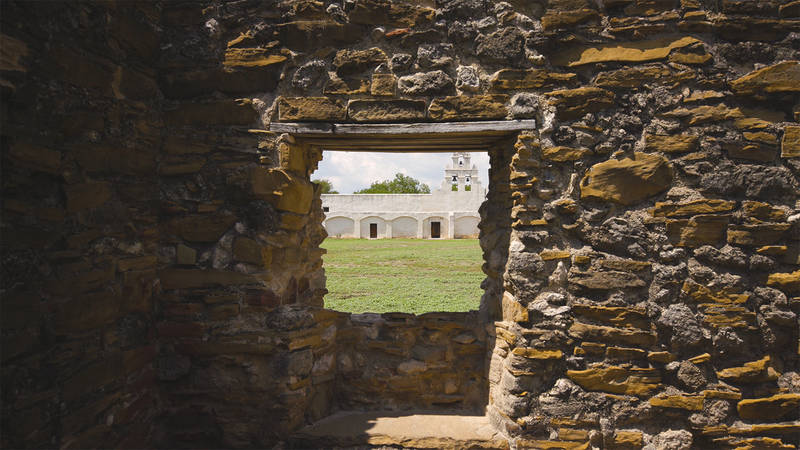 Video Stories
Watch the full video showcasing Josie Gutierrez's experience and learn more about NPCA's partnership with Nature Valley and its impact.
See more ›
She, too, enjoys sharing her love of nature with her children so they can be inspired to discover more about our public lands and work to protect them for future generations.
"As I've grown into adulthood and become a mother, showing my children these beautiful national parks and spaces is more and more important. I know it's a core memory for them growing up, and it's something that they'll fight for, too, and realize how important it is to preserve," Noriega said.
Be sure to follow along on NPCA's Instagram, Facebook, Twitter, YouTube, Vimeo and TikTok as new videos and stories are released over the coming months!
About NPCA's Partnership with Nature Valley
Together, NPCA and Nature Valley are celebrating and bringing awareness to spaces and stories within nature to help people discover new and meaningful ways to explore our national parks. These efforts are supported by a donation from Nature Valley, which advances the permanent protection of places that celebrate and bring awareness to the historical and cultural heritage of our Hispanic and Latino communities.
About the author
Alana Garibaldi

Manager, Corporate Partnerships & Cause Marketing

As the manager of corporate partnerships and cause marketing, Alana connects like-minded companies to NPCA's work, creating collective impact for our parks.