50 years after the Clean Water Act brought the Cuyahoga River back to life, an NPCA staffer looks back on the progress made — and what still needs to be done — to ensure clean water in national parks.
Standing on an old bridge in Cuyahoga Valley National Park, you see the progress. Herons and bald eagles nest by the river's edge. Vegetation abounds.
In contrast, a picture on the wayside sign by the nearby parking lot shows a river aflame. The historic photograph of the 1969 Cuyahoga River fire in Cleveland, Ohio, recorded the last time the river caught fire — not the first 12 times.
Think about it: our rivers used to ignite.
These catastrophes from industry-driven pollution mobilized the modern environmental movement. They led to the first Earth Day in April 1970 and creation of the U.S. Environmental Protection Agency by the end of that year. Congress enacted the Clean Water Act on Oct. 18, 1972.
The Clean Water Act made it unlawful to discharge any pollutant from a point source into navigable waters, unless a permit was obtained. Its goal was to restore and maintain the chemical, physical and biological integrity of one of the most basic of human needs: our water.
Fifty years later, our water is safer for drinking, swimming and fishing. That's due in part to people speaking out and demanding action to hold polluters accountable.
Waterways around the country are not only cleaner, they have been transformed. One place to see the arc of progress is the Cuyahoga River in Ohio.
A River Reborn
The 100-mile river flows south/southwesterly until Akron, where it takes a northern turn toward Cleveland to empty into Lake Erie. Native Americans called the river "Ka-ih-ogh-ha," meaning crooked river. Twenty miles of the river are protected within what is now Cuyahoga Valley National Park, located between these two Ohio cities.
The Cuyahoga River is itself a record of the need for new federal protections. In the early 1800s, the creation of the Ohio & Erie Canal alongside the river's 180-degree turn brought commerce to northeast Ohio — and pollution. The waters quickly turned murky as they filled with manufacturing and city waste around Cleveland, and then stayed that way through most of the 20th century. The river's legacy led the U.S. and Canada to declare the Cuyahoga River an Area of Concern in 1987.
But today, thanks to the Clean Water Act, industries and cities discharge far fewer toxins into the Cuyahoga. The removal of dams has improved oxygen levels and fish populations. Wildlife has returned, and recreational opportunities have become possible. Because of its role in the environmental movement, the Cuyahoga River has been designated as an American Heritage River. Efforts like the Great Lakes Restoration Initiative are cleaning up legacy pollution and reconnecting people and wildlife to the iconic stream.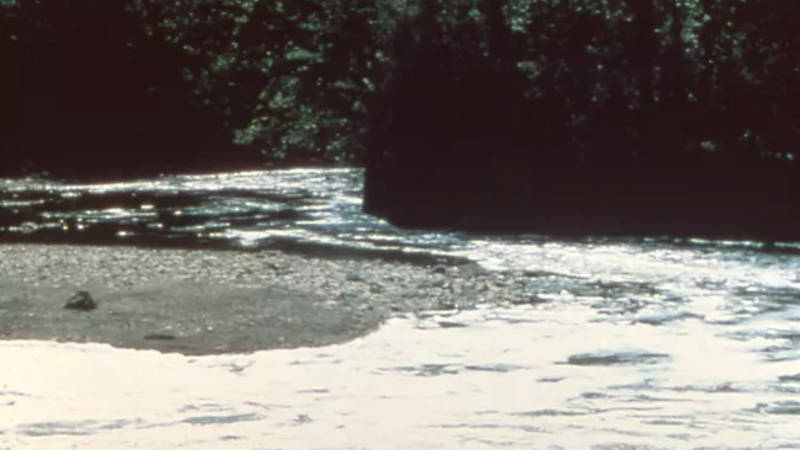 National Park Service
Listen to a longtime resident talk about the many changes he has witnessed in Cuyahoga Valley.
See more ›
At a recent EPA event on the banks of the Cuyahoga celebrating the 50th anniversary, EPA Administrator Michael S. Regan said, "The Clean Water Act has played a transformational role in protecting people's health and safeguarding our natural resources for the enjoyment of future generations. From establishing legal policy to driving technological innovation, the Clean Water Act has led to landmark standards, regulations and protections for waterways across this country."
The same is true for national park waters. They evoke wonder and sustain life. They also provide drinking water, recreational opportunities and jobs, and drive tourism.
For some local, small business owners near Delaware Water Gap National Recreation Area in New Jersey and Pennsylvania, 50% of business comes from tourists choosing to canoe, kayak, float or simply enjoy the river's beauty.
Small businesses near Dinosaur National Monument in Colorado and Utah put people to work taking 3,000 people every year river-rafting through the monument to experience the wilderness and see wildlife.
Nearly two-thirds of the thundering waterfalls, jeweled lakes, and ocean beaches in national parks still do not meet every public health standard that states set.
Still More Work to be Done
Yet, even with all the progress made over the past 50 years, park waters still face legacy threats and new challenges. Nearly two-thirds of the thundering waterfalls, jeweled lakes and ocean beaches in national parks still do not meet every public health standard that states set.
Droughts, floods and sea-level rise from climate change leave too many parks and communities without safe water. Polluted runoff and encroaching development add to the challenges park managers face. Additionally, this fall, the U.S. Supreme Court heard a case that challenges the EPA's authority and threatens our waters.
The health of America's national parks and the communities they sustain depends on healthy waters that surround and flow through them. NPCA joins in celebrating the Clean Water Act's progress and pledges to continue working to protect our waterways.
Because clean water is essential to our parks and our economy, NPCA will continue to:
Defend the Clean Water Act and other federal laws that provide critical protection of the quality of park water.

Ensure national park waters are protected by maintaining federal funding for restoration programs that restore aquatic landscapes.

Encourage federal program leaders to prioritize natural infrastructure to build long-term climate resilience and mitigate emissions causing our climate to change.

Create and expand freshwater and marine protected areas to create connectivity and help landscapes adapt to changes caused by the warming planet.
The Clean Water Act has served the U.S. well the last half century by restoring the integrity of our waterways. We can never go back. Let's continue to ensure our rivers flow with life — and never catch fire again.
About the author
Chad Lord

Senior Director of Environmental Policy and Climate Change, Government Affairs

Chad Lord serves as the Senior Director for NPCA's Waters program. The program focuses on protecting and restoring America's greatest natural treasures--large-scale aquatic ecosystems--surrounding national parks.